The MIT D-Lab team and a translator greet students at the beginning of class.
After a semester of learning, brainstorming, and creating in D-Lab: Education & Learning, I embarked on a week-long trip to a rural province just outside of Bangkok. The plan: to implement a curriculum my partners and I built on the engineering design process for non-English-speaking fifth-grade students. 
In Lopburi, I taught and planned lessons alongside my three partners and D-Lab instructor Lisa Nam. We were graciously sponsored by Betagro Group, a Thai-based company that supported us with food, housing, local transportation, and English translators. We also worked with teachers and additional translators from the Darunsikkhalai School for Innovative Learning. 
Teaching
While I was only at the Wat Dam Rong Boon School during the week of August 13, half of my D-Lab team was present beginning the week of August 6. Therefore, by the time I arrived, there was a clearer sense of how daily lessons should be structured and how creativity could be best fostered. Still, however, there was unexplored territory. While the first week of our curriculum focused on addressing specific issues, such as using the design process to build a harness for an egg that would be dropped, the second gave students the autonomy to create any design, as long as it addressed a problem that we proposed (i.e. what is one thing you can build to fix an issue at your school?) and conformed to time and material constraints. This was a noteworthy task since the students had never engaged in similarly creative and independent exercises. Therefore, as a D-Lab team, we strove to find a happy medium between supporting yet also challenging the class.
On the final day of class, students presented their designs at an exhibit in the school's library. They not only displayed prototypes made out of recycled materials such as water bottles, paper rolls, and plastic bags, but also prepared speeches to describe the problems they identified, the creation and evolution of their designs, and what they would do to further improve their prototypes if given more time. At that moment, I felt so grateful to have had the experience of teaching and building a curriculum from scratch.
Currently, my partners and I are in the process of creating a finalized documentation of our curriculum for both the school and our sponsor. Our hope is that this learning model will expose more students at the school and in Lopburi to the engineering design process.
Delicious meals!
In Lopburi, my partners and I were treated to many delicious meals. On one occasion, we had traditional Thai food on a farm (the perfect mix of spicy and sweet), and on another, we had what seemed like endless small plates of Pad Thai, Pad See Ew, and other dishes I had previously eaten in the United States. What struck me the most, however, was the abundant supply of fresh, tasty fruits!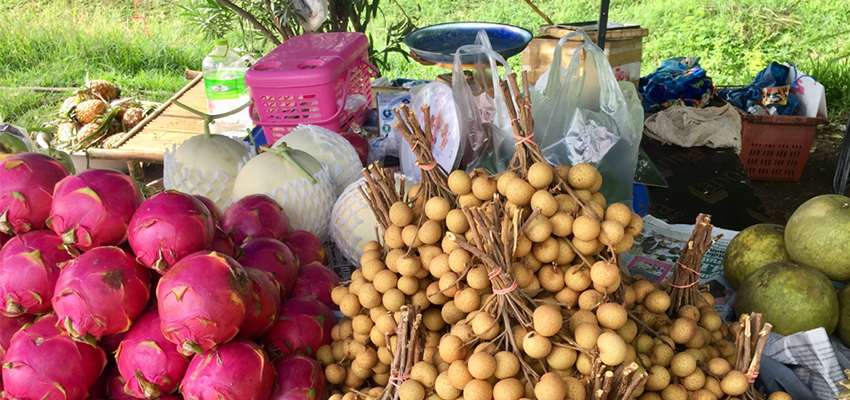 It's hard to name a favorite fruit from the many new and familiar ones I ate, but, being an avid fan of both lychees and longanberries, I loved the similar-tasting rambutan.
Quiet, rural bliss
Aside from teaching and eating all kinds of food, I loved Lopburi for its quiet, rural bliss. The province, as a whole, is known for farmlands with sunflowers, banana trees, and countless other crops. On one of our final days, we were taken to a farm owned by Betagro Group to see fruits like papaya and vegetables like squash. Even though it had just rained, the farm looked absolutely beautiful. The soil was soft, the plants were lush, and vibrant mountains lounged in the background.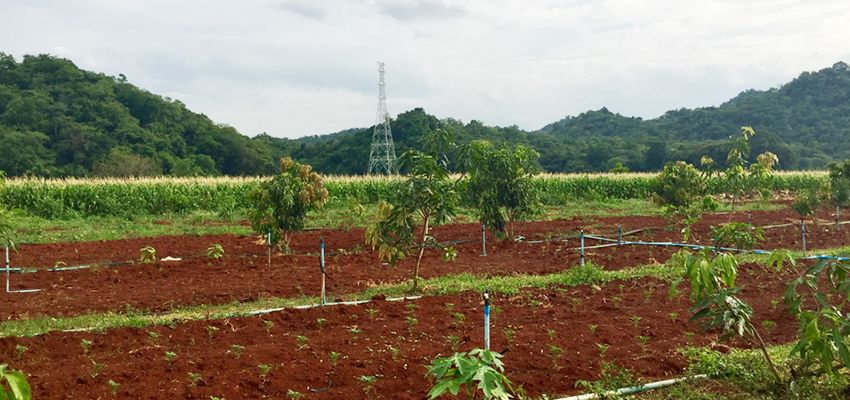 The importance of collaboration and innovation
I feel incredibly grateful to D-Lab for giving me the opportunity to design, create, and ultimately implement a curriculum that will hopefully change the lives of 28 students in Lopburi, Thailand. This experience taught me the importance of collaboration and innovation. My partners and I not only had to work with one another to build our original lessons, but we also had to make countless revisions once we arrived in Lopburi and began conversing with students and translators. From brainstorming worksheets to acting in skits and leading group discussions, my D-Lab experience is one I'll always cherish.
---
Katherine Wang is a philosophy major from Wellesley College who cross-registered for MIT D-Lab: Education and Learning during the spring of 2018.