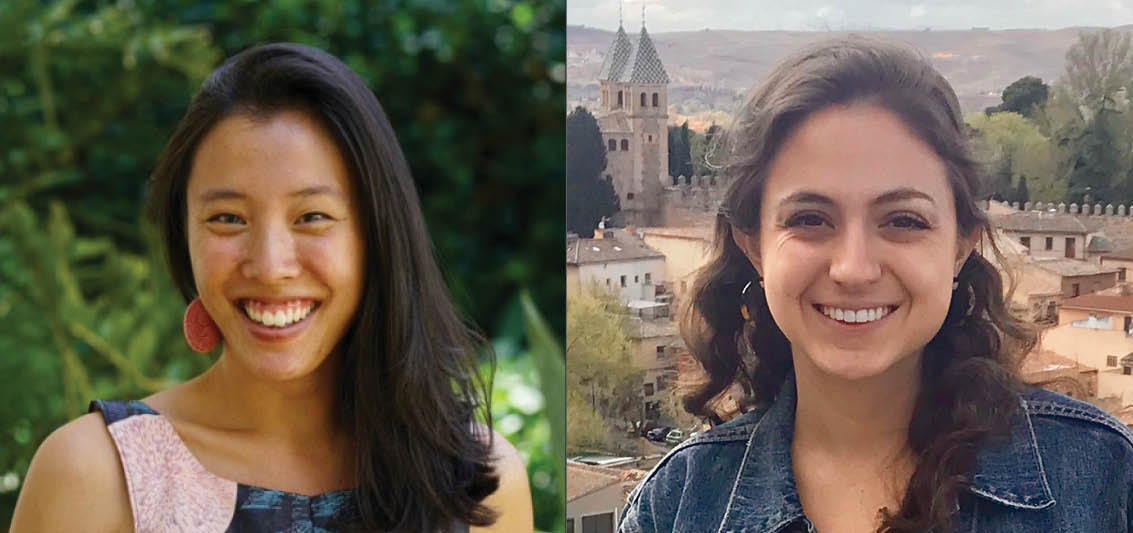 2021 MIT D-Lab Monitoring, Evaluation and Learning Fellows, Kerong Kelly (left) and Claire Danes (right).
MIT D-Lab
Every summer since 2015, MIT D-Lab has engaged a cohort of graduate students to serve as Monitoring, Evaluation, & Learning Fellows. These MEL Fellows spend three months honing their evaluation skills, developing deep relationships with D-Lab's collaborators, and contributing insights to D-Lab's team. This summer, we're excited to welcome two new MEL Fellows: Kerong Kelly and Claire Danes.
Kerong Kelly is working with the D-Lab Evaporative Cooling for Vegetable Preservation research group. She will evaluate the effectiveness of an ongoing training program that aims to disseminate clay pot coolers through agricultural extension agents and clay pot producers in the Mopti region of Mali. 
Claire Danes is working with the D-Lab Inclusive Economies team to evaluate a project that aims to empower small-scale women gold miners in Colombia to tackle challenges related to gender-based violence and environmental degradation. Claire is also supporting the D-Lab Scale-Ups Fellowship to evaluate a pilot program that aims to drive investment to women entrepreneurs in India.
Kerong is currently a student in the MPA in Development Practice program at Columbia University's School for International and Public Affairs, and before that, she served as a Peace Corps volunteer in Rwanda. Claire is a current student in the Master of International Development Policy at Georgetown University and brings her experience as an analyst in the monitoring and evaluation division of the Millennium Challenge Corporation.
We asked each of them to share their reflections on the summer ahead; here is what they said:
What are you most looking forward to learning and exploring this summer?
Kerong: I am most looking forward to exploring the different evaluation instruments that will be eventually used to monitor and evaluate the use of evaporative clay pot cooling in rural Malian communities. I think D-Lab specifically is uniquely positioned to build bridges and make connections to development and innovation where there is a need but not a clear path on how to assess the need and fulfill it appropriately. I am also looking forward to working with the partner organization, World Vegetable Center, as they are closer to the project itself and evaluating the specifics of vegetable preservation and loss in the beginning trials and phases. 
Claire: I'm looking forward to learning how the D-Lab's participatory design approach can be employed to tackle global poverty challenges, from gender-based violence in the artisanal and small-scale mining sector in Colombia to the gender financing gap in India. Additionally, I'm eager to develop my evaluation skills, including contributing to crafting theories of change, drafting instruments, analyzing data, and presenting findings. Finally, I'm looking forward to working with and learning from my fellow MEL teammates, D-Lab programmatic staff, and Colombian and Indian counterparts!
Why does evaluation matter to you? What about it do you find most interesting or valuable?
Kerong: Evaluation matters to me because in the development space, it seems that there is not enough of it done, which can often cause the neglect of conversations surrounding power and equity. I think it is valuable both for the end user as well as the developer, and to ensure that a given project is in agreement at various stages of the process. In thinking about alternative ways to look at development, I think going forward, it is essential to evaluate progress and to create new ways of looking at the questions we are asking and how those answers will eventually inform funding streams etc.
Claire: Evaluation allows organizations to track the progress, results, and effectiveness of their investments. In other words, evaluation enables organizations to determine if they have achieved what they set out to and to explain why or why not. Besides providing transparency and accountability, evaluation matters to me because it can inform better decision-making and improve future programs.
If you could design and build anything, what would it be?
Kerong: If I could design and build anything, I would build a virtual platform by which people could directly crowdsource information from their communities about the needs of their own household. The platform would then connect people with similar needs and challenges and match that group with funding and/or innovation labs such as D-Lab to come up with sustainable solutions. Maybe a pipe dream or maybe it already exists, but something worth thinking about!
Claire: If I could design and build anything, I would build an affordable, sustainable technology, perhaps a drone or satellite, to extend internet access to communities in areas that are too difficult or remote to reach. I believe that narrowing this divide is crucial to providing information in an equitable manner, thereby enhancing and broadening economic and educational opportunities and ensuring unconnected individuals are not left behind.
---
More Information 
Contact
Artie Maharaj, MIT D-Lab Monitoring, Evaluation & Learning Associate