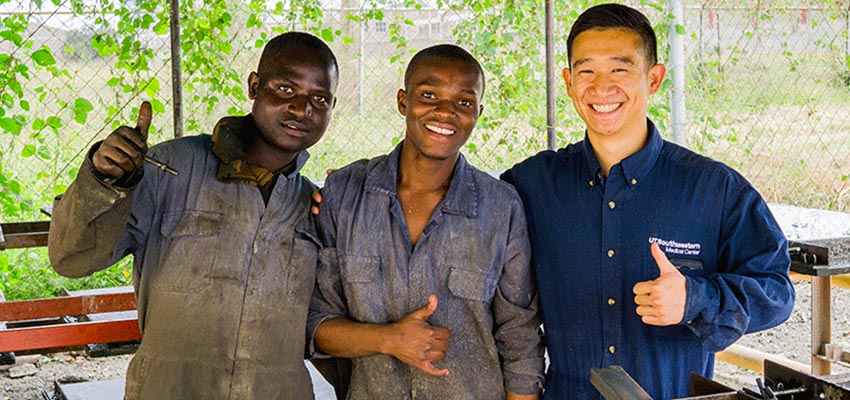 2019 MIT D-Lab MEL Fellow Geoff Tam (far right) working with KKL's manufacturing team, Simeon Mogaka, team member, and Ken Musau, crew lead, to make KKL's specially designed reinforced concrete panels
Every summer, MIT D-Lab engages a cohort of graduate students to serve as Monitoring, Evaluation & Learning Fellows. These MEL Fellows spend two to three months in the field honing their evaluation skills, developing deep relationships with D-Lab partners, and contributing on-the-ground insights to D-Lab's MEL team. Since 2015, D-Lab has engaged 19 MEL Fellows in 12 countries.
What does a D-Lab MEL Fellow do?
MEL Fellows take on the following two challenges:
Conduct an on-the-ground evaluation of a D-Lab global program
Build M&E capacity and strengthen M&E systems for a D-Lab global partner
MEL Fellow projects include one or more of the following components:
Define: Facilitate a process to develop a theory of change, a log frame and a set of metrics for a project or program. Define evaluation questions and scope an evaluation plan.
Collect: Design survey instruments, reporting tools and templates, and data collection strategies. Conduct surveys, interviews and focus groups.
Store: Explore database software options, make recommendations and provide support to set up a data system that a partner organization can use in the long run.
Analyze: Use Excel, Stata, Kumu, NVivo and other tools to process new or existing data.
Utilize: Turn analyzed data into attractive, usable, actionable products. Lead initiatives to instill a culture of data sharing and reflection.
Through all of these projects, MEL Fellows put D-Lab's values into practice by incorporating inclusive, participatory practices in each step of the MEL process. This ensures that both the MEL systems and findings are relevant to those who most need them.
Read about past D-Lab MEL Fellows projects below:
How can a social enterprise start measuring its impact? The case of EcoAct Tanzania
2019 MEL Fellow Iris Lau Castro
Chasing Impact in Kenya's Housing Sector
2019 MEL Fellow Geoffrey Tam
Evaluating an entrepreneurship training program in Uganda: How effective is your survey?
2019 MEL Fellow Fatema Alhashemi
Designing usable impact frameworks to support youth entrepreneurship in Kenya
2019 MEL Fellow Taylor Light
Tracking Impact Data at Bright Green Renewable Energy
2018 MEL Fellow Erika Desmond
Before the summer placement, MEL Fellows participate in an orientation and training at MIT D-Lab. After the placement, MEL Fellows return to D-Lab to present their work and share their insights.
How can I become an MIT D-Lab MEL Fellow?
Applications are now closed for the summer 2021 MEL Fellowship; we will begin recruiting for the 2022 MEL Fellowship in January 2022. For more details and instructions on how to apply, please download the job description below:
MIT D-Lab MEL Fellow 2021 Job Description
D-Lab provides funding up to $2500 toward each Fellow's travel and living expenses; Fellows are responsible for securing matching funds through their university or other grant programs.
---
Contact
Artie Maharaj, Monitoring, Evaluation, and Learning Associate