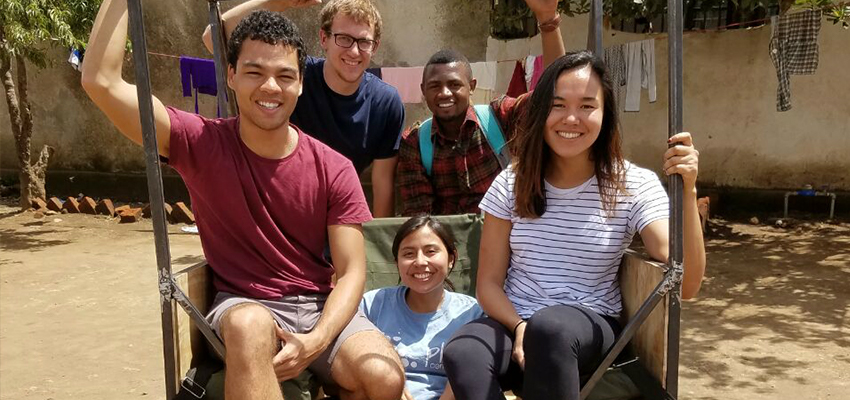 D-Lab students from the Okoa Ambulance team, Tanzania, 2017.
"I was worried about what I could achieve for other people, but by the end, I realized that what was much more important was what I could show people they could achieve themselves."
A field experience to every D-Lab student who wants one
MIT D-Lab is committed to helping every D-Lab student who wants a field experience find a way to have one. And D-Lab prepares its students to be thoughtful and effective participants in international collaborations with our partners.
Note: D-Lab trips are always connected to a D-Lab class project. We do not organize service learning trips or other kinds of student travel.
Community Partners
D-Lab has established relationships with community partners, including local nongovernmental organizations and social enterprises, around the globe. These community partners propose projects for our students and host the students who are able to travel to work onsite.
Recent D-Lab student fieldwork has taken place in countries including Bangladesh, Botswana, Colombia, El Salvador, Ethiopia, Ghana, Guatemala, India, Kenya, Nicaragua, South Africa, Uganda, and Zambia.
Preparation & Supervision
All D-Lab student fieldwork is mentored by an experienced instructor or trip leader. We expect students to engage in comprehensive travel preparation from both cultural and technical perspectives, and we provide safety and logistical planning to ensure every trip is successful.
Travel Funding Overview
MIT D-Lab Funding
For D-Lab: Development students: We provide funding for a closely guided experience to every student in the D-Lab: Development class. D-Lab: Development students choose from trips to five to seven countries that take place over the MIT Independent Activities Period (IAP) in January.
For students in other D-Lab classes and UROPs: A limited amount of funding is distributed across our other classes to fund students who are prepared to do fieldwork during IAP, spring break, or over the summer and have a partner to support them. Some instructors and research supervisors have additional discretionary money available to award to students and projects, for either classes or UROPs.
Self-Funding/Student Contribution
Students are asked to make a personal contribution to the cost of their travel, but financial need should never be a barrier to working in the field. We will work with students who have demonstrated financial need to offset the cost of travel.
Additional Sources of Funding
We can advise students on where to find and apply for other sources of travel funding, and support student-driven projects outside the scope of a class that work with a D-Lab partner or continues the work begun in one of our classes. Find sources of Student Fieldwork Funding.
---
Contact
Libby Hsu, Associate Director of Academics