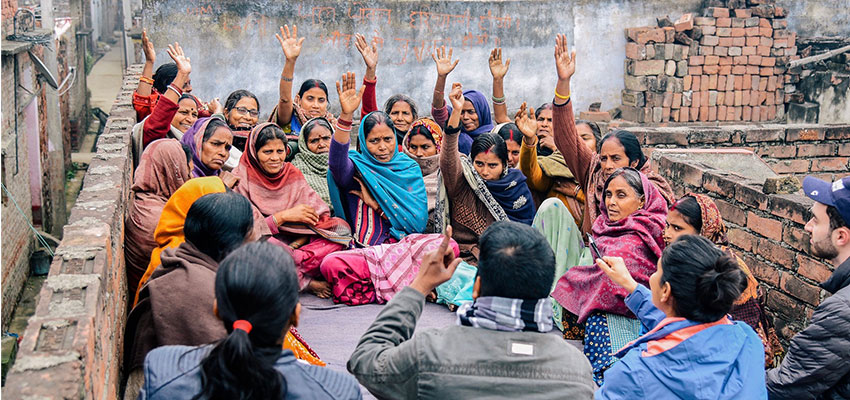 Farmers participating in a focus group discussion.
MIT D-Lab
In January, during MIT's Independent Activities Period (IAP) of four students from the D-Lab: Development class and trip leader Megha Hegde (Research Associate, MIT D-Lab) worked with The Bill and Melinda Gates Foundation's India office and their local partners MicroSave Consulting and the local government, to conduct a needs assessment for lentil procurement in Nalanda, Bihar, India.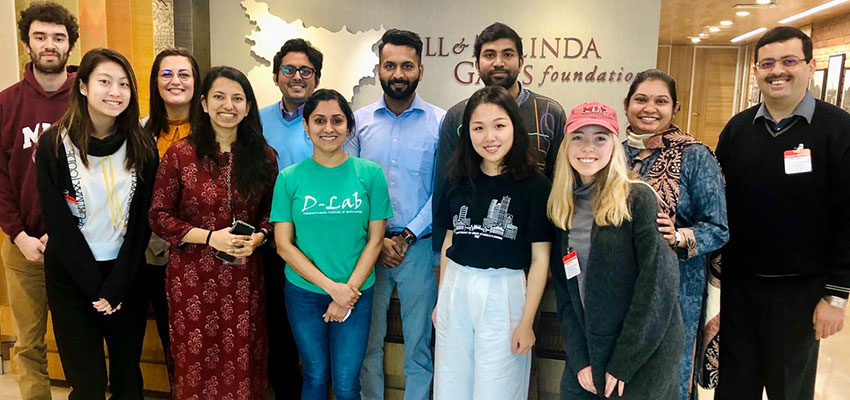 Getting to know Bihar and our local partners
The members of our team traveled to Delhi from Shanghai, Boston, and Bangalore on January 6th. After a short rest and delicious lunch, we flew to Patna, the capital of the state of Bihar. On our way to the hotel, we experienced traffic and busy street life in India for the first time. While the roads were packed with rickshaws, cars, and trucks, the spaces under the overpasses were filled with little snack carts. There was also an outdoor barbershop, with a mirror on the column of the overpass. Later we learned that our hotel was on the busiest road of the city. Once our rickshaw driver took a wrong turn and it took him half an hour to get back to the main road.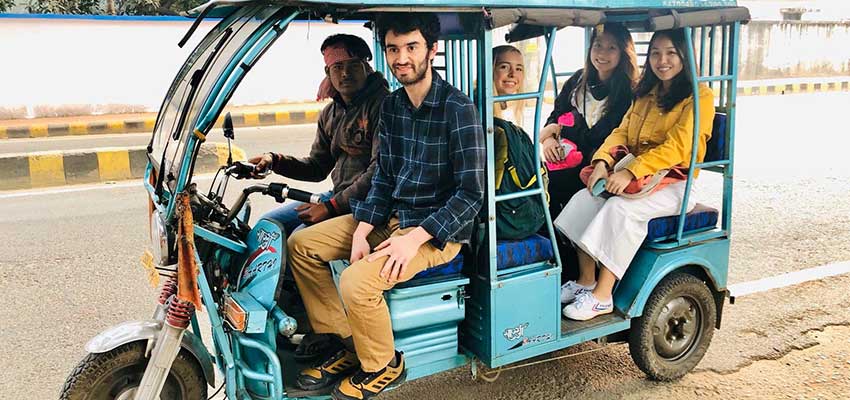 The next day, we headed to the Bill and Melinda Gates Foundation (BMGF) office in Patna. During the meeting, BMGF staff introduced us to the conditions of Bihar. MicroSave Consulting (MSC) then presented some of the challenges in the process of lentil procurement and explained the structure of JEEViKA, a local governmental organization and the farmer producer company (FPC) JEEViKA created.
We also finalized our schedule. We would spend the first week gathering information and understanding the challenges through individual interviews, focus group discussions, and observation. For the second week, we would host a co-design workshop with the stakeholders to generate potential solutions to the challenges described. Then, we would fly to Delhi to report back our findings to the BMGF.
After a very productive meeting, we were excited to learn about lentil cultivation and procurement. Based on their need and expertise of our team, MicroSave (in consultation with BMGF) selected lentil procurement by FPC as the study focus for our fieldwork.
The birthplace of Buddhism
One thing that our local partners emphasized was to set aside some time to explore the touristy places in Bihar. Although nowadays Bihar is one of the least developed states in India, it was the birthplace of Buddhism and home to many ruins with cultural significance. Diligently following our partner's instructions, we visited the ruins of the ancient Nalanda University, a UNESCO World Heritage Site, which attracted many scholars from China, Korea, Thailand, and Central Asia at the height of its popularity in the 7th century. On another Sunday, we went to Bodh Gaya, where Buddha attained enlightenment. It was a beautiful temple with people from all over the world making a pilgrimage to the site. We also visited other temples in the vicinity and had a thrilling open-air cable car ride, where we felt the wind in our hair as we rode up and down the mountains. After our enriching cultural tour, we were ready to get back to the field to do more interviews.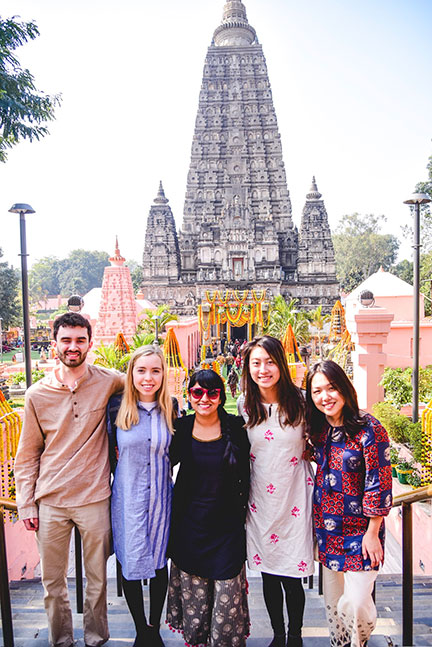 Learning about the lentil procurement process in Nalanda
Before we could begin the process of generating ideas through a Co-Design Workshop, we wanted to get a feel for the current lentil procurement system in Nalanda, Bihar, which we did through talking to, observing, and learning from the different stakeholders. Overall, we talked to 141 farmers in seven villages, conducted 20 individual interviews and 11 focus group discussions, visited two mills, several farms, and interviewed traders, aggregators, millers, and the staff of the FPC and MSC. We all absolutely loved getting to talk to and learn from all of these stakeholders and were very appreciative of them giving us their time and showing so much hospitality and interest. We started with meetings at the FPC office and JEEViKA block office to complete our research design and select villages that we would visit. Our goal was to have stratified sampling in terms of lentil production and involvement with FPC, which we were able to achieve. We then went to our first village – Sorade.
Driving in through the fields on good roads (which we learned were thanks to the fact that the chief minister of Bihar was from that area) was truly exciting for all of us. As we got out of the car, we were greeted and then surrounded by curious villagers and children who were wondering what these weird-looking foreigners are doing there. All the women had already gathered in the village, and we were amazed by how many there were (frankly too many to be able to conduct an effective focus group discussion but exciting nonetheless). After introductions and our attempts to introduce ourselves in Hindi, we split the group into men and women and had our first focus group discussions. Since they were in Hindi, we didn't get everything that was happening initially, but it was so exciting to finally get an understanding of how lentil cultivation and sale works for them, what challenges they are facing, and so much more. A lot of women were very active and engaged, which was greatly appreciated, and we also had tons of kids peeking in through the door, which was cute and funny.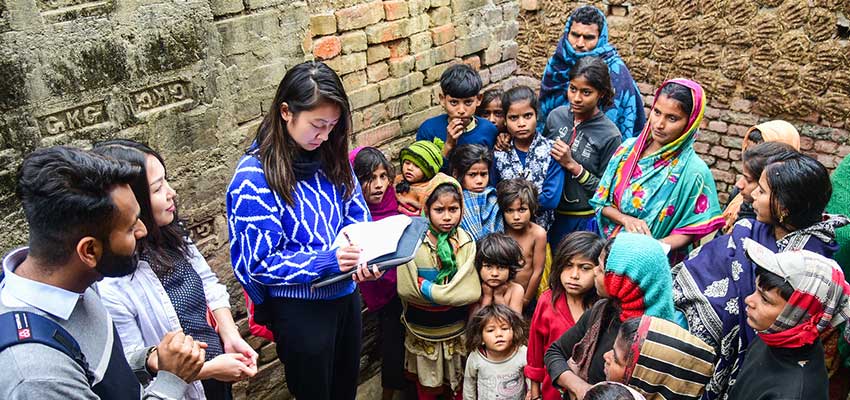 After the focus groups, we conducted individual interviews with farmers. The farmers were kind and welcoming and we were able to ask them more in-depth, personal questions about their livelihoods, lentil cultivation, and sale. Being able to talk so personally with people gave us a peek into their lives and put things into perspective in a way that helped us to better understand them and the challenges at hand.
Most of our village visits started with a focus group discussion with farmers followed by individual interviews with farmers and aggregators. Each village had a different culture and vibe, and we learned so much from each visit. In some villages, there were people around all the time, while in others, there were fewer people outside. For some sessions, there were men hovering around the whole time while in some cases, the men were kept out. Some villages had lots of shops while in other villages, we didn't see any shops at all. In some villages, children played with us and took pictures and in others, children were shooed away. All of these villages, however, were so different than anything we had seen in the US. It was humbling and transformative to learn about these villages and the people who lived in them.
Through our discussions with farmers, FPC staff, aggregators, traders, and millers, we were able to form some conclusions about challenges in lentil cultivation and sale. Some of the challenges farmers were facing related to procurement with FPC (the goal of the project) are untimely and infrequent procurement from FPC, lack of trust and familiarity of FPC, and preference to sell all commodities to one entity. Some general challenges farmers are facing in lentil cultivation and sale are limited use of farm inputs, limited options for selling lentils, delayed payments, inaccurate measurement, and weighing, lack of negotiation power, lack of infrastructure, and ultimately, lack of a financial safety net, which is the root of many of the problems. Finally, we identified challenges the FPC is facing in procuring lentils from farmers: lack of skilled manpower, limited use of human resources, lack of investment capital, and limited support from JEEViKA.
Co-design Workshop
Following D-lab's "design with" method, we hosted a one-day workshop that aimed to generate solutions for the FPC to help with the lentil procurement process. There were about 30 participants, including different stakeholders: farmers, one aggregator, one miller's son, local government officials, and FPC project managers.
Prior to the workshop, we spent four days preparing materials, logistics, and the activities schedule. Our biggest concerns were whether people would show up late (and throw the schedule off), and whether people would show up at all. Thankfully, most people were only half an hour late and arrived by 10:30 am, and we started with ice-breakers to get people excited. Then we gave introductions to the design cycle, which really helped people see the bigger picture of the workshop. We also went over some ground rules, which really laid the foundation for a successful workshop. Even local government officials found it surprising that people really silenced their phones and actively participated in the discussions, due to our ground rules and hands-on activities.
We began the "learn" phase by mixing up the stakeholders into four groups. Us students prepared a poster that showed the lentil procurement process from the farmer to traders, then from traders to millers. We wrote some basic challenges for each stakeholder that we learned from our fieldwork in the past two weeks, and we were excited to see how participants were actively contributing to the discussion and proposing challenges that were not mentioned. Each team chose a specific problem in the value chain to tackle and discussed the causes of that challenge.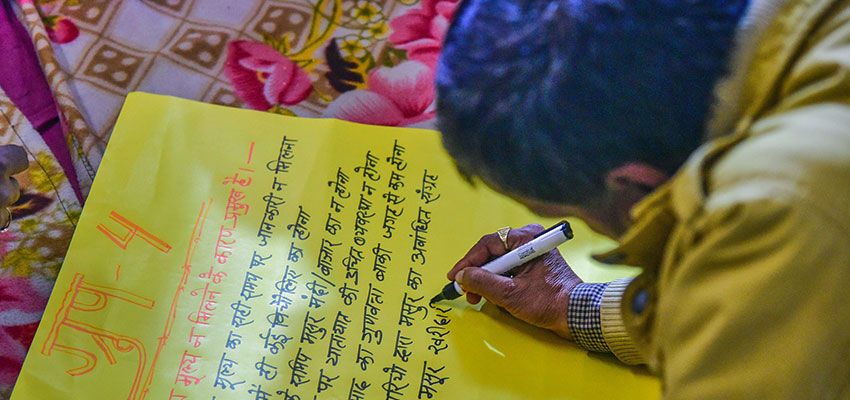 During the "imagine" phase, we started with an ice-breaker called "what's this" that people really enjoyed - basically, we chose random objects so each person would imagine a creative function and pass it around the circle. It was genuinely surprising to see people passing the bracelet, tape roll, pipe cleaner, and hairband around the circle multiple times to come up with different ideas. The women who were quieter also spoke up, and there was a lot of laughter in the room. This helped groups feel more comfortable to speak up and be creative, which was a perfect segway for everyone to individually imagine solutions for their group's challenge on post-it notes. It was exciting to see everyone writing multiple post-it notes. Women who couldn't write were also actively discussing with facilitators to put their ideas down as well.
After the groups discussed all their ideas and democratically voted for the best idea, we moved onto the "create" phase where teams laid out the implementation plan: when, where, how, funding, and budget. We also handed out pipe cleaners and play-doh in case anyone had a physical creation idea, but people actually used it to decorate the posters.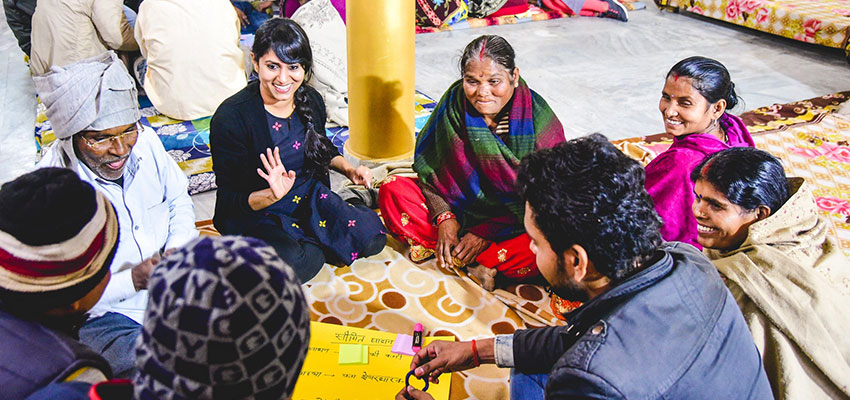 Each group presented their work at the end, including us students who also worked on our problem statement and solutions. Even though we couldn't understand the ideas during the workshop because us students cannot speak Hindi, we later translated everything and read some amazing and low-budget ideas. Our biggest surprise was certainly seeing the fruitful work and posters filled up with post-it notes and writing. The FPC leaders and local government officials also seemed genuinely happy about the entire workshop and were inspired by all the ideas. Overall, the workshop was a great success because everyone was engaged in our activities. The facilitators also did a great job encouraging women to speak up in a room with the majority being men. We only hope this workshop could have been multiple days so we would have more activities and icebreakers. It was a great training for all of us to see D-lab's "design with" methodology in action!
Outbrief and Delhi
At this point, we headed back to Delhi for our outbrief meeting with BMGF. During our first day in Delhi, we took a little break and visited some of Delhi's attractions, including Lotus Temple, Humayun's Tomb and Safadarjung Tomb. We also took a detour to a local park, which happened to house yet another tomb! To our surprise, many families were outside playing cricket or grabbing a khuli from the ice cream stand only a couple yards away from the tomb. It happened to be Republic Day, so people were celebrating throughout the day, including releasing the sporadic bang of fireworks throughout the night. After our day of touristy indulgence, we got back to our final preparations for the BMGF outbrief.
The next morning, we arrived at the BMGF's Delhi office where we presented D-Lab's general methodology and our fieldwork, including the results of the co-design workshop. Members from different teams within the BMGF attended, as well as staff from MicroSave Consulting.
We summarized some of the challenges that farmers are facing, including the use of incorrect pesticides, inaccurate measurement of impurities in the product, and perhaps most important of all, the lack of financial safety net for farmers that might allow them to explore other economic options.
We also summarized some of the challenges that the FPC is facing, including a lack of manpower and resources to live up to the expectations of the FPC. We also had many personal conclusions from the project. We noticed how relevant gender roles were during the course of the project. Often, when we conducted focus groups of women farmers, one of the men would answer our question. Also during the workshop, we intentionally tried to mix groups so that both men and women farmers were in each group. But as the workshop would progress, we would notice that the men would tend to talk to each other and leave the women out of the group. This was all exaggerated by the fact that the government programs that were intended to promote women's empowerment did not have any women in leadership positions.
Another thing we observed was that even though these communities faced hard labor with little benefit, they seemed to have a strong sense of community. In engaging with this type of work, we learned that it is important to respect that. While we were looking at how we can improve the lentil procurement system for the FPC, we found that the current aggregators had already been working with the community for years. It would be impossible and improper to simply view these aggregators as competitors. Most of them farm their own land. So while it might even be an economically apt decision to try and replace lentil aggregation with an organizational entity, this would disregard the established community.
Exploring Delhi
After our time at the BMGF, we spent the last couple of days exploring Delhi. We got to visit Jama Masjid and do some shopping in Delhi markets. On the last day, we took a train to Agra to see the Taj Mahal and Agra Fort. They were both really amazing; they almost looked like they were from a different world! We also had the chance to shop around Agra, visiting a music store and Sheroes Hangout, a local cafe entirely run by acid attack survivors. We also got to try petha, a local Agra sweet. All in all, we got to end on a great note. As we headed toward Delhi airport, we saw some of the same shops that greeted us when we entered India, serving as a reminder of how much we learned during our month in India.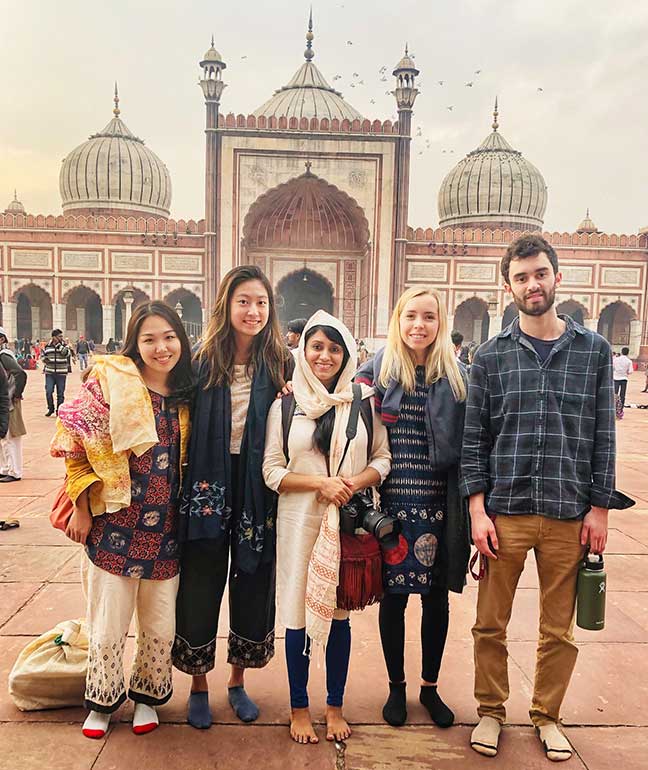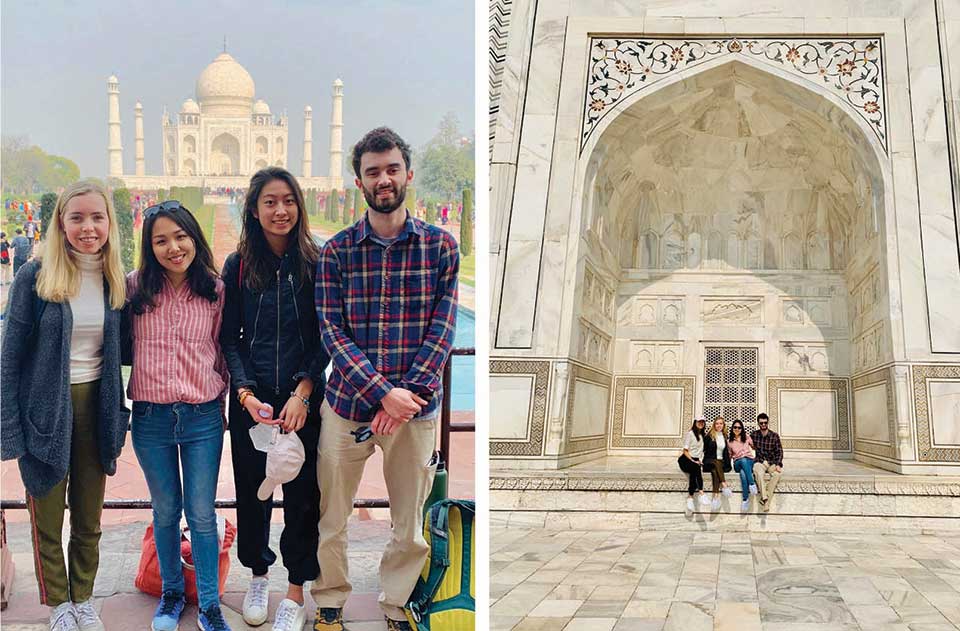 ---
About the authors
Ziyue Qian '22 is studying Political Science and Computer Science at Wellesley College. She enjoys planning events in 2022 Class Council and the International Students Organization, walking around Wellesley's lake, and exploring vegetarian options around Boston.
Lauren Rice '22  is studying Economics and Computer science, with interests in political economy and public health. She has worked to analyze healthcare systems in the US and India and the effectiveness of development interventions through research positions at the MIT Department of Economics and on creating an impact evaluation guide for the government of Chile. She hopes to continue learning more about these systems in the future.
Blanche Shao is a first-year master's candidate in the Department of Urban Studies and Planning. She is interested in land politics, informality, and international development. This spring, she will be going back to India, studying jute mills in Kolkata with her urban design studio.
Josh Talbot ' 21 is majoring in Physics and Electrical Engineering with hobbies in music and fencing. He has also previously been involved in particle physics research.
Contact
Megha Hegde, MIT D-Lab Research Associate