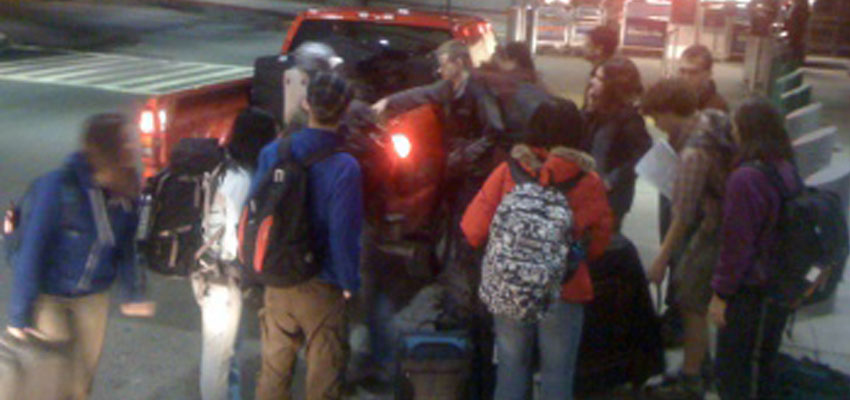 It's that time of year again, after Christmas and New Year's celebrations, when the MIT campus is rather quiet and peaceful, but D-Lab boils with activity for a couple of days, and then joins the calmness and tranquility of the rest of the Institute. What's happening is that D-Lab teams are in the last minute rush of packing, sorting, checking, and getting ready for their field trips, that in most cases will last over three weeks during the month of January. In these trips, students will visit very remote and rural communities, where they will discover a very different reality from what they are used to in their everyday lives at MIT. Such an adventure results in lots of excitement, great desires to meet new people, to learn new languages, but also some degree of uncertainty of what lies ahead. But let's start from the beginning...
For those who like numbers and statistics, D-Lab runs this year ten different trips to eight countries across three continents: Brazil, Cambodia, Ghana, India, Nicaragua, Rwanda, Tanzania and Zambia.  83 are people traveling, counting students, instructors, staff and trip leaders. Students from five different D-Lab classes are involved in the travels: D-Lab: Development, D-Lab: Cycle Ventures, D-Lab: Health, D-Lab: ICT and D-Lab: Schools. In total, they will all be working on over a hundred different projects throughout the developing world.
Class met on Monday morning, for a final debrief on travel tips, transportation logistics, and a share of expectations for the coming weeks. The different teams met then by themselves and sorted out what needed to be done before departure.  The first team to fly out was India-Himalayas, leaving D-Lab shortly after noon, and boarding on a plane around 3.30pm. At that same time, the second team was leaving D-Lab, this time headed to Ghana flying out later in the afternoon. Three more teams flew out on Tuesday very early morning, meeting at 3am in D-Lab and getting to Logan airport well ahead in time for their respective flights to Cambodia, Tanzania and Zambia. The last two teams departed Wednesday early afternoon for Rwanda and Brazil.
Safe travels everyone!