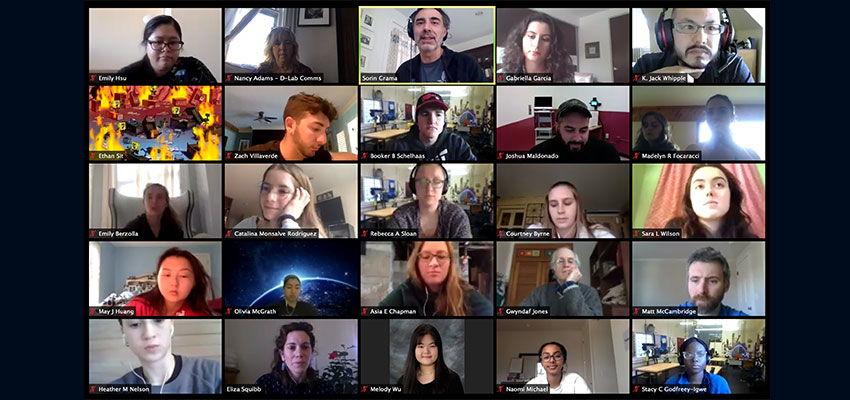 Spring 2020 D-Lab: Design class on Zoom, during the Covid-19 move to virtual learning.
MIT D-Lab
Back in March, I was packing up my little apartment in Columbia, South Carolina for my big move back home to Boston where I would be starting a new position later that month as the Monitoring, Evaluation, and Learning (MEL) Associate at MIT D-Lab and the Office of Experiential Learning. I was very much looking forward to meeting my new colleagues, spending some time visiting D-Lab's classes and workshop space, and getting lost in the MIT tunnel. I never made it to campus this past spring, however, and along with the rest of the MIT community, my work went remote as a result of Covid-19. As I was figuring out how to start a new job virtually, D-Lab instructors were rapidly transitioning their courses to an online format.
One of my first tasks as an MEL Associate this past spring was to learn more about D-Lab's students' experiences with virtual learning. Since this was new territory for me as well as for D-Lab Academics, there were so many things we wanted to know more about: What challenges were students and instructors facing in learning and teaching virtually? How did instructors adapt their instruction? What strategies worked well for students? What didn't work so well? What supports would have made the transition to remote learning go smoother? To answer these questions, we asked students to respond to a set of survey questions (n=71), and we asked instructors (n=13) to join us in one of two focus groups that occurred in May.
Here are four key findings from our evaluation of the transition to virtual learning at D-Lab:
Overall, 74% of students rated their satisfaction with the transition to virtual learning as a 7 or above on a 10-point scale. Given the abrupt and dramatic changes that occurred this spring, it was surprising that a majority of students reported satisfaction with the transition to remote learning on the higher end of the scale, but this also reflects the terrific job our instructors did in managing and adapting to remote learning, and speaks to the flexibility and understanding of our students.
Students expressed difficulties focusing and engaging during online class meeting sessions, feeling less connected to classmates and teams, difficulty navigating learning across time zones, and unstable internet connections. Because many D-Lab classes include hands-on activities and team-based components, navigating collaborative projects while apart, and not having access to workshop space or tools were challenges.
The key challenges for instructors included increased course preparation time, establishing connections with students, providing adequate resources to students, and contextual factors such as lack of childcare. As instructors shared in focus groups, working apart and, oftentimes, at home presented challenges especially related to how best to provide students with access to team support and materials for projects. At the same time, instructors were navigating how best to balance home and work responsibilities (e.g., childcare).
Students reported that instructors' accessibility and ongoing support were key resources during this semester of virtual learning. Whether through office hours, one-on-one appointments to problem solve, or providing assistance on project development in breakout rooms, students felt supported by their instructors and greatly appreciated their consistent support and availability.
While the transition to virtual learning for D-Lab 's six spring semester classes no doubt had its fair share of challenges, D-Lab students re-imagined their projects with support from their instructors; maintained connections with partners around the world; and continued learning and working collaboratively while apart from each other. As we continue to navigate this new world of virtual learning into the fall 2020 semester at D-Lab, we'd like to share four best practices that helped us support student engagement and collaboration within a virtual learning environment:
Utilize a mix of interactive components and online tools to support students' engagement, including small group work, short lectures, discussions, use of polls, Q&A, and collaborative visual tools like Mural.
Provide opportunities for students to connect with instructors and their classmates/project teammates (e.g., online office hours, small group, designated project work time, team-building activities) to foster connection and support a collaborative learning environment while students are learning remotely.
Provide students with physical tools and materials to support their learning. Sending materials (e.g., sketch model kits) and facilitating student access to workshops in their locations would allow students to gain hands-on experience and develop their projects while learning remotely.
Inform instructors regularly of available teaching resources and provide opportunities for instructors to share best practices (e.g., a common platform to share tools and resources) to further support their work in developing engaging virtual learning.
The end of September marked my six-month work anniversary at D-Lab. And while working remotely doesn't compare to being in-person, I've felt (and witnessed) the warmth, creative spirit, and commitment to growth and innovation from my D-Lab colleagues as we navigate working together while apart. It's been truly inspiring to see students and instructors adapt to the world of remote learning. As we move through the fall 2020 semester, the plan is to continue learning how our students and instructors are managing the world of virtual and hybrid learning-especially with regard to how instructors have adapted experiential learning opportunities, and how students are managing collaborative projects with each other and our community partners across the world.
---
Related publication: MIT D-Lab's Transition to Virtual Learning - D-Brief - Artie Maharaj
---
About the writer
Artie Maharaj is MIT D-Lab's Monitoring, Evaluation, and Learning Associate. She arrived at D-Lab with three years of evaluation experience from the Research, Evaluation, and Measurement (REM) Center within the College of Education at the University of South Carolina. At REM, she supported a range of evaluation activities on projects that focused on improving K-12 education across the state of South Carolina. Artie received her Ph.D. in Human Development and Family Studies from the University of Connecticut and a master's degree in community psychology from the University of Massachusetts at Lowell. Her research interests include familial experiences of economic stress, family-school-community partnerships, and equity in education.
---
More Information
Contact
Libby Hsu, MIT D-Lab Lecturer and Associate Director of Academics
Artie Maharaj, Monitoring, Evaluation, and Learning Associate