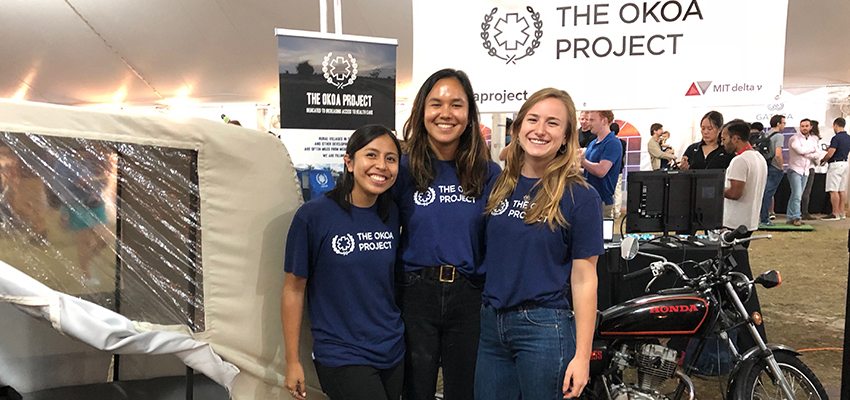 Left to Right: Sade Nabahe, Emily Young, and Eva Boal of Okoa Project at the MIT Delta V Demo Day, 2018.
"In Tanzania, we will continue to iterate our design, build ambulances, obtain government approval, and roll out ambulances to the communities."
The Okoa Project, which got its start in D-Lab: Design 2016, has been making huge progress toward making motorcycle ambulance trailers a reality for vulnerable communities without access to healthcare. We have been working for two years with The Olive Branch for Children to develop safe transportation to people who cannot be reached by cars due to narrow, rough roads. Women in labor and trauma patients instead must walk, bike, or motorcycle to healthcare, all of which can exacerbate medical issues. However, with the Okoa Ambulance, patients sit with a family member or midwife in the trailer for continued care, which will improve their chances of survival.
Over the last six months, we have completely redesigned the ambulance, had eight interns through the Kubuni-MUST collaboration, participated in the MIT Delta V accelerator program, and built a fourth prototype at D-Lab!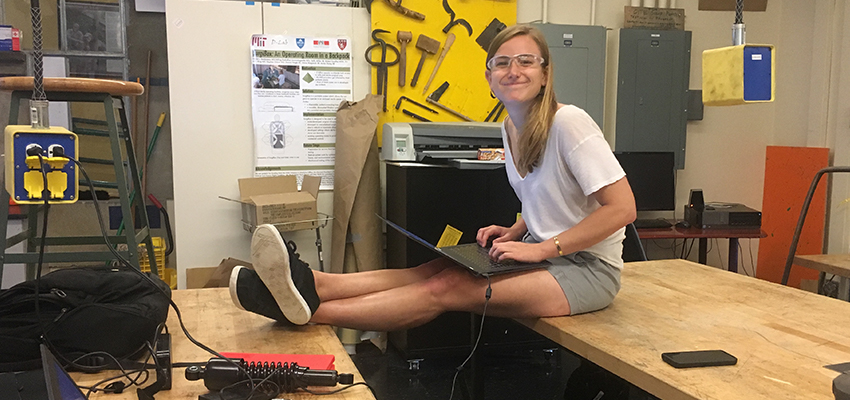 From March to May, the Kubuni Centre facilitated an Okoa internship where eight amazing students from the Mbeya University of Science and Technology (MUST) worked with our engineering team to continue product development. Together with the Kubuni Centre, we created an eight-week engineering program for them to brainstorm, design and build new attachments and stretchers. Every Saturday, these students made the trek from MUST to Kubuni to work in the shop and skype with Okoa mentors. Through this program, they were able to further Okoa designs and do more testing with the ambulances in the villages. We are hoping to continue this collaboration moving forward.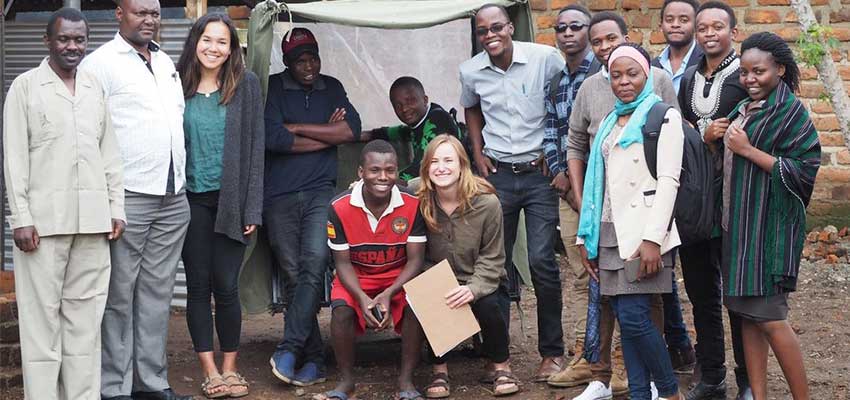 After Emily and Eva graduated from MIT in June, and Sade returned from her internship in Chile, the team began working on the Okoa Project full time with the goal to design the fourth iteration of the Okoa ambulance and develop our future business strategy.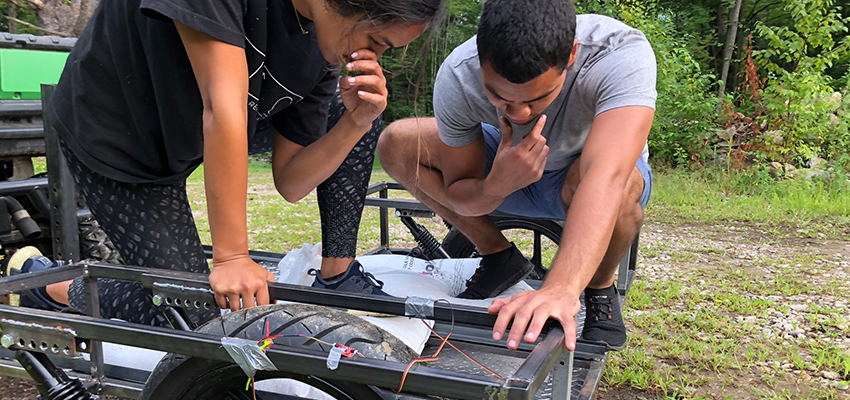 In developing the Okoa 4.0 design, we spent June interviewing trauma doctors and gynecologists about how to safely transport patients, collaborated with other engineers who had experience developing motorcycle trailers, and received feedback and ideas from EMTs who have worked in rural areas. Using this information along with the Mbarali community feedback we collected in August 2017 and previous testing results, we created a lighter, safer and more versatile ambulance design. In July, we held multiple design reviews with mentors to assess our driving assumptions and design decisions. With the finalized design, we spent August building in the D-Lab workshop and testing our fourth prototype with an old teammate, Jimmie Harris.
And while revamping our design, we were also busy defining our future business and implementation strategy with the help from the MIT Delta V accelerator program. As members of the 2018 cohort, we were fortunate to gain extensive mentorship, funding, and exposure at the final Demo Day showcase, where we displayed the newest version of our ambulance.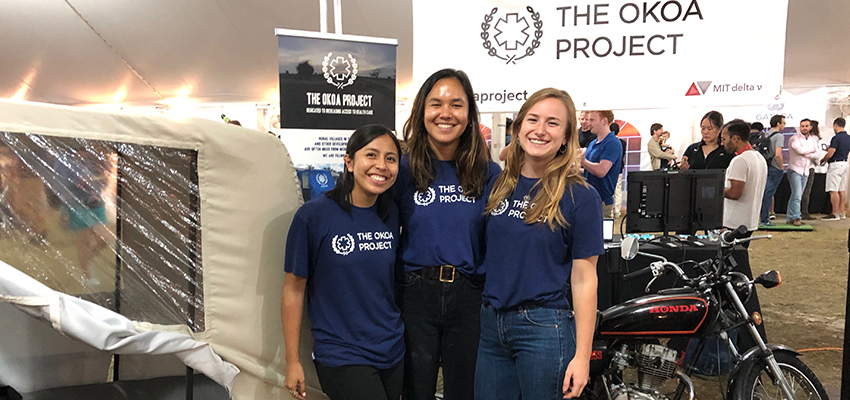 With the summer coming to a close, we are wrapping up here in the US and are excited to be heading back to Uyole to work out of the Kubuni Centre. In Tanzania, we will continue to iterate our design, build ambulances, obtain government approval, and roll out ambulances to the communities. We are excited about our next steps and make this a reality.
It has been a long journey for Okoa, but we know that each step is important to ensure that we create a robust, safe, and effective ambulance for rural communities.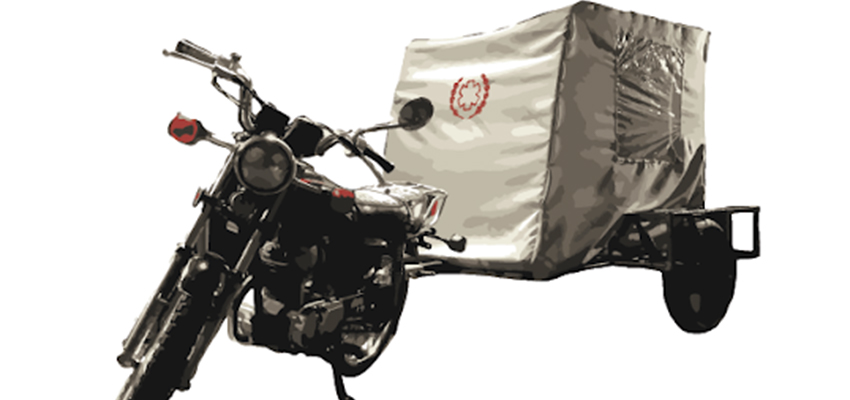 ---
Sade Nabahe (MIT '17) graduated in mechanical engineering with a specialty in international development. She leads Okoa's operations and works on ambulance design challenges.  
Emily Young (MIT '18) graduated in mechanical engineering with a concentration in Global Product Design. She leads Okoa's ambulance design and manufacturing.
Eva Boal (MIT '18) graduated with degrees in Management Science and Math with Computer Science. She is leading Okoa's business development and operational logistics.