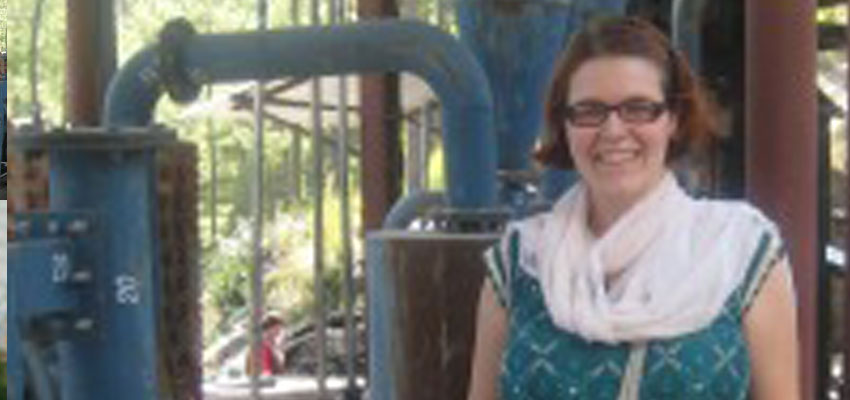 Libby Hsu at Avani.
D-Lab Study Abroad 2015: Avani
On October 11, I returned from a fast-paced, 10-day trip to India and a nongovernmental organization called Avani, which was established in 1997 and is located in the mountainous northern province of Uttarakhand. The purpose was to investigate living conditions and projects for the three MIT students who will be participating in the D-Lab Study Abroad program next semester. They will live at Avani for 11 weeks and work on projects that fulfill course and thesis requirements, all while taking MIT classes remotely.
D-Lab and Avani: five years of collaboration
D-Lab has been working with Avani since 2009, sending small groups of students from the D-Lab: Development class to live and work on projects over MIT's Independent Activities Period which takes place during January of each year.
D-Lab students have engaged local community members seeking to earn income through projects involving production of natural dyes, crayons, charcoal and its use in cooking, knitting techniques, and more, as well as educational work at the Montessori school that Avani runs for the children of its employees.
The long trip to Avani
This was my first time visiting India, and it was quite a first experience to have. The journey from Boston to Avani takes 36+ hours: flying to Delhi, then boarding a train for 6 hours and finally hiring a driver to take you up 200 km of winding mountain roads over a span of about 7 hours. Due to my time constraints, I did it without any breaks and still had only 6 days at Avani itself!
Laying the groundwork for a safe and successful program
Planning this program, in a way that makes everyone feel safe and confident, would have been nearly impossible over Skype. I spent time talking over our shared philosophies and goals with Avani's leadership, and got to know many of the other employees and the roles they play in the community.
I also had a chance to observe the difficult lives people lead in some of the very remote areas where Avani works. Some of these communities have recently gotten cell phone and Internet access, yet they are still inaccessible by road and lack basic amenities like toilets, clean water, and a heat source during the (very cold) winters. It's jarring to observe these disparities that have arisen from the market forces in India.
Identifying projects: soapnuts!
I identified several interesting projects centered around Avani's existing operations. One involves soapnuts, which women in remote communities grind and package for Avani to sell. If you haven't heard of soapnuts, look 'em up - they're awesome! However, the women have complained that they breathe in too much dust when they pulverize and package the nuts. With the goal of keeping operations decentralized, students could work with the community to create a better technology that addresses this issue.
Identifying projects: pine needle gasifier
Avani recently started an 80-kW power plant operated by gasifying pine needles. How awesome is that?! They're not up to full capacity yet, though. All of my students are interested in energy, so a few design challenges in this area would be right up their alley.
For example, the needle drying and loading processes are very rough, and more complicated during the rainy season, so they could use improvement. The residue from the gasifier is also used to make charcoal briquettes, but the plant operators need a better method of efficiently creating those briquettes from the 300 kg of residue they anticipate producing each day when the plant is up to full capacity.
For more information on D-Lab Study Abroad, contact Libby Hsu.