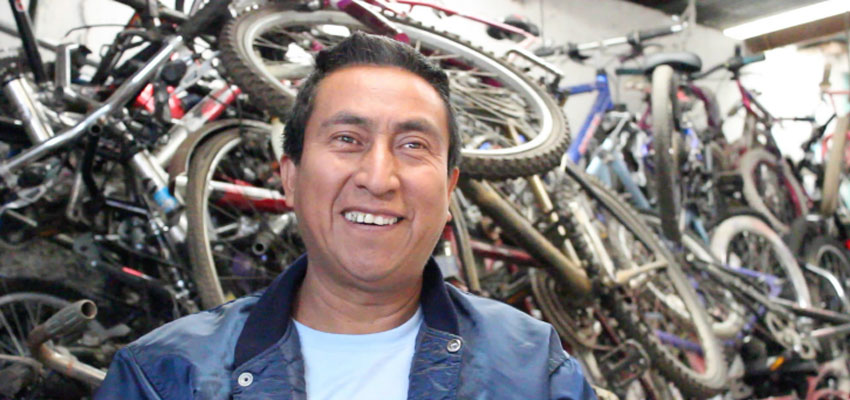 Carlos Marroquin, founder, Bici-Tec (Guatemala).
Pedal-powered innovation from rural Guatemala: A conversation with Bici-Tec founder Carlos Marroquin
Presented by MIT D-Lab & Bikes Not Bombs
at the MIT Museum
265 Massachusetts Ave, Cambridge, Mass.
Tuesday, November 15, 6 PM (free)
Doors will open at 5:30 and a reception will follow the presentation at 7. A number of bicycle machines will be on display throughout the event.
D-Lab and Bikes Not Bombs are pleased to present Carlos Marroquín, inventor and founder of the Guatemalan social enterprise Bici-Tec, at the MIT Museum on November 15 at 6 P.M. Register to attend this free event here.
Carlos will be joined by Bici-Tec alumnus Dave Boudreau and D-Lab instructor Kate Mytty who will speak about their experiences with pedal-powered machines, working with Carlos, and how their knowledge of appropriate technology has shaped their career paths. 
D-Lab's Gwyn Jones will introduce Carlos and his history with D-Lab. Carlos has been a friend of D-Lab's for almost a decade, participating in the first International Development Design Summits, which took place at MIT in 2007 and 2008, and since then, serving as teacher, mentor, and inspiration to generations of D-Lab students and instructors, and as a member of the International Development Innovation Network.
Bikes Not Bombs has partnered with Bici-Tec since their founding in 2013. BNB provides containers of used bicycles and parts, as well as technical assistance to support Bici-Tec's success in achieving it's mission of spreading pedal-powered alternative technology around the world. Over the years BNB has supported Bici-Tec to create a strategic vision for Bici-Tec as a social enterprise, as well as supported them to launch the School of Appropriate Bici-Technology. BNB looks forward to continuing to work with Bici-Tec into the future, and to see the use of pedal powered technology spread! 
About Carlos Marroquin and Bici-Tec
Carlos has spent the last 20 years innovating pedal powered machines, making significant contributions to the global development of this technology. His slide presentation will cover his work designing, fabricating, promoting and distributing bicimáquinas - bicycle machines - intended to simplify and enhance rural livelihoods and to spur entrepreneurship and economic growth. He will also discuss the context and challenges facing rural Guatemalan farmers and share his experiences addressing these challenges through pedal power machines and by building a global network of pedal powered innovators. 
Carolos' bicimáquina designs include deep-well water pumps, maize degrainers and grinders, blenders, vegetation choppers, coconut shredders, and others. These bicycle machines represent a middle ground between the artisanal and the industrial, and offer a sustainable and energy-appropriate option for smallholder farmers and producers.
In addition to his work as a designer, he has taught workshops and spoken about bicimaquinas extenisvely throughout North and South America and estalbished the Bici-Tec's School of Appropriate Bici-Technology (SAB), an eight-week program in San Andrés Itzapa, Guatemala. Local and international students  work side-by-side to deepen their understanding of the challenges faced by rural families, the theory and application of appropriate technology, and the design and fabrication of bicimáquinas, as environmentally sustainable labor-saving solutions. Participants design and build a selection of bicimáquinas, drawing from existing designs and exploring new innovations. Ta Corrales Sanchez '16, is the most recent MIT-affiliated graduate of the SAB program.