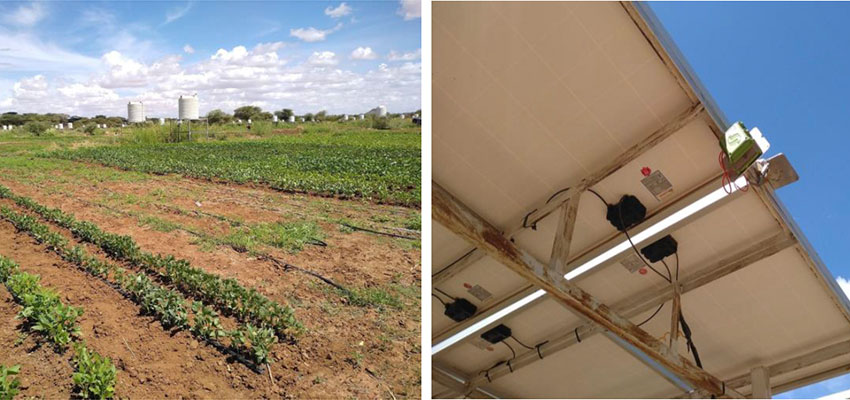 Drip-irrigated vegetable cultivation at Napuu 1 Drip Irrigation Scheme in Lodwar, Kenya (left), and a SweetSense gateway mounted on solar PV panels that transmits solar irrigation pump usage data to an online server via cellular or satellite data (right).
MIT D-Lab
Hosts: USAID's Center for Digital Development and MIT D-Lab
 
---
Are you interested in the expansion of mobile connectivity and connected devices to rural and remote locations? Are you curious about the role of IoT in agriculture? Are you wondering how it might be relevant to your work?
Smallholder farmers across the world play an important role in food supply. To feed a growing global population projected to increase to 9 billion by 2050, food production would need to increase by 70% compared to the 2005 baseline level. The bulk of this growth in food productivity will need to come from developing countries.
USAID's Center for Digital Development and MIT D-Lab recently released a report, "Seeds of Silicon: Internet of Things for Smallholder Agriculture," to capture the current state of IoT technology in smallholder agriculture in Global Food Security Strategy (GFSS) countries, challenges and opportunities, and recommendations for donors and the international development community.
Join USAID's Center for Digital Development and MIT D-Lab for a Digi-Know Webinar on December 4. Learn more about the Internet of Things (IoT) for agriculture and the challenges and benefits of adopting precision agriculture methods in smallholder farms in developing countries.
D-Lab researchers Dan Sweeney and Anish Paul Antony will join Styvers Kathuni from SweetSense, to discuss the Internet of Things and precision agriculture methods, identify the current barriers and potential solutions, highlight best practices, and explain how IoT for agriculture may be relevant to international development challenges.
Some of the questions that Dan, Anish, and Styvers will address are:
What is IoT? How is it relevant to the agricultural sector?
What are the barriers that contribute to the low penetration of precision agriculture methods in smallholder farmers in developing countries?
What can the international development community do to overcome these barriers and identify potential solutions to encourage the use of IoT for agriculture?
Throughout the webinar, they will also welcome your questions and comments.
Interested in joining us? It's easy to sign up! Click here to join us on Wednesday, December 4, 2019 at 10:00 AM EST.
---
Further Information
MIT D-Lab/CITE Publication: Seeds of Silicon: Internet of Things for Smallholder Agriculture - Anish Paul Antony, Jennifer Lu, Daniel Sweeney
Project webpage: Internet of Things: Low Cost Sensors for Agriculture
Contact
Anish Paul Antony, MIT D-Lab Postdoctoral Researcher
Dan Sweeney, MIT D-Lab Research scientist