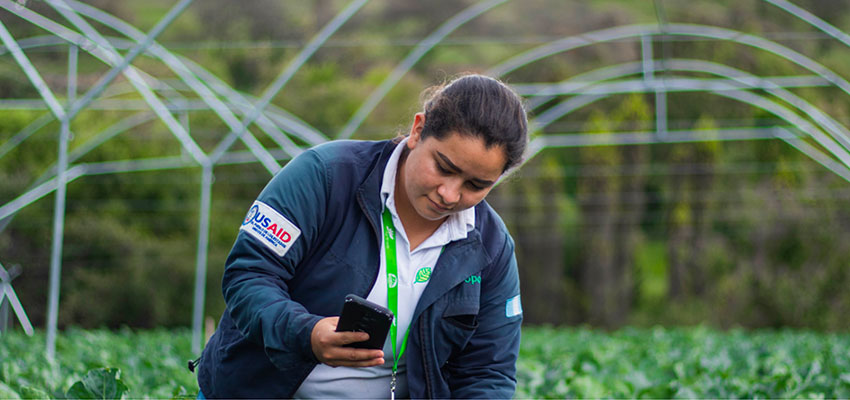 Photo Credit: Alex Hernández / Feed the Future Guatemala Innovative Solutions for Agriculture Value Chains Project / Popoyán
Agrilinks | USAID
Read full blogpost on Agrilinks site
Excerpt
Understanding the opportunities and risks
Given Guatemala's unique challenges, coupled with opportunities to leverage a willing banking sector, Feed the Future invested in research to understand perceptions, barriers, and enablers to serve the most vulnerable and dispersed populations in Feed the Future's zones of influence. USAID's Center for Digital Development and MIT D-Lab's Comprehensive Initiative on Technology Evaluation (CITE) in April 2020, "Assessment of Potential Opportunities for Use of Digital Payments for Smallholder Farmers in Guatemala's Western Highlands."
Key findings and recommendations
There are six key findings and recommendations in the report for stakeholders in Guatemala, broken into three groups:
Providers. Providers design and deliver DFS (i.e. banks, telecom companies, fintech startups).
Enablers. Enablers enable a functional DFS ecosystem by managing institutions, identifying best practices, and designing regulations, policy, and programs (i.e. governments, international donors, NGOs).
Conveners. Conveners aggregate DFS users (i.e. grassroots farmer cooperatives or farmer networks).
As a result of these findings, the research team has the following recommendations to facilitate the leap from access to the use of DFS by smallholder farmers:
Sixty-six percent of smallholder farmers indicated they made financial decisions collaboratively with other members of their household. Recommendation: providers and enablers should consider the local context and household dynamics in designing and piloting DFS products and services.
Financial inclusion is less prevalent than digital inclusion. Recommendation: providers, enablers, and conveners should be aware that although access to a mobile phone may remove technical barriers to engaging with DFS, they must also articulate a clear value proposition for farmers and establish trust.
The experience smallholder farmers — especially indigenous, Ladino, and multi-racial populations — have when interacting with financial institutions may have an effect on their willingness to participate in the formal financial system. Recommendation: providers, enablers, and conveners should consider sensitivity training and alternative delivery/service options aimed at reducing bias towards farmers with an indigenous background.
Farmers with a previous relationship with a provider they trust were more likely to adopt DFS. Recommendation: providers and enablers should generate mechanisms to better understand the local context, develop relationships with farmers, and build trust to encourage the use of DFS.
Fifty-five percent of digital financial services (DFS) users indicated they first adopted DFS out of necessity, to pay a bill or service. Recommendation: providers and enablers can expand access to DFS by collaborating with the private sector to offer services relevant to smallholder farmers (e.g., utility companies, agricultural input firms).
Once a farmer has an established relationship with a service provider, they adopt DFS quickly. Recommendation: providers and enablers should invest in relationships with farmers; marketing and sales strategies targeting farmers can speed up the expansion of DFS usage in the country
While these are preliminary findings, the MIT research team plans to publish academic papers containing the complete methodology and research results. To learn more about DFS in agriculture, check out USAID's Digital Financial Services for Agriculture Guide and Toolkit for Integrating DFS into Feed the Future Programs.
Read full blogpost on Agrilinks site
---
More information
Assessment of Potential Opportunities for Use of Digital Payments for Smallholder Farmers in Guatemala's Western Highlands
Contact
Kendra Leith, MIT D-Lab Associate Director for Research