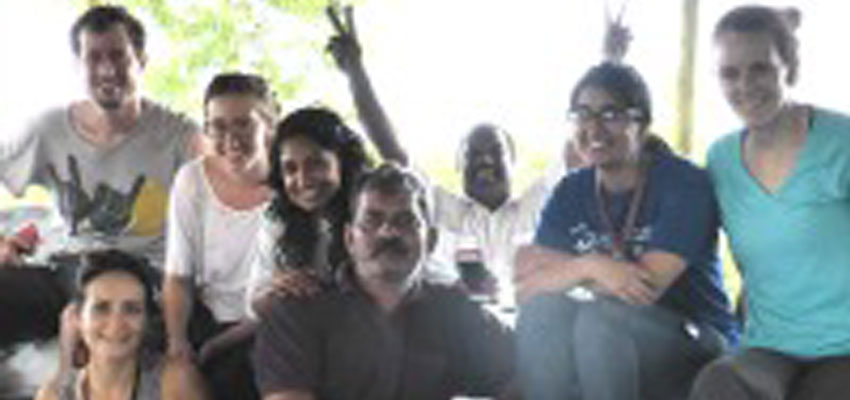 During the first three weeks of 2015, a group of students from the MIT Sloan School of Management and Wellesley College, traveled to Dar es Salaam, Tanzania to work with ARTI-Energy, an enterprise partner of D-Lab's Harvest Fuel Initiative. 
ARTI makes its own sustainable charcoal briquette product called Mkaa Mkombozi. These briquettes are produced in partnership with Bagamoyo Brikwiti Company using agricultural waste (such as maize stalks, rice & coconut husks) and other dry biomass to create a high quality, sustainable and cleaner cooking fuel solution.
Setting the mission
Our mission was to improve the Mkaa Mkombozi charcoal briquettes production process. With this initiative, ARTI-Energy through its charcoal briquette business, aims to create a sustainable business model, which can contribute to reduce deforestation in Tanzania. The current production is ~800 kg/day and our goal was to reach 2.000 kg/ day. The challenge was set!
Measuring the current production process
In the first two weeks of the project, we focused on understanding and measuring the current production process. Thanks to the interviews and production monitoring, we were able to develop a deep understanding of the process and a detailed diagnostic of the main production bottlenecks. In addition, we started brainstorming around potential solutions to improve productivity and the issues identified.
During the last week, we developed the final recommendations together with Allan (factory manager) and all the workers. Together, we defined the top priority actions that can help the factory reaching its production goal. Some of these recommendations were operative and easy to implement (e.g. worker schedules optimization) while others require additional investment (e.g. drying system capacity sizing). Moreover, we also launched a quality test to identify the optimal product characteristic (e.g. moisture content) and reduce production variability. With all these recommendations, we are confident that the factory can reach 2.000 kg/day of Mkaa Mkombozi charcoal briquettes.
Theory in practice
In conclusion, during these weeks we had the chance to put into practice our knowledge and competences in a real working experience improving the charcoal briquette prodution performance. We all had an amazing learning experience. In addition, we were able to the see real impact of our work. For instance, the last day before leaving, we implemented some of the proposed recommendations reaching +1.100 kg day.
Thanks
We would like to thank all the people that has helped us during this experience. Especially, we would like to mention all ARTI-Energy workers and team (Manon, Dennis, Potnis, Allan, etc.) who have always been helpful and kind. We are looking forward to working with ARTI-Energy again!
Also thanks to the Sloan Entrepreneurs for Innovational Development (SEID) club, who offered us this amazing opportunity.