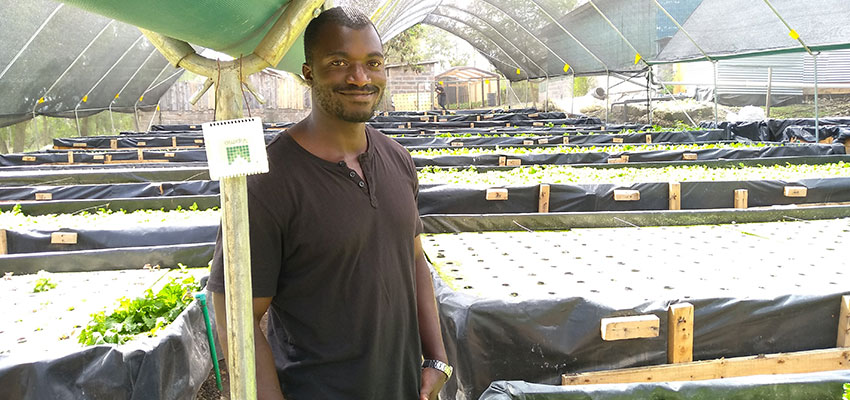 Emmanuel Biketi, Horticulture Manager at Kikaboni Farm in Olooloitikosh, Kenya with an Upande temperature and relative humidity IoT device.
USAID
Original blog post on USAID's Feed the Future/Agrilinks
Approximately 500 million small and family farms around the world, mostly in developing countries, contribute 80 percent of the global food supply. By 2050, the demand for food is expected to double as the world population reaches 9 billion, which will require an increase in agricultural productivity, especially in these emerging economies.
Despite this rapidly increasing demand, smallholder farmers face growing challenges, including an increase in climate variability and pressures on farmland from urbanization.
A potential solution? Precision agriculture.
Precision agriculture augments a farmer's decision-making ability by integrating advances in our understanding of crop growth through sensor technology, wireless connectivity, and cloud computing. An essential component of precision agriculture is low-cost, connected sensors that can measure important parameters related to farming. Data from these sensors are transmitted via wireless networks, aggregated in web-based data storage, analyzed, packaged into a recommendation, and fed back to help farmers make decisions. This suite of devices and services is called the Internet of Things for Agriculture, or IoT for Ag.
Digital technology has the potential to improve food security around the world. However, for smallholder farmers, access to these services is nearly non-existent due to gaps in their supporting ecosystems, their inability to invest in farm improvements, and a lack of evidence that IoT services can be sustainably implemented in smallholder agriculture.
Seeds of Silicon: Internet of Things for Smallholder Agriculture
The U.S. Agency for International Development's (USAID) U.S. Global Development Lab and the Massachusetts Institute of Technology (MIT) D-Lab recently released Seeds of Silicon: Internet of Things for Smallholder Agriculture to investigate the challenges and opportunities of IoT technology and help facilitate its potential expansion.
Through literature review, key stakeholder interviews, sector surveys, and site visits, USAID and MIT compiled a landscape analysis of the IoT for the agriculture sector and documented several IoT implementations in India and Kenya.
Success Story: Turkana County
The Kenya Resilient Arid Lands Partnership for Integrated Development (RAPID) project, established to develop and implement an approach to sustainable management, addresses poor reliability of water pumping infrastructure for communities. To combat equipment failures and long repair times associated with solar-powered borehole pumps, the project implemented electrical current sensors to monitor the borehole pumps. The sensors are wirelessly connected to a nearby SweetSense gateway, which transmits data via cellular or satellite data to an online server. County government staff responsible for maintaining the pumps have access to aggregated data via a database with a front-end dashboard, which has reduced the down-time and repair intervals of the boreholes. Machine learning can be used to predict pump failure and further improve the county water services. Given the utility of this IoT solution for providing reliable water supply to communities, the county government has added installation and maintenance of the sensors as part of the annual budget ensuring long-term financial sustainability.
Challenges
The report found that many off-the-shelf IoT solutions are either not available in developing countries, or that they are not cost-effective for the smallholder context.
Another common challenge is finding committed project partners and funding to support the activities over a duration long enough to see results.
While the organization implementing the IoT system usually has first access to the data, concerns over data security, privacy, and protection also pose considerable challenges. Many smallholder farmers do not have direct access to the IoT data collected from their farm. Instead, they rely on staff from the IoT implementing organization to obtain access to the data.
Suggestions for Implementing Partners
In addition to presenting the current state of IoT for agriculture, the report identifies and understands the specific challenges that teams face when implementing IoT in smallholder agriculture applications. Some suggestions for implementers include:
To overcome cost barriers, consider visiting the local electronics repair and scrap market. They can sell you basic circuit components and may be able to direct you to other suppliers for more specialized components.
If you don't have a working prototype yet, find a similar product, install and run it at a pilot testing site to see how well and for how long it functions.
Invite a few farmers from the area where you will install your IoT to give input to the product design process. In addition to a product that is better designed for the application, you might find that farmers are more enthusiastic about your project and use the recommendations.
If you're struggling with a lack of access to expertise and resources for technical and business challenges, consider joining an online community focused on the IoT and agri-tech sectors for idea exchange, support, and recruiting team members.
Focus on the challenges that lack information and have a possible course of action for the farmer or their support ecosystem. In some cases, the farmer already has knowledge about a challenge, but lacks the resources or access to do something about it.
Suggestions for Funder Agencies
Funders like USAID, the United Kingdom Department for International Development (DFID), and similar organizations can position themselves to fill a facilitation role in connecting diverse groups with specific expertise to solve the overall problem.
Funders can help set up an agricultural technology forum to share best practices at the smallholder farmer level and discuss challenges, such as importing components through customs, long shipping times for products, poor quality of locally available components, and lack of access to resources and funding.
Funders can increase the timelines of grant-funded projects to allow data collection from multiple cropping periods, thus improving the success and quality of the final output. More data, better pattern recognition, and predictive analytics will lead to more suitable, actionable recommendations.