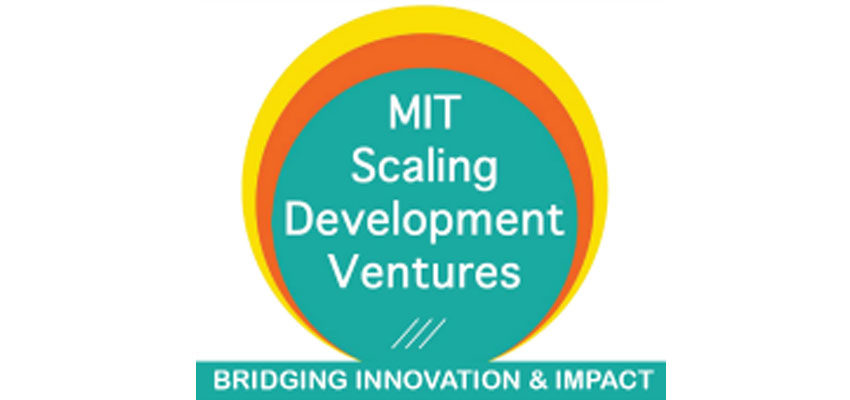 The following is one of a series of blogs about presentations, workshops, and panels that were part of the 2015 MIT Scaling Development Ventures conference.
-----------------------------
The 2015 edition of the MIT Scaling Development Ventures conference included the panel "Collaborative Innovation Networks and the Challenges of Building Them." Jona Repishti, D-Lab's Network Coordinator for the International Development Innovation Network (IDIN) and moderator for the event, polled the audience to reveal that many attendees were members and supporters of networks – me included. In framing the conversation, Jona referenced the big themes of the day, including solving global challenges and scaling impact, and suggested that through collaborative innovation networks, the collective power of diverse individuals and organizations working on these challenges could be harnessed.
The panelists, Winthrop Carty, executive director of the Melton Foundation; Sean Hewens, program director of IDEO.org's Amplify; and Amit Mistry, program officer for USAID's Higher Education Solutions Network, offered different spins on the idea of engaging and supporting a diverse network to reach common goals. The Melton Foundation, begun in 1991, offers a "lifelong fellowship" that supports over 450 individuals, having entered the program as college students from partner universities in Chile, China, Germany, Ghana, India, and the U.S., with a focus on promoting global citizenship to address global challenges. Amplify, funded by the United Kingdom Department for International Development, is sourcing solutions to ten design and innovation challenges over five years, leveraging the IDEO.org platform as well as offline collaboration tools, and provides the challenge winners with seed funding and design support. The Higher Education Solutions Network (HESN) is a partnership between USAID and seven universities, including MIT, designed to harness the value from university students, researchers, and faculty to develop innovative solutions to global development challenges.
Why Networks?
Jona began the conversation asking, "Why do networks matter?" and "Who participates?" Despite the three organizations' different missions and constituents, it struck me how complementary their approaches were, and the common threads running through the panelists' comments.
"Institutions and information are siloed," commented Winthrop, describing how many people are marginalized from the decision-making processes that affect their lives. At the same time, global challenges are extremely complex and interconnected. "We must learn and develop the capabilities to be able to collaborate across all these boundaries," he said, "The only way we are going to tackle the global challenges we're facing this century is to get networks right and start to implement them on a massive scale." Critical elements of the Melton Foundation's program are its clear mission around which fellows align, as well as the diversity of the fellows, which helps prevent groupthink. While Melton fellows are filtered through the university system, partnerships allow the network to widen.
Amit commented that, for USAID, "There are a lot of different actors involved in international development, and as an agency we recognize the importance of being part of a network, bringing in voices and expertise from all of these other players that [have] very important roles." HESN was formed under the belief that many different people and organizations working in development can have deeper, more meaningful impact by working together. Quoating a proverb that a partner at Makerere Unviersity shared at a recent event, Amit recommended that "if you want to go fast, go alone; if you want to go far, go together." USAID is engaging younger communities with "more energetic, fresher ideas," and provide them with opportunities to get recognition and funding, such as through the Development Innovation Venture (DIV) fund. As relationships are facilitated between this "solver community" and the donor community, nontraditional partners of USAID are connected with a larger network.
Amplify's origins lie with IDEO.org, a consulting program applying human-centered design to poverty alleviation challenges, and the OpenIDEO platform, an open collaboration network that was particularly effective at addressing domestic challenges. Amplify offers a mashing up of these approaches: point-based solutions and online collaboration. Engagement of grassroots innovators – growing the online network in an appropriate technology way – has augmented the network of "Sally Stanfords" (university-educated women) who may have less on-the-ground experience but can bring other value such as design support and a push to consider new ideas. The current approaches for providing value to network members include in-country community managers, trained in design thinking, who invite in grassroots innovators and offer skills-building opportunities to support their current work. 
Network Challenges
Jona shared one of the challenges she faces with the IDIN network -- how to get information to network members at the right time -- and this prompted panelists to share similar challenges. Winthrop noted that the lack of hierarchy of control in networks can be both a strength (you empower others) and a weakness (you depend on the leadership within the network for things to happen). For example, the Melton Foundation's international partners depend on fellows to maintain their commitments, but sustainability issues may arise when interest fizzles. Groupthink and "more navel-gazing than doing" can also be dangerous; their network's social tether must be grounded in a connection with the world. Amit echoed the importance of aligning around a shared goal and commented on HESN's challenge of being susceptible to influence by outside factors; USAID wants to respect members' autonomy, but they are seated in a dynamic environment in which government priorities may shift. Sean shared a story about Amplify's efforts in their second challenge to involve more end-users: they used an Interactive Voice Response system to reach rural farmers to understand how they received information. The effort resulted in over 4,000 calls and the team found themselves overwhelmed, unable to support that many network members and unable to learn substantively from the large quantity of data. "We weren't ready to add that many folks to the network in that way." Instead, Amplify has focused on engaging grassroots organizations that serve rural farmers.
Assessment, Intellectual Property, and Timeframe
Questions from the audience focused on assessing quality and strength of networks, the role of intellectual property (IP) in attracting support of multinational corporations, and long- versus short-term engagement in the networks.
All participants shared some of the challenges of quantifying their impact. HESN tries to measure value through metrics such as increased network engagement and growth of networks, and looks to members such as MIT's IDIN and the Comprehensive Initiative on Technology Evaluation for their impact reporting. Amplify has heard self-reporting from participants on the impact of network participation, and strives to understand if Amplify's challenge-winning ideas are driving greater impact. "Not everything that is important can be measured, and not everything that can be measured is important," reminded Winthrop. However, fundraising requires data and the Melton Foundation seeks to collect information about the impact on fellows (world view, career), the network impact (collaborations, projects), and the broader, systemic impact (the Melton Foundation global citizenship model).
Regarding IP, Sean pointed out that in the social sector, innovations are often more about implementation than a magic app; Amplify specifically tries to select topics for their design and innovation challenges that are unlikely to generate IP concerns. The Melton Foundation releases educational curriculum as open source, in the model of MIT's OpenCourseWare, to amplify impact. The models of Innocentive, the Bill and Melinda Gates Foundation, and co-creation were also mentioned.
Parting Thoughts
As the session wound to a close, Jona asked the panelists, "What should the audience walk away with?"
Winthrop commented that a network is not a silver bullet to solve all problems, warned the audience against copying someone else's recipe, and encouraged organizations to build networks around the needs of their members. Amit stressed the importance of practicing active facilitation to form connections between network members, early on; eventually, these relationships will be more organic. Sean posed the question, "Why do we all have separate networks?" and encouraged the audience to take a step back and try to combine resources.
-----------------------------
About Rebecca Smith, Research Project Coordinator, D-Lab Scale-Ups
Becca focuses on early-stage design research with the Scale-Ups R&D program, leading qualitative needs assessment efforts and creating resources to support this work. She has been involved with D-Lab since 2008, first as a Development student (MechE '09) and as staff since September 2010, working in Tanzania, Kenya, Ghana, India, Haiti and Brazil through several programs. She piloted the Study Abroad program in Brazil in spring 2013, and most recently studied water transport and storage in Kenya. Outside of work, you can find her on the radio, in a hammock or riding her bike.