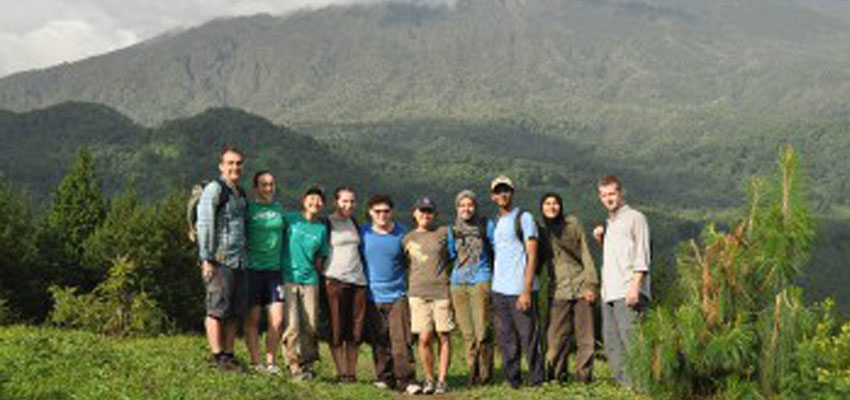 The D-Lab Tanzania Team on the foothills of Mt. Meru.
More news are arriving to D-Lab's headquarters at MIT, where we're getting ready to withstand the second blizzard of the season, but that won't prevent us from broadcasting to the world the reports we're getting from our many teams. The first piece of news comes from Jack Jester Weinstein (Mechanical Engineering, Class of 2012) reporting for the D-Lab Zambia team:
We arrived in the Linda Compound, home of D-Lab's partner organization Light of Hope, on Saturday. The people of Linda are almost overwhelmingly friendly, and have quickly brought us into the community. We've been eating nshima and mangoes, learning to speak Nyanja, making innumerable friends, and playing with the clouds of children who have begun to follow us everywhere. Everyone on the team seems to be having an amazing time. Sam learned to cook nshima and greens today; Shen is starting to learn the past tense in Nyanja; Lucy has a entourage of 10-20 chattering children seemingly at all times; Anna is currently touring a foundry with Eric and Light of Hope's Nicholas and Jaffert; and I had an excellent meeting with a local radio expert that seems very promising.
Further North, we hear from Rebecca, D-Lab Tanzania trip leader reporting from Arusha:
We've made a lot of progress on work so far - David & Colin have a working prototype for their corn sander (it produced some maize flour today); Shavi is working on building his rice thresher design using local materials and manufacturing; Bina has almost finished photodocumenting Bernard Kiwia (an amazing inventor working at Global Cycle Solutions) building his pedal-powered hacksaw, and bought several stoves today to start testing; Leah and Vanessa have done numerous charcoal burns with banana leaves (and are testing new ideas for how to carbonize sawdust) and experimented with banana peel binders, and worked on their Smallbean teaching curriculum; Arfa and Fareeha have been running their grain mill and getting lots of data (which is making pretty graphs!); and Colin just returned from a visit to a locally famous traditional Maasai doctor. I am personally looking forward to a creative capacity building workshop with Bernard and Daniel in Mkonoo on Thursday!

In our spare time, everyone has been practicing their Kiswahili, and making friends with the local watoto (children). On Sunday, the team went on what ended up being an eight-hour-long hike/adventure up a foothill of Mt Meru and down to a waterfall. It started to rain as we rested at the waterfall, so the hike back up was muddy to say the least, but everyone had a great time (and was exhausted by the end). Over the next few days we plan to venture out of Arusha on several day trips to villages, and will hopefully get to do some homestays as well. On Saturday we will likely travel to Laiboni, a Maasai village where we will spend our last week.

The D-Lab Tanzania Team on the foothills of Mt. Meru.