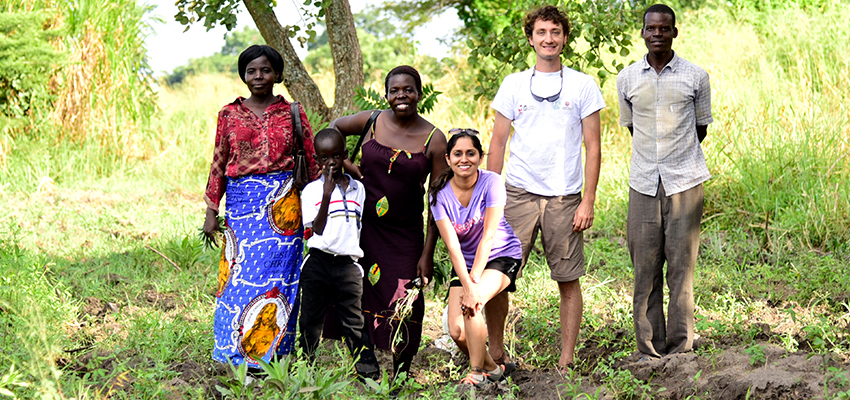 Adoption of improved cooking products in Uganda team, Uganda, 2015.
Adoption of improved cooking products through a local, market-based approach in Uganda
Providing suitable improved cookstoves and fuels have long been a challenge. And for good reason—food is a defining characteristics of culture, and ways of preparing meals are passed on through families over many generations.
Would a chapati or tortilla taste or feel the same if prepared on something other than a flat pan or comal over a wood fire? While fuel-saving and low-emission cooking products are reaching consumers, several recent studies raise questions over how often and for how long the products are used and the benefits to the households realized, especially when families receive stoves through donor-based programs.
The keys are uptake – when the customer obtains the product—and adoption—the prolonged use of the product over it's lifetime. 
With a growing number of enterprises, like those from D-Lab's Harvest Fuel Initiative, finding strategies to balance local context and tradition, and improved cooking technology, the D-Lab Scale-Ups team guessed that they may hold some clues to solving the adoption challenge.
Over the past several months the team has been designing a study which aims to reveal some of these clues, and during August traveled to Soroti to implement their study and learn about the behaviors and perception of households. Soroti is also the area where Approriate Energy Saving Technologies produces and sells its line of Makaa improved cooking products, now in their third year of operation.
Megha, Dan, and collaborators from MIT Mechanical Engineering (Amit Gandhi and Prithvi Sundar) and ResilientAfrica Network (RAN) initiated the adoption study by visiting 40 household participants (20 new users, 10 existing users, 10 non-users) in the Soroti area. At each household we collected data through semi-structured interviews and installation of remote monitors/sensors.
The remote monitors will measure stove usage (stove use monitor aka SUM) and household air pollution (HAP: carbon monoxide and fine particulate) over the next six months, using technology co-developed by MIT startup SenSen(data acquisition, storage and interface) and the D-Lab Scale-Ups BurnLab (sensors and packaging).
We expect that sensor data will complement the interview data by indicating reporting inaccuracies (if present) and effect of product use on HAP levels. Interviews were conducted during the first two weeks, at which time Megha and I explained the sensor study and requested permission to install the sensors. Amit and Prithvi arrived for the second half of August to join me for the sensor installations.
AEST: Preparing for an upgraded briquette and stove production facility
Dan also managed to spend some time working with AEST on preparations for their upgraded briquette and stove production facility. They have recently acquired additional land to construct an open air factory, install a large drying rack array, and have hired additional staff for this operation.
Betty and Dan met with Juma Ssekamatte, a designer and fabricator in Kampala who has recently been building machines for char processing and briquetting to supply the numerous new briquetting startups in Kampala, many of which have been in touch with D-Lab and have benefited from the experiences of the HFI partners. Juma, Betty and I worked together to spec a set of briquetting and sheet metal machines for AEST that will be installed in Soroti next month. Betty and Dan were exploring options for importing machines from India or China, however, working with Juma is much more cost- and time-effective, and he is incorporating our design suggestions and eager to continue developing his products with D-Lab and AEST.
Takeaways!
Interviews: This was Dan's first time participating (formally) in interview-based user research. The D-Lab User Research Framework and input from its authors, D-Lab's Becca Smith and Kendra Leith, were really helpful! Thanks to Becca, Kendra, and Megha for helping to develop the questionnaires! We learned a lot, both from a technical and a general user perspective! This information not only informs our adoption research, but also product development work that Dan is continuing to work on with AEST. And the interviews were fun!
Sensors: This is D-Lab Scale-Ups' second time using sensors for our field research and the second time that we are working with SenSen. We had to put a lot of work into these before and during the trip to address some challenges related to power consumption, data storage and sensor calibration. In the end, we had to make some compromises, but monitors were installed in nearly all of the 40 households. Measurements are being recorded onboard and will require manual collection periodically through the study. I think both SenSen and and the rest of us learned a good deal from this trip. Dan found some shortcomings in existing low-cost pollutant sensors that we are using; SenSen identified several upgrades that they will implement in future versions to improve their product.
Partners: The AEST/TEWDI team was awesome as usual. They helped to identify the households, with care taken to make sure that the participants were not just neighbors and friends. Big shout out to Helen Acuku and Sharon Achen from TEWDI for their help arranging a lot of the logistics. We also had good success working with students from Makerere University (Kampala), Okotel Dennis and Opiding Joseph, to help us with translation and other project work who were interning with the ResilientAfrica Network. Two of the students were from the Teso area and spoke Ateso which was useful when translation was necessary. Another student had very good electronics capabilities and was useful assisting on the sensor work. Shout out to Deborah and Nathan from RANLab for assisting with in-country research approval and arranging student involvement.
Looking forward to the cookstove-focused International Development Innovation Summit (IDDS) in Uganda, August, 2016
On the last day in Kampala Dan met with Agnes Naluwagga (CREEC) and Juliet Kyayesimira (CIRCODU), two amazing women who are co-organizing IDDS Cookstoves. Amy and Dan will work with Agnes, Juliet, and organizers from the Global Alliance for Clean Cookstoves to prepare for the IDDS in Uganda next August.