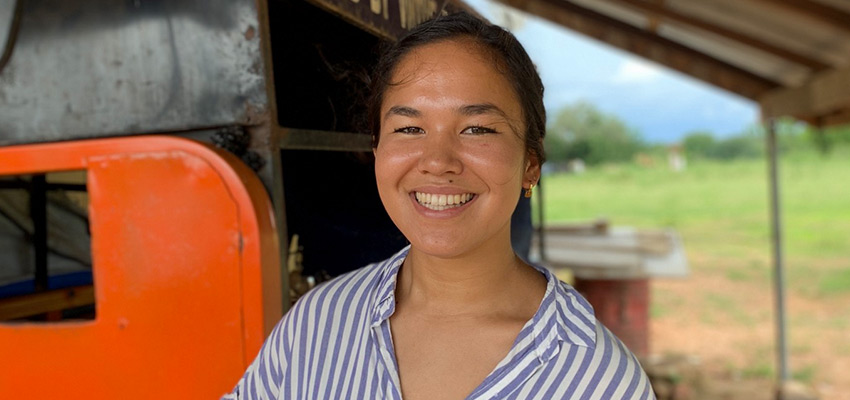 Emily Young, MIT '15
Medium/Selorm Tamakloe Blog
Original blog post on the Medium/Selorm Tamakloe Blog
When Emily Young completed her Mechanical Engineering studies at MIT in 2018, she already had a social entrepreneurship venture that she had co-founded which she sought to grow. The Okoa Project turns motorcycles into life-saving emergency healthcare devices. They work with community-driven engineers to create motorcycle ambulance trailers that safely transport patients to hospitals in places where ambulances are scarce.
In March 2020 The Okoa Project (in partnership with The Virtue Foundation) launched in Ghana after 3 years of operation in Tanzania. I caught up with Emily Young to get a sense of the steps that have led her to this point and to get a glimpse of what the future holds for the Okoa Project.
Walk us through your journey into co-founding the Okoa Project.
I grew up in Southern California. Dad physician, mum psychologist. Their devotion to their professions instilled in me a desire to help people. I am ever grateful to them for that.
Sports was always a part of my life, and I had a big focus to play lacrosse in college but a knee injury I had in the process averted that focus. I gained an interest in biomechanics because of its capacity to solve a problem like the one I faced. A TED Talk by Hugh Herr who designed incredible prosthetics inspired me to apply to MIT.
I was very bio-focused when I entered MIT, but my passion drifted to the product design process when I became more exposed to that. I simply found the process of working with users and getting creative through their feedback captivating. Before I knew it, I was in love with building things. MIT gave me an opportunity to be pushed into that pathway and D-Lab was where I found the passion to use product design for social impact.
In my sophomore year, I took the D-Lab: Design class. They had a format where students partnered with an organization that aimed to solve a real-world problem. My team partnered with a Tanzanian Grassroot NGO. They wanted a faster way to get pregnant women in Tanzania safely to hospitals for delivery. Our group came up with a motorcycle idea and we were able to get enough funding to travel to Tanzania.
The point at which we knew we wanted this to be a real company was the second time that we went to Tanzania. We realised that we needed to backtrack a little to better understand the problem we were trying to solve. We wanted to truly know the problem so we could truly design the solution. We conducted 200 interviews of healthcare workers, pregnant women, community leaders and other stakeholders. I was incredibly moved by many of the stories that we heard. People were very hopeful for a better way for access to healthcare. Our entire founding group was moved. That was when we decided to dive in.
We were really lucky to be in a school that had a strong focus on entrepreneurship. There were opportunities for funding, and having a business accelerator proved to be extremely significant for our success. Our motorcycle ambulances have taken about 200 people quickly and safely to hospitals. Our project is expanding and we have 3 new motorcycle ambulances in the Sissala East District (in Ghana). We have a goal to serve the entire district by having 30 ambulances by the end of 2021.
We started the Okoa Project out of an organization partnering with our school. Now, we are partnering with schools to give students the opportunity to contribute to solving real-world problems while they are still students. One helpful thing was having an open-ended problem. The partner organization didn't give us too many specifications around what to do. That enabled us to solve the aspects of the problem we could solve with the strengths we had.
How beneficial were internships to your development as an entrepreneur?
The biggest thing I took away from my internships was the exposure to different ways that companies could be run. That helped me figure out how I would manage an organization. Plus, getting to have more hands-on knowledge in different contexts was incredibly helpful.
It hasn't been perfectly smooth, but one of the things I have wanted to instil in the Okoa culture is that everyone is always learning. It is always okay to learn from mistakes. We have had challenges that could be classified as mistakes, but we have learnt lessons that have built up an incredible team ready to tackle even harder problems.
How challenging was it to combine kickstarting the Okoa Project with being a student?
I think it was hard to balance having a strong passion for what I saw as a career after graduation with my full commitment to my classes. MIT is a school that if you lose focus for a short period of time, it can get really hard to get back on track.
We worked hard to make sure we didn't lose focus on academics. Despite our efforts, time management was pretty difficult. There was also this desire to see the Okoa Project start existing and solving the problems we aimed to solve. It was hard and challenging to wait.
All in all, it would have been tougher if not for the support from MIT. We were really lucky to have won a lot of competitions to give us funding for the 2 years that we started out as an engineering project at MIT. That cut down on the time we would have spent on fundraising. I definitely think we were really lucky to have been part of the MIT D-Lab. They allowed us to use their lab space. They gave us room to discuss, ask questions and simply explore.
Even though it can be challenging, I think that being a student and having a project that you see potential in after graduation helps you specialize in your choice of classes. I had my eyes on the Okoa Project and that helped me learn with application in mind.
What advice do you have for a student entrepreneur reading this?
Find mentors that give good and unbiased advice. Mentors were supportive and instrumental to us succeeding. Find mentors who not only want your venture to succeed but also want you to succeed as an individual. In the end, ensure you maximise the value of your education to help you with your passion or project.
What are the hopes for the future?
We have a vision of redefining emergency health transportation especially in places that get neglected. We see a future where our ambulances provide access to care for people where they are underserved. We want to saturate Sissala East and have it serve as a model for how a different type of ambulance can enhance healthcare for people.
In the long term, we would like to reach across Ghana and be able to show what can happen if we can have community-led emergency transportation that can supplement the national ambulances. Do visit our website (theokoaproject.com) to learn more.