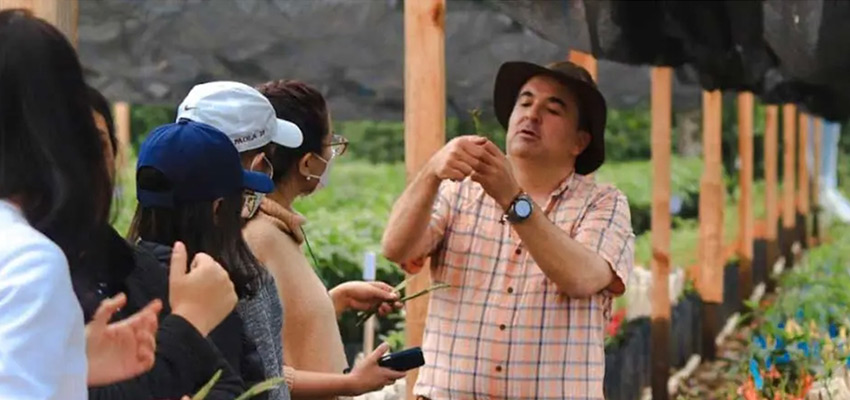 UVG researchers present a project carried out with a participatory design approach to strengthen agri-business in the region. Photo: Courtesy UVG/ASPIRE
Development-oriented research in collaboration with Universidad del Valle de Guatemala and AGEXPORT.
Achieving Sustainable Partnerships in Innovation, Research, and Entrepreneurship (ASPIRE)
ASPIRE, launched in 2021, is a five year cooperative program with MIT, Universidad del Valle de Guatemala (UVG), and the Guatemalan Exporters Association (AGEXPORT) funded by the United States Agency for International Development (USAID).
Goals
The goal of the project is to create a world-class, replicable model for how Latin American universities and their collaborators can respond to local and regional development needs.
The project has four main objectives:
Training: building capacities of UVG and MIT faculty, researchers, and staff to provide world-class training in the generation and use of research and innovation for development.
Research, Innovation, and Entrepreneurship: building the capacity to conduct high-quality research and research-driven innovation that are relevant in addressing regional and local challenges.
Partnership, Technology Transfer, and Uptake: creating a replicable model for uptake of university research by start-ups and other private and public sector partners.
Culture and Systems: creating a university culture and administrative / research systems supporting innovation and entrepreneurship. Additionally, ASPIRE will generate and share lessons learned through a Community of Practice 
Partners and roles
MIT
At MIT, the program will be led by Professor Daniel Frey of the Department of Mechanical Engineering, MIT D-Lab Associate Director for Research Kendra Leith, and Research Scientist Elizabeth Hoffecker from the Local Innovation Group.
UVG
The leadership team at Universidad del Valle de Guatemala is comprised of Mónica Stein Coronado, vice-rector for research, partnership, and collaboration; and Victor Ayerdi, head of the Mechanical Engineering Department. At AGEXPORT, Moisés Mérida, director of partnerships for development, will lead that organization's collaborative effort.
AGEXPORT
Guatemala has a substantially agricultural-based economy, and, as such, its economic future is strongly determined by the prosperity of its farmers and the sustainability and resilience of its farming systems. Therefore, the center will collaborate with the private nonprofit AGEXPORT, a trade association that promotes Guatemalan exports and emphasizes the importance of incorporating micro, small, and medium enterprises into the export value chains. 
Approach
The project uses a collaborative approach to research, teaching, innovation, entrepreneurship and tech transfer, based on the combination of local assets and knowledge with MIT's experience in the innovation ecosystem.
The ASPIRE team will employ a co-creative, community-engaged approach to research, teaching, innovation, entrepreneurship support, and collaborative activities informed by MIT's approach to research-driven innovation ecosystem development. The expected result is a Center for Innovation and Technology Network that is a world-class, regionally relevant, replicable model for the ways in which Latin American higher education institutions can address local and regional development priorities.
The program's methodology leverages existing infrastructure and capacity at UVG and adds high-quality, development-oriented research, innovation, and entrepreneurship that have been used successfully at MIT over the past decade. The effort first seeks transformation within UVG, strengthening the enabling conditions for these changes at the central campus, and then replicates the strategies, methods, and program model at the UVG rural campuses, where these approaches are still nascent.
Throughout the five-year collaboration, there will also be a special emphasis on involving women and indigenous people in developing technology-related solutions.
---
More Information
ASPIRE (primary project website available en Español and in English)
Contact
Kendra Leith, MIT D-Lab Associate Director of Research, ASPIRE Co-Principal Investigator