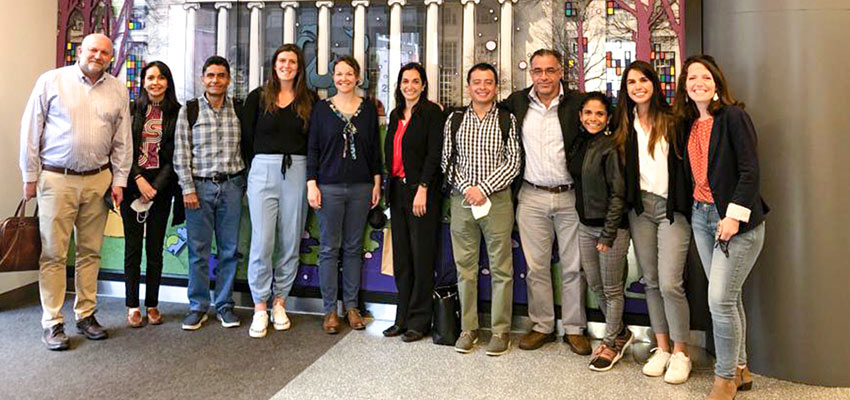 ASPIRE team at the MIT Innovation HQ in Kendall Square. Photo: Courtesy of ASPIRE
ASPIRE
Original article on ASPIRE website:
Representatives of Universidad del Valle de Guatemala (UVG) and of the Guatemalan Association of Exporters (AGEXPORT), collaborators on the USAID-funded project ASPIRE (Achieving Sustainable Partnerships for Innovation, Research, and Entrepreneurship), participated a Learning Exchange visit to MIT during the week of May 22-27. A total of eight people with different specialties including research, training, engineering, and entrepreneurship participated in an intensive week of meetings, discovery, and networking with their MIT ASPIRE colleagues. The objectives of the trip included:
1. Get to know MIT's innovation ecosystem
2. Identify best practices at MIT that could be incorporated into the UVG and AGEXPORT innovation ecosystems
3. Establish new contacts with colleagues at MIT, UVG, and AGEXPORT
4. Begin planning the Year 2 work plan, among other regular project-based meetings
The hosts arranged meetings and sessions within MIT's vast ecosystem of departments and labs. The trip began with a tour and historical review of the Institute through the lens of innovation and entrepreneurship. Early in the week, the group explored and engaged in lively discussion with the staff from MIT D-Lab, Media Lab, Venture Mentoring Services for Entrepreneurs, and MIT's Integrated Design and Management master's degree program.  By mid-week, the group had learned more about the newly-announced Morningside Academy for Design, toured the Legatum Center for Design and Entrepreneurship, and the Martin Trust Center for MIT Entrepreneurship.  To close out the week, the group discussed relevant topics with MIT colleagues in the Technology and Licensing Office and J-WEL (Abdul Latif Jameel World Education Lab), and experienced a taste of inductive learning techniques with MechE faculty.  
In addition to exploring the MIT innovation ecosystem, ASPIRE teammates also conducted several meetings related to upcoming project milestones including a co-creation event in Guatemala (June), conclusion and dissemination of the project's diagnostics results (August), and planning for year 2 (July – August). Amidst this intense and productive schedule, the group found time to also explore Boston and share meals and conversations together.  
Many people remarked what an inspiring experience the exchange was as they strengthen their own innovation ecosystem across Guatemala. Ana Lucía Solano, the ASPIRE Research Specialist at UVG, offered comments that were representative of the group, "…one of the most valuable benefits of this exchange was learning about the work dynamic MIT has created to promote a culture of collaboration between people and with the different programs and laboratories. The ASPIRE project is a point of reference that shows it is possible to work collaboratively and helps promote a new vision of work."
 
---
More information

Contact
Michael Eschleman, ASPIRE Senior Project Manager