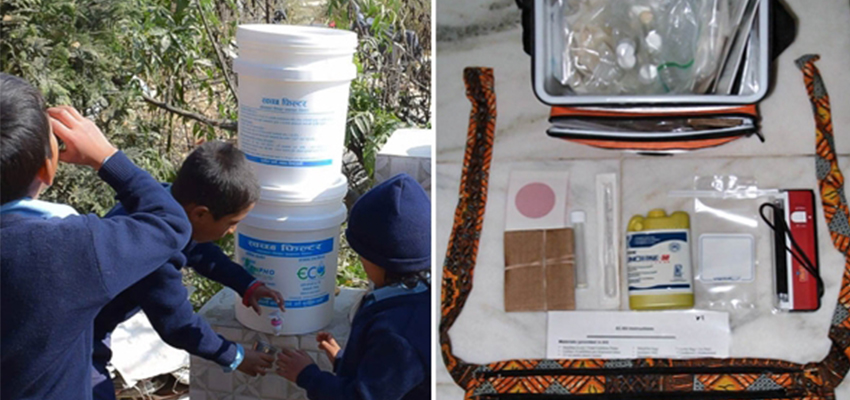 This wearable water quality test kit (early prototype pictured at left) provides a simple, accessible way to test the presence of E. coli in drinking water. A J-WAFS Solutions grant will enable an MIT research team to develop a regionally-appropriate commercialization strategy to ensure that these test kits can be accessible to rural and urban communities in Nepal as well as the other areas in South Asia that face the risk of water-related diseases from unsafe drinking water. Photo: Susan Murcott/MIT D-Lab
MIT News
Grants will aid commercialization of novel MIT technologies to test water safety and improve agricultural productivity.
The Abdul Latif Jameel World Water and Food Security Lab (J-WAFS) has announced two new J-WAFS Solutions grant recipients, who are developing technologies that will provide powerful solutions for improving food and water access in the Global South.
One technology turns agricultural waste into inexpensive fertilizer, and another will enable rural communities in developing countries to test Escherichia coli (E. coli) levels in drinking water via an affordable and accessible mobile kit. J-WAFS Solutions grants provide one year of financial support to MIT principal investigators with bench-scale, market-ready technologies. The funding is accompanied by mentorship from industry partners and additional networking and guidance, supporting project teams as they advance their technologies toward commercialization.
Since the start of the program in 2015, J-WAFS Solutions grants have already been instrumental in the launch of three MIT startups. The first of these was Via Separations, a company spun out from a 2015 J-WAFS Solutions grant which has since been supported by The Engine, has received numerous innovation prizes, and has been recognized by other startup accelerators within and outside of MIT.
"As we face a future increasingly shaped by climate change, urbanization, and population increase, we can't ensure the sustainability of our water and food systems without considerable innovation," says J-WAFS Executive Director Renee J. Robins. "But innovation alone doesn't solve problems. J-WAFS Solutions grants help turn MIT discoveries and inventions into water and food sector products and services that will have real world impact."
Improving agricultural efficiency where fertilizer access is limited
Currently, most of the world's fertilizers are produced in capital-intensive and energy-intensive centralized facilities in North America, Europe, and China. As a result, rural farmers in the Global South often pay two to three times the cost of fertilizer elsewhere.
Ahmed Ghoniem, the Ronald C. Crane (1972) Professor in the Department of Mechanical Engineering, has a solution. He and his team have been awarded a commercialization grant to develop a technology that downsizes and decentralizes soil enhancement production in order for it to be carried out on a small-scale basis in rural villages.
The process, called decentralized biomass torrefaction, uses small-scale reactor units developed in Ghoniem's lab to heat agricultural residues (husks, stalks, and other organic materials that are otherwise considered waste) using conditions that turn this biomass into an alkaline carbon-rich substance. When added to soils, it promotes plant growth and improves soil retention of nutrients and moisture. The portable reactors can be latched onto the back of tractors or inside standard shipping containers and can perform the biomass processing in the field rather than at a centralized plant, reducing the cost of fertilizer and enabling rural, small-scale farmers to increase both their yield and their net income.
Improving water safety in Nepal using affordable monitoring kits
In spring 2016, the MIT-Nepal Initiative funded the production and shipping of 2,000 low-cost, easy to use, and highly accurate water-testing kits to Nepal. The wearable kits were designed by MIT D-Lab lecturer Susan Murcott and provide a simple, accessible way to test the presence of E. coli in drinking water. That year the prototypes were used by the Environment and Public Health Organization (ENPHO), a Nepali non-governmental organization, to test water found in food trucks and mobile water tanks in the Kathmandu Valley in the wake of the April 2015 earthquake.
Building on the success of that initial collaboration, a J-WAFS Solutions grant will support a collaboration of the MIT-Nepal Initiative, led by Murcott and Professor Jeffrey Ravel, with the NGO ENPHO and its business subsidiary EcoConcern. The goal is to refine the design of these kits based on feedback from users in Kathmandu in 2016 as well as Murcott's subsequent kit design and implementation in Ghana, the Philippines, and in Puerto Rico after Hurricane Maria.
The team plans to develop a regionally-appropriate manufacturing and marketing plan that ensures that the kits are accessible to rural and urban communities in Nepal and elsewhere in South Asia which face the risk of water-related diseases from unsafe drinking water. Their vision is for the profits from the sale of these kits to support ENPHO's social and environmental objectives that promote safely managed water, sanitation, and hygiene in the region.
The J-WAFS Solutions program aims to help MIT faculty and students commercialize promising innovations for our water and food systems. By speeding the development of new products and services, J-WAFS Solutions grants help advance MIT technologies that will increase the safety, supply, efficiency, and accessibility of water and food, and bring tangible economic and societal benefits to the communities where they are deployed.
The program is part of a research partnership with Community Jameel — the social enterprise organization that co-founded J-WAFS with MIT in 2015, and is administered in partnership with the MIT Deshpande Center for Technological Innovation.
"With rising populations, climate change, and urbanization, we need to start taking action now to meet the world's future needs for food and water," Community Jameel International President Fady Jameel says. "Community Jameel is proud to be a key partner of MIT in tackling some of the most pressing issues related to food and water safety and security in the Middle East and around the world."
Murcott says her team "is thrilled to have J-WAFS support for manufacturing and marketing the E.coli test kit."
"Early stage ideas can more readily get funding, whereas support for commercialization is harder to come by," she says. "This is doubly the case when one considers commercialization of a product like ours in a low-income economy such as Nepal. Yet, it is exactly in such contexts where this product is most needed. So the J-WAFS Solutions grant provides us with a huge opportunity."
The two new 2018 J-WAFS Solutions grant recipients and their projects are:
"Decentralized torrefaction for producing high-yield, irrigation-saving fertilizer"
PI: Ahmed Ghoniem, the Ronald C. Crane (1972) Professor in the Department of Mechanical Engineering
"Manufacturing and Marketing E. coli Test Kits to Promote Safely Managed Drinking Water and Improved Public Health in Nepal"
PIs: Jeffrey S. Ravel, professor in the Department of History; and Susan Murcott, lecturer in MIT D-Lab