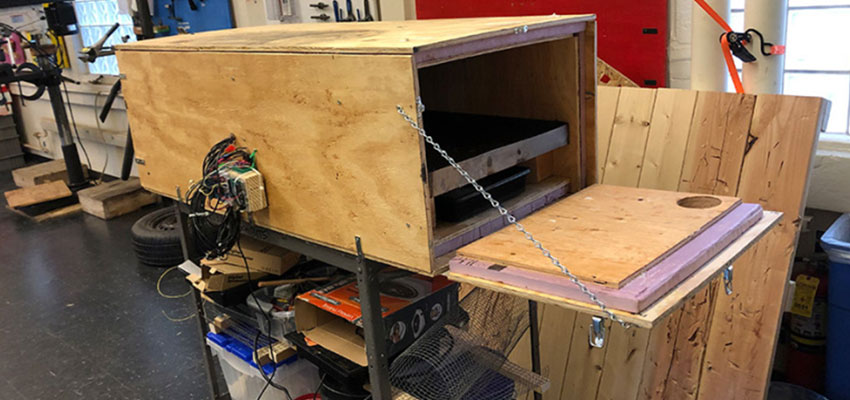 Abdul Latif Jameel Water and Food Systems Lab
J-WAFS is pleased to award the 2022 J-WAFS Grant for Transforming Animal Agriculture Systems to a project entitled Safe off-grid brooder for Cameroonian poultry farmers. As part of J-WAFS' overarching mission to solve urgent water and food systems challenges, this grant provides funding for MIT research projects that aim to improve animal agriculture in low- and middle-income countries (LMICs). This year's selected project was awarded $25,000 to support the research and development of a chicken brooder for smallholder poultry farmers.
About the Project
Poultry is an inexpensive protein source that contributes to reducing malnutrition and generating income in rural communities. About seventy percent of the world's estimated 16 billion poultry are in LMICs, where demand is expected to nearly double in the next 20 years.
Newly hatched chicks cannot control their body temperature in the first few weeks of life, so a heated enclosure called a brooder is used to keep chicks warm. To maintain a brooder temperature of 33-35°C, rural poultry farmers must buy firewood to supply heat where electricity is unavailable. The high costs of firewood and feed can lead to high expenditures during the early lives of brooder chicks. These costs, paired with the relatively high mortality rate of chicks and the small profit margin on chicks that survive and reach the market, make small-scale chicken brooding economically risky for farmers in LMICs such as Cameroon.
To lower costs for smallholder poultry farmers, this project aims to develop an off-grid brooder solution. The project will engage MIT students and community partners in a participatory design process to advance an off-grid brooder solution and test its efficacy during field demonstrations at small farms in Massachusetts and Cameroon. The proposed solution will utilize phase change materials (PCMs), since their predictable and isothermal heat output makes them well-suited for off-grid poultry incubation and brooder applications. The resulting PCM system will be economical and appropriate to solve the challenges of many smallholder poultry farmers in LMICs.
The project will be led by Eric Verploegen, a research engineer at MIT D-Lab, and Daniel Sweeney, a research scientist at MIT D-Lab. Verploegen received his PhD in polymer science and technology from MIT in 2008 and joined D-Lab in 2014 to expand its research efforts in the areas of food, water, and energy. He is also involved in a 2021 J-WAFS Solutions Grant project which aims to commercialize a cold storage chamber that uses evaporative cooling to reduce post-harvest losses of fruits and vegetables for farmers in rural, off-grid communities. Sweeney holds a PhD in mechanical engineering from the University of Utah and is a former Fulbright Scholar. In addition to his work at D-Lab, Sweeney is a co-founder of social businesses in Uganda and India.
---
More information
Safe off-grid brooder for Cameroonian poultry farmers
Contact
Dan Sweeney, MIT D-Lab Research Scientist
Eric Verploegen, MIT D-Lab Research Engineer