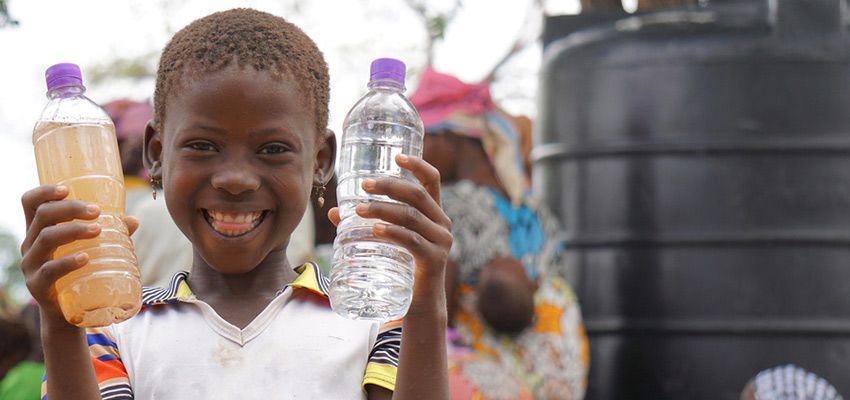 Saha Global works with villages to determine a price for clean water that everyone can afford while also fairly compensating the entrepreneurs for their work. Credits: Photo courtesy of Saha Global.
MIT News
Saha Global, co-founded by two MIT alumnae, helps Ghanaian women start profitable water treatment businesses to serve their communities.
In Ghana's Northern Region, thousands of villages rely on water from artificial ponds during the region's long dry season. The water is unsafe to drink and results in thousands of water-borne illnesses each year. Worse yet, the situation is totally preventable.
Cheap, locally available water treatment solutions exist to make the region's abundant surface water safely drinkable. The challenge lies in getting families in rural villages to use those solutions exclusively and over the long run.
Those were the issues Kate Cincotta SM '09 and Vanessa Green SM '08, MBA '11 studied as graduate students at MIT. In order to solve them at scale they created Saha Global, a nonprofit that increases consumption of clean drinking water by empowering local women in each community to start profitable water treatment businesses.
Saha works with villages to determine a price for clean water that everyone can afford while also fairly compensating the women entrepreneurs for their work. The company then provides training to the women and educates the community about the importance of drinking treated water. Saha also makes a one-time donation of water tanks and buckets to its female entrepreneurs.
Importantly, Saha continues monitoring water consumption in each village for 10 years after a new business forms, helping entrepreneurs through any challenges they run into. The approach ensures the company maximizes its impact as it scales.
"We look at things in stages," Cincotta says. "The first stage is access: opening every business that we can open to get everybody access to clean water. Once that phase is done, the focus is on clean water consumption. How do you get everyone drinking clean water exclusively? If you can achieve that, it's really just making sure that businesses are making enough money to cover their maintenance costs and are staying open."
To date, Saha Global has trained more than 700 women to start businesses in 246 villages. The businesses provide clean drinking water to more than 100,000 people in communities that can't afford large water treatment plants or modern plumbing systems.
Saha is also having an impact on the women it partners with, who use the extra income to do things like send their children to school, buy cellphones, and fertilize their farms. The women also become leaders in their communities, gaining confidence as they provide a service that's of vital importance to everyone around them.
"This is an opportunity for the women in these settings to showcase their expertise and to give back to their community," Cincotta says. "I think about times when I personally feel empowered, and it's when someone looks to me for my expertise or my advice. We can see that happening with these women because this is something they lead in their community."
A model for impact
In 2007, Cincotta enrolled in MIT's Technology and Policy Program and began working in northern Ghana with Susan Murcott, an environmental engineer, social entrepreneur, and MIT D-Lab lecturer who runs a nonprofit that provides water filters to people in the region. The experience taught Cincotta about barriers to long-term adoption of water treatment technologies in the region's rural villages.
"We know how to treat water … and yet at that time, over a billion people still lacked access to safe water," Cincotta says. "To me, it didn't seem like a design problem; it was more this interplay between technology and policy and technology and society, and how we get the tech to the people who need it."
During a trip to the region in 2008, she met Green, another graduate student working with Murcott to understand consumer preferences around water treatment technologies.
Cincotta and Green began a research collaboration in the summer of 2008, finding that many Ghanaians stopped using their ceramic water filters after they clogged or broke, despite the fact that both problems were easily fixable.
Still, resolving those issues by monitoring each deployment seemed too time- and labor-intensive for a traditional nonprofit.
"When you're a nonprofit or social enterprise trying to distribute a product widely, to maybe a billion people who need clean water, that follow up can get extremely expensive," Cincotta says.
To reduce those costs and simplify follow up efforts, the founders decided to invest in one water treatment point in each community. Rather than relying on handouts, the treatment centers would be self-sustaining businesses. The more successful they were, the more clean water would be consumed in the community. And the founders knew just the people to partner with.
Three women in each village are nominated to build and run each local water treatment business. The women spend about five hours a week on it, and typically earn $1 dollar a week — a significant amount in a region where many families live on less than $2 a day.
"Most of them know every family in their community and when they're going to come by and how much water that means they're going to need to treat that day," Cincotta says. "They very quickly know way more about running the business and their community than Saha does, and you can see what that does for someone, getting that expertise and using it to serve people they care about."
The company's training shows entrepreneurs how to use the treatment materials, how to fit the water treatment process into their lives, how to announce when water is available, and how to price the water to cover expenses and compensate them for their time. During that period, the company will also go door-to-door in the community to distribute the buckets and educate people on the new business.
"It all culminates in this big opening day, which is always so exciting," Cincotta says. "The whole community comes out to get water. It's also very busy for the entrepreneurs. And it's basically up and running from there."
Saha supports the entrepreneurs with customer care teams that help them through business problems, technicians that train women to repair tanks, and testers who periodically ensure entrepreneurs' tanks are free of E. coli. The company also continues educating the community on the importance of only drinking clean water.
"Our goal is always exclusive clean water consumption," Cincotta says. "We want everyone in every community we work in to drink clean water all the time. We're not there yet, and so we're really trying to understand who is coming to buy water frequently and who isn't, and of the people that aren't, what are the barriers they're facing to clean water consumption?"
Each of Saha's 246 communities is receiving 10 years of support, and the company will only expand if it can offer the same guarantee to new communities.
Fulfilling a mission
Saha started 70 new businesses in 2019, its best year yet. Last year, the Ghanaian government responded to Covid-19 disruptions by mandating that all citizens be provided clean drinking water for free. The government has said it will reimburse Saha's entrepreneurs for the sales they make, but so far Saha has been forced to fundraise to compensate entrepreneurs.
On the plus side, Cincotta says the company has observed six times more clean water consumption during the pandemic in its communities.
Saha's goal is to help everyone in Ghana's Northern Region who still needs clean water, which amounts to about 800,000 people, by 2025. Cincotta also believes Saha's model can work anywhere in the world where surface water is abundant.
"We really see ourselves as part of this bigger goal of universal water access," Cincotta says, noting Saha's model works best in villages of 400 to 1,000 people in which water treatment plants may be impractical. "You can't leave anyone behind, and so you're really going to need lots of different actors working together. We're excited about the role we can play in that."