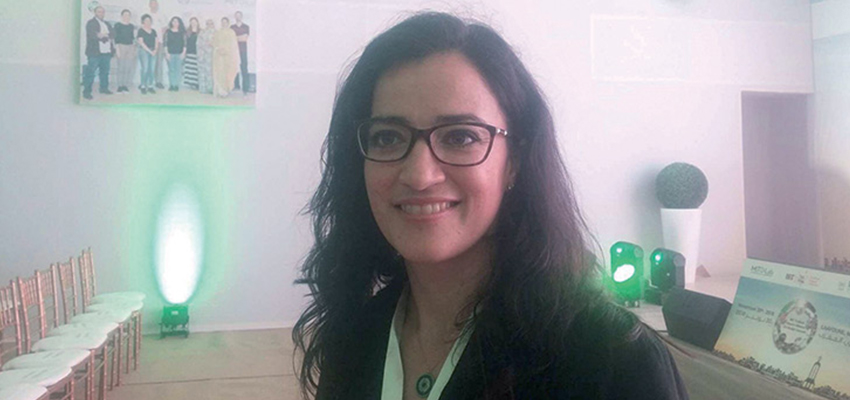 Saida Benhayoune, MIT D-Lab
According to Saida Benhayoune, the goal of the Co-design Summit is to accompany the aspiring entrepreneurs of Laayoune on a path towards creativity and innovation.
ALM: Why the choice of the city of Laayoune to house the Co-design Summit?
Saida Benhayoune: Our work in general focuses on areas where there are needs in terms of economic and social development, and the choice of Laayoune came through the Phosboucraa Foundation who questioned us about the need that there was to be able to develop a new strategy to promote youth entrepreneurship in Laayoune. We realized that the methodology of participatory design that we bring could have an impact in this context since it was able to adapt and apply it to the primary stages of entrepreneurial development to help young entrepreneurs or aspiring entrepreneurs to develop their ideas and focus their efforts in a more disciplined way from an opportunity to an entrepreneurial solution.
Is there a real commitment of Laayoune youth to this initiative?
Absolutely, I think that in terms of membership we have achieved our goals. In principle we try to impact on three levels of change: mentality, knowledge, and relations, and it is really only at the intersection of these three things that change is realized in the end. Now, just by observing the teams, there is certainly a real buy-in among the aspiring entrepreneurs who for the first time are at the center of the action and find a team around them that will help them formulate their ideas with the team. support from local and national ecosystem actors. This summit has come to accompany these young people towards creativity and innovation. Another objective of this event is to bring together several stakeholders in the work teams. Through their participation we think not only to bring back notions about the ecosystem, but to build relationships between the actors of the latter and aspiring entrepreneurs so that they can design programs that are more adapted to the needs of entrepreneurship at Laayoune.
What are the expected benefits of this summit?
There are several spin-offs, first through the building of local capacity for the application and use of the D-Lab methodology, the summit is just one step in the process, trainers have been trained and the idea is that they will take this methodology and continue to teach it in Laayoune, so it is a question of human capital development and knowledge. The second result we hope for is inspiration, that is to say that the projects presented could be inspiring to others so that they can take a step towards entrepreneurship.
And then the third and most important is that there are initiatives that are formed between different actors so that they can support the ecosystem in a more effective and appropriate way. This summit is also a great opportunity for the Phosboucraa Foundation to bring other partners to the table and explore how it can work with other parties to increase efforts for the benefit of young people.
Google translation of original article in Frech in Aujourd'hui
---
For more information
MIT Practical Impact Alliance - Co-Design
Contact
Saida Benhayoune, MIT D-Lab