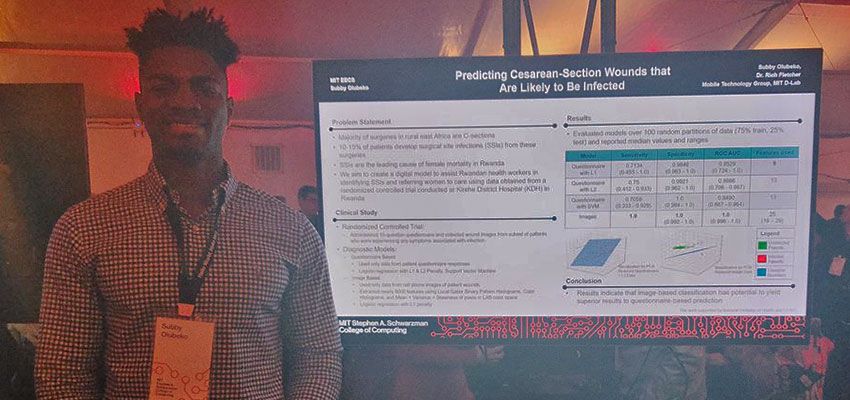 MIT graduate student Subby Olubeko.
MIT News
Research projects show creative ways MIT students are connecting computing to other fields.
Link to full article on MIT News
Excerpt highlighting work of graduate student Subby Olubeko and MIT D-Lab-based Mobile Technology Lab:
Preventing maternal deaths in Rwanda
The top cause of death for new mothers in Rwanda are infections following a caesarean section. To identify at-risk mothers sooner, researchers at MIT, Harvard Medical School, Brigham Women's Hospital, and Partners in Health, Rwanda, are developing a computational tool to predict whether a mother's post-surgical wound is likely to be infected.  
Researchers gathered C-section wound photos from 527 women, using health workers who captured the pictures with their smartphones 10 to 12 days after surgery. Working with his advisor, Richard Fletcher, a researcher in MIT's D-Lab, graduate student Subby Olubeko helped train a pair of models to pick out the wounds that developed into infections.  When they tested the logistic regression model on the full dataset, it gave almost perfect predictions.
The color of the wound's drainage, and how bright the wound appears at its center, are two of the features the model picks up on, says Olubeko. The team plans to run a field experiment this spring to collect wound photos from a more diverse group of women and to shoot infrared images to see if they reveal additional information.
Link to full article on MIT News