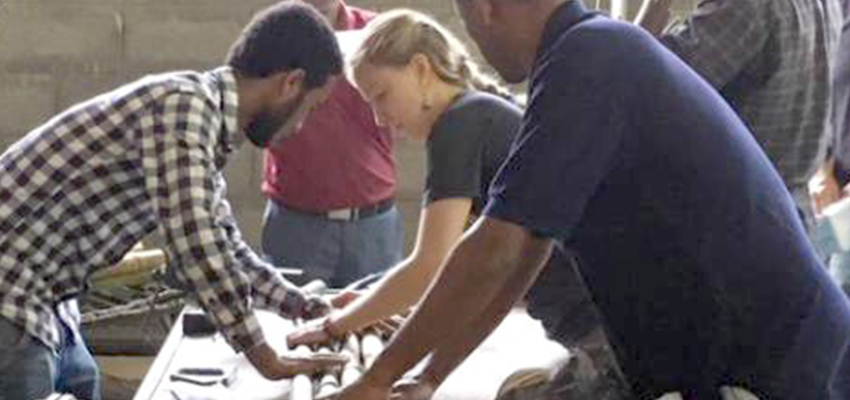 Sanitation Co-Design Summit participants develop a prototype of their latrine superstructure. Photo credit: Kathrin Tegenfeldt, USAID/Ethiopia.
USAID
It's the end of the second week of the USAID Transform Water, Sanitation and Hygiene (WASH) Sanitation Co-Design Summit in Hawassa, Ethiopia, where health extension workers, technical and vocational education and training (TVET) instructors, government officials, and community members have teamed with the Massachusetts Institute of Technology's Design Lab (MIT D-Lab) to create new sanitation and hygiene products for the Ethiopian market. We joined participants at this summit who gathered to design important inputs into the USAID Transform WASH activity, implemented by PSI in collaboration with Plan International, SNV, and IRC WASH, which seeks to transform markets for low-cost sanitation products and services across Ethiopia.
To complement the activity's work recruiting local importers and/or establishing local supply chains for currently available products on the international market to Ethiopia (e.g., SATO toilet pans, AIM toilet slabs), the activity is developing new, low-cost WASH products using participatory co-design or "design with" principles where users and other stakeholders participate actively on the team to develop solutions. The Sanitation Co-Design Summit focused on six core gaps within Ethiopia's WASH market: 1) concrete slab affordability and transportability, 2) latrine superstructure affordability, 3) handwashing, 4) women's participation in WASH construction, 5) children-appropriate latrines (4–8 years), and 6) baby-appropriate latrines (1–4 years).
We participated in three of the design groups' consultations with community members—latrine superstructure, handwashing, and baby-appropriate latrines—where we shared "sketch models" (i.e., designs made out of paper, water bottles, pipe cleaners, and tape). During the community consultations in Aleta Chuko— the district selected as a representative market within the Southern Nations Nationalities and People Region for Transform WASH's phase 1 work—we discussed our model bamboo-based superstructures, modified tippy taps, and potty chairs that illuminated a number of challenges that the design teams had to contend with as they continued developing and refining their prototypes. (Transform WASH's chief of party describes here how the concepts for the models were selected.) The challenges included:
Water scarcity: For much of the dry season (November to June), households in Aleta Chuko rely on a protected spring near the village. Many homes visited had basic handwashing stations but no water readied for immediate use and anal cleansing. Consequently, designs needed to focus on no-to-low water technologies. For the handwashing team, this meant eyeballing the least amount of water required and then experimenting around gray-water capture and reuse, low-flow faucets, and rainwater harvesting.
Finance: During discussions, households expressed various levels of willingness to pay for the latrine superstructure, handwashing stations, and potty chairs. For example, households were willing to pay between 10–50 birr (U.S. $0.40–$1.80) per handwashing station—margins that would make it difficult for a private operator to turn a profit, let alone break even. To both meet household needs and ensure break-even returns for the private sector (at a minimum), new financing options may be required. To date, few options exist. According to USAID Transform WASH's analysis, OMO Micro Finance is the lone microfinance institution in Ethiopia that makes micro-loans available to households to invest in toilets and businesses to invest in equipment and raw materials, backed by a guarantee fund. While USAID Transform WASH will be focused on expanding financing for households (and sanitation businesses) in the coming years, design teams were challenged to find least-cost solutions given limited, current financing options.
Household needs: Despite initial community discussions at the outset of the Design Summit on community needs around sanitation and hygiene, new priorities continued to surface. In fact, during the mid-summit consultations in which we participated, we only had time to meet with two households per design group—hardly a robust sample. Consequently, more due diligence will be required to market test products and continue refining options.
Yet despite these challenges, there is much reason to be optimistic about any follow up coming out of the Design Summit:
Political leadership and interest: In 2013, the Government of Ethiopia launched its National Sanitation Marketing Guideline. The guideline aims to harmonize supply and demand approaches around sanitation and hygiene products and articulates technical options for basic concrete slab production. The guideline reflects a recognition that community-led total sanitation and hygiene alone are unlikely to move the more than 90 million Ethiopians without access to at least basic sanitation facilities up the sanitation ladder. Continued political leadership and interest will be a key enabler of sanitation marketing in Ethiopia and USAID Transform WASH's success.
Unsaturated market: Currently, there's a dearth of sanitation and hygiene products available on the local market, so in many ways it's a wide-open market and opportunities abound. According to a market landscape assessment done under USAID Feed the Future Ethiopia Growth through Nutrition, Ethiopia's best-selling sanitation products are in fact latrine inputs (cement, iron bar, sand, and gravel) rather than final products. (Even within these intermediate goods, there's scope for growth. Currently, iron bar manufacturing within country is insufficient, while constraints on foreign exchange limit domestic imports, leaving gaps within the local market for iron bars.)
Reliance on locally available material: Products coming out of the Design Summit use locally available resources from jerry cans to bamboo. Reliance on these types of inputs will likely make them low-cost and replicable for TVET graduates, local masons, and potentially unemployed youth who are at the center of the Government of Ethiopia's sanitation marketing approach.
User-centered design: At the core of the D-Lab approach is participatory innovation and user-centered design that bring together experienced design facilitators with a diverse group of stakeholders to get them to learn, design, and build things together. We are hopeful that the unorthodox confluence of designers has the potential to spur new innovation in the space; based on the few days we were able to see the teams in action, we're optimistic.
There's a lot of hard work ahead. We look forward to seeing the WASH market transformed.
By Abigail Jones, USAID/Washington Water and Sanitation Advisor, Mequanent Fentie, USAID/Ethiopia Public Health Specialist, and Kathrin Tegenfeldt, USAID/Ethiopia Climate and Water Advisor