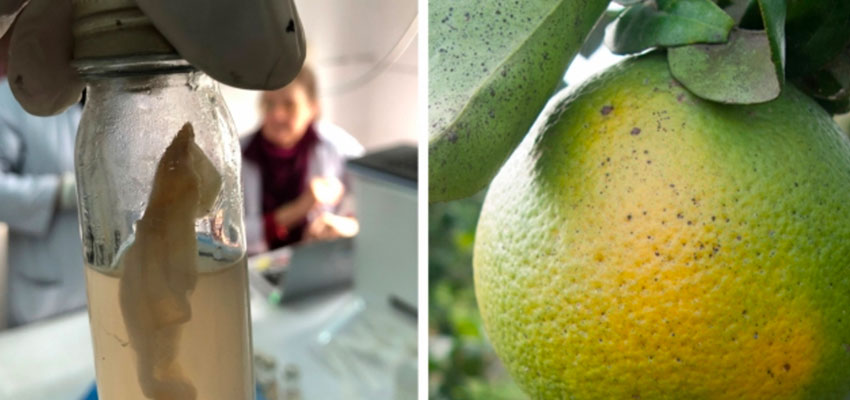 Left: A water sample undergoing testing using the J-WAFS-funded water quality test kit soon to be deployed throughout Nepal. Right: Citrus trees infected with citrus greening disease are highly contagious and can wipe out whole orange groves. A J-WAFS-funded sensor could help farmers detect the disease much earlier. Image: Murcott/Ravel research team
MIT News
Link to full article on MIT News
EXCERPT
Two projects funded by the J-WAFS Solutions program in 2019 are applying this entrepreneurial approach to sensors that support clean water and resilience in the agriculture industry. Three projects, all in the agriculture sector and funded by previous grants, are continuing this year, which together comprise a portfolio of exciting MIT technologies that are helping to resolve water and food challenges across the world.
Simplifying water quality testing in Nepal and beyond
In 2018, the J-WAFS Solutions program supported a collaboration between the MIT-Nepal Initiative, led by professor of history Jeffrey Ravel, MIT D-Lab lecturer Susan Murcott, and the Nepalese non-governmental organization Environment and Public Health Organization (ENPHO). The project sought to refine the design of a wearable water test kit developed by Susan Murcott that provided simple, accessible ways to test the presence of E. coli in drinking water, even in the most remote settings. In that first year of J-WAFS funding, the research team worked with their Nepali partners, ENPHO, and their social business partner in Nepal, EcoConcern, to finalize the design of their product, called the ECC Vial, which, with the materials that they've now sourced, can be sold for less than $1 in Nepal — a significantly lower price than any other water-testing product on the market.  
This technology is urgently needed by communities in Nepal, where many drinking water supplies are contaminated by E. coli. Standard testing practices are expensive, require significant laboratory infrastructure, or are just plain inaccessible to the many people exposed to unsafe drinking water. In fact, children under the age of 5 are the most vulnerable, and more than 40,000 children in Nepal alone die every year as a result of drinking contaminated water. The ECC Vial is intended to be the next-generation easy-to-use, portable, low-cost method for E. coli detection in water samples. It is particularly designed for simplicity and is appropriate for use in remote and low-resource settings.
The 2019 renewal grant for the project "Manufacturing and Marketing EC-Kits in Nepal" will support the team in working with the same Nepali partners to optimize the manufacturing process for the ECC Vials and refine the marketing strategy in order to ensure that the technology that is sold to customers is reliable and that the business model for local purveyors is viable now and into the future. Once the product enters the market this year, the team plans to begin distribution in Bangladesh, and will assess market opportunities in India, Pakistan, Peru, and Ghana, where there is a comparable need for a simple and affordable and E.coli indicator testing product for use by government agencies, private water vendors, bottled water firms, international nonprofit organizations and low-income populations without access to safe water. Based on consumer demand in Nepal and beyond, this solution has the potential to reach more than 3 million people during just its first two years on the market.
Link to full article on MIT News
---
Contact
Susan Murcott, MIT D-Lab Lecturer