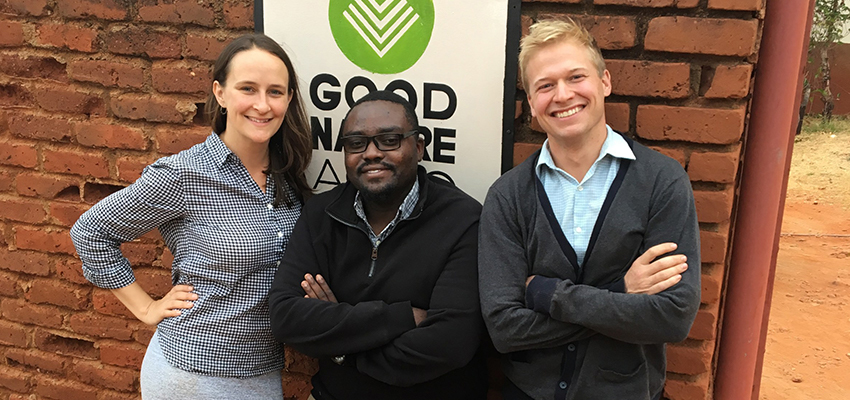 From left: Kellan Hayes, Sunday Silungwe, Carl Jensen of 2014 D-Lab Scale-Ups venture Good Nature Agro.
Conscious Company
Good Nature Agro, Zambia
Company Mission
"To increase African smallholder-farmer incomes."
The story
Good Nature Agro co-founder Sunday Silungwe was born and raised around small-scale agriculture in the Eastern Province of Zambia, and became interested in helping solve the problems that farmers around him faced. He met co-founder Carl Jensen at a design summit in Zambia organized by MIT's D-Lab. Shortly thereafter, Jensen met Kellan Hayes through UC Davis' D-Lab, where they were both finishing graduate degrees. Together, the trio created an organization whose priority is to generate lasting income with small-scale farmers.
The strategy is multipronged. First, they train local community leaders to become qualified Private Extension Agents (PEAs) who oversee and train farmers throughout the growing season (reducing the ratio of experts to farmers from 1:5,000 down to 1:40). Through the PEAs, the organization also delivers a farmer-friendly loan of seeds and other necessary inputs. At harvest, Good Nature provides a guaranteed market for the legume seed that growers produce. Choosing to produce these high-value crops over traditional cash crops — like maize and cotton — more than doubles farmer income.
In the past four years, Good Nature Agro has increased farmer incomes from $115 to $382 per hectare of production. Through its seed business, Good Nature is supplying over 10 legume varieties to Zambia and regional neighbors. The company now sources from 5,000 small-scale farming families.
Surprising business lesson
"In the past year, I have learned to fail and accept failure. My culture groomed me to despise failure; when you failed, you were the talk of the family or town. So, the natural inclination was either to hold back on good ideas and never try or to watch others take the risk. At the stage that the company has reached, risk is inevitable. We have failed so much that it's part of the culture to try. The failures have made us stronger, and this lesson has given me hope and the zeal to keep going and growing." — Sunday Silungwe
Favorite leadership tip
"Listen to everyone. Every time I humble myself to listen, I learn something new." — Sunday Silungwe