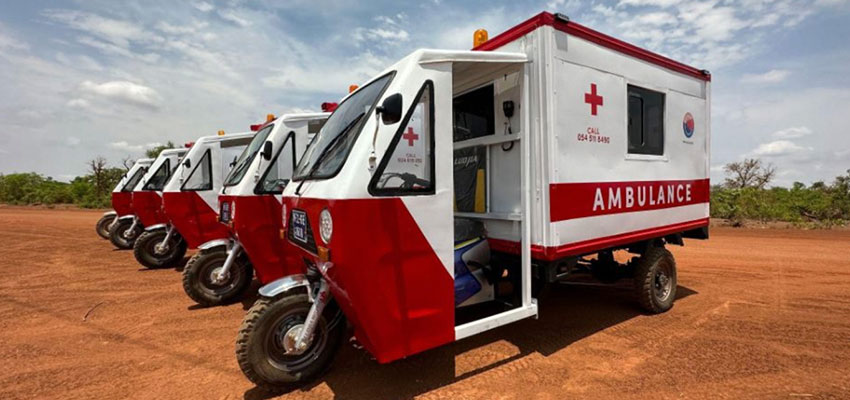 3News (Ghana)
Moving Health, a nonprofit that designs, builds, and distributes motorcycle ambulances to provide safe and reliable medical transport in rural Ghana, announces the launch of a new ambulance design.
The organization spent two years collecting Ghanaian user feedback, incorporated that information into designing and building a vehicle that patients trust to transport them to receive medical care.
The vehicle is a tricycle ambulance, leveraging the most common mode of transportation in the rural areas of the country. The design features a removable stretcher for the patient, seats for family members and medical personnel, as well as basic life support options.
The new ambulance is the country's first Ghanaian Made Tricycle Ambulance, empowering local fabricators and suppliers and building economic growth.
The organization's manufacturing team, located in Sissala East district, worked with master fabricators in Suame Magazine to develop the final design.
On Thursday, March 23, Moving Health launched 5 new re–designed ambulances to replace existing ones used for a pilot in 5 Communities: Kong, Sakai, Nagbugubelle, Nabulo and Bawiasibelle in Sissala East District, Upper West Region of Ghana.
This launch took place at the Gateway Hotel.
Present at the launch were different stakeholders in the communities and Health sector, the In–Charges, Midwives, Health Committee members, Opinion Leaders, the National Ambulance Service, National Fire Service, Health directorates representatives, the Northern Development Authority, Tumu Deanery Rural Integrated Development Programme manager, GCB representative and Virtue Foundation.
The CEO and Co–Founder, Emily Young, shared the progress and impact Moving Health has been making in Sissala East for over 2 years.
Moving Health completed their pilot in Ghana, where they provided access to emergency transportation to about 10,000 people.
Out of over 270 rides to the hospital, nearly 50% were women with pregnancy–related complications. All mothers and babies survived. These outcomes are in line with the Ghanaian Ministry of Health's 2022 goal of improving emergency transport—and, ultimately, health care outcomes—in the country.
Lack of transportation is one of the top two reasons people do not receive medical care globally.
The Country Director, Isaac Amoah Quansah, then announced the launch of the ambulance and took participants through its design process.
A robust, stable tricycle ambulance, ready to take the rough terrains of rural Ghana. A polished and productive interior with a removable stretcher and space for up to 4 passengers.
All proudly made in Ghana, showcasing local creativity, talent, and manufacturing capacity.
Stakeholders expressed their gratitude and joy towards this innovation.
They applauded Moving Health for making a huge impact in the health sector of the district and promised to sustain the redesigned ambulances just as they did the pilot.
Moving Health, formerly called The Okoa Project, since 2016, has been redefining emergency transportation.
Its mission statement is: "We envision a world that allows every family to be connected to the healthcare they need, when they need it."
---
More information
Moving Health, originally known as the Okoa Project, got its start in the D-Lab: Design class in 2016. Co-Founder and current CEO Emily Young MIT '18 has been a D-Lab instructor of D-Lab's Design for Scale class.