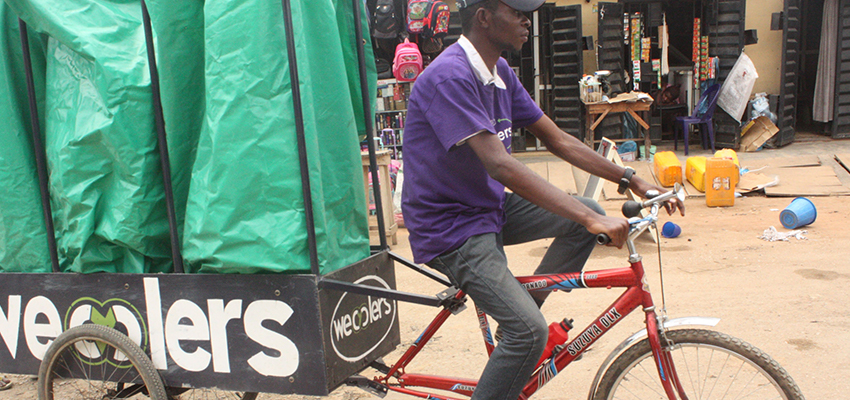 An employee rides one of the Wecyclers' cargo bikes. The startup employs locals to ride door-to-door across the slums of Lagos, Nigeria, to collect recyclables.
MIT News
Across the slums of Lagos, a startup's bikes have removed 600 tons of recyclables in return for rewards.
"Jack Whipple, the D-Lab workshop manager since 2012, traveled to Lagos to help Wecyclers design and build human powered cargo vehicles. The final design selected was a cargo tricycle: Working with local craftsmen, they fabricated a cargo section suited to Wecyclers' needs and local road conditions, and attached a tricycle drivetrain with a locally sourced bicycle as the front end. A few years later, a D-Lab student team worked with Wecyclers, and one D-Lab student wrote his undergraduate thesis on a Wecyclers engineering issue.
Over the years, Wecyclers has also earned an MIT Legatum Center seed grant, a Carroll L. Wilson Award, a D-Lab Scale-Ups Fellowship for $20,000, and prizes from the MIT $100K Entrepreneurship Competition and the MIT Sloan Africa Business Plan Competition."