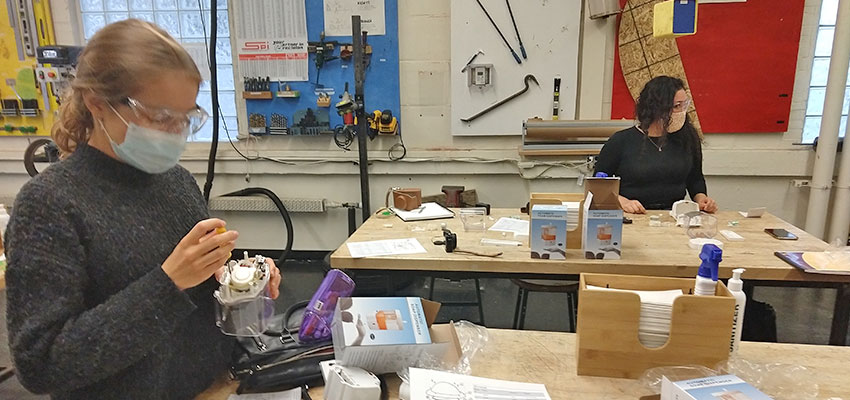 Students from D-Lab's Design for Scale class in the D-Lab workshop! Photo: MIT D-Lab/Jack Whipple
MIT D-Lab
D-Lab: Development (Hybrid w All Virtual Option)
Instructors: Libby Hsu, Bish Sanyal
Guatemala: Researching improvements to a co-created "Chaparra Redondo" stove design that will improve insulation, fuel efficiency, ventilation, and appropriate material use. Mentors: Omar Crespo and Libby Hsu. Students: Isabel Barnet, Jessica Horowitz, Hye Yeon (Hannah) Oh.
Thursday, December 3, 5:30 pm
Zoom link: https://mit.zoom.us/j/3896660653
Please note this event includes a co-creation activity with the community that will extend approximately 1 hour.
Colombia: Reimagining uses for sowing, weeding, mowing, and/or soil fertilizing machinery that is no longer needed for its original purpose by quinoa farmers. Partner: Diversa. Mentors: Pedro Reynolds-Cuellar and the Diversa team. Students: Michelle Chung, Abigail Frey, Layal Barakat, Aditya Mehrotra.
Friday, December 4, 5:30 pm
Zoom link: https://mit.zoom.us/j/91413168817
Uganda: Assisting TEWDI in developing Auntie Betty's Chili Powder product by researching safe handling, crushing, packaging, and marketing of the chili powder. Partner: TEWDI Uganda. Mentors: Betty Ikalany and Dan Sweeney. Students: Patricia Chan. Andrea Lo, Megan Guenther, Olutimilehin (Timi)Omotunde.
Tuesday, December 8, 2:00 pm
Zoom link: https://mit.zoom.us/j/97379555443
Rhino Camp, Uganda: Empowering refugees to create a communications platform, using radio kits, to bridge the information gap between and amongst communities in Rhino Camp. Mentors: Amy Smith and Martha Thompson. Students: Tanvi Sharma, Francesca Machiavello Cauvi, Isabella Chiurillo, Tiffany Louie.
Wednesday, December 9, 9 a.m.
Zoom link: TBD
Wednesday, December 9, 9:30 am -12:30 pm
Zoom link: https://mit.zoom.us/j/94167180796
Colombia: Designing methodology for three workshops to train women in leadership and self organizing, including techniques and concepts such as public narrative, system mapping, value chain, gender-based violence. Students: Kasia Jakimowicz, Kim Trageser, Arya Yadama.
Kenya: Developing menstrual management resources (co-designing period underwear in a workshop with SEP and providing menstrual cups) and a sexual and reproductive health curriculum. Students: Ashleigh Teygong, Ji Min Lee, Sonia Pavel, Eleanor Xiao, Mary Wandia, Nitya Parthasarathy, Sarah Lincoln, Elizabeth Popkov.
19 Countries in Africa, Latin America, and Southeast Asia: Redesigning Root Capital's Inclusive Training Checklist, to increase women's participation in agribusiness training. Partner: Root Capital. Students: Haley Schilling, Isabela Valencia, Kirsi Teppo.
Cambridge, Mass: Buiding technologies (structures, ventilation, daylight) that promote safe and comfortable indoor and outdoor education, with focus on Cambridge, Massachusetts. Students: Ai Bui, Dong Nyung Lee, Elliott Seaman, Varsha Sridhar.
Wednesday, December 9, 9:30-11 am
Zoom link: https://mit.zoom.us/j/98286881935
Design for Scale (Hybrid w All Virtual Option)
Instructors: Sorin Grama, Harald Quintus-Bosz, Maria Yang
No public final presentations.
Africa: Family filter pump system that can remove out viruses, other pathogens, and sediment. Partner: FairCap. Students: Jonathan  Marcus, Flora Klise, Hunjoo Kim, Tamir Peleg.
Chile: Smart insoles for early foot diabetes detection using flexible pressure sensors that measure the foot in 17 points. Partner: Ebers Med. Students: Haley Higginbotham, Nahum Kim, Sheng-Hung Lee, Ziyuan Zhu.
Chile & Indonesia: Liquid dispenser for home care products, using reusable packaging and solving the poverty tax by enabling low-resource families to buy products in smaller quantities but pay fair inclusive prices. Partner: Algramo. Students: Amelie Feron, Jon Williams, Anahi Vega, Dave Ludgin.
Niger: An alternative method of processing pearl millet by threshing and winnowing millet in a single step. These threshers are simple to use, and dramatically reduce dust, physical effort and time. Partner: Pearl Millet Thresher. Students: Joshua Maldonado, Geneva Casalegno, Jimmy Tran, Miki Hansen.
Development Ventures (Virtual)
Instructors: Joost Bonsen, Alex (Sandy) Pentland
No public final presentations.
Fall 2020 projects:
VaccineForAll: Equitable and efficient distribution of pandemic vaccines
Strategic analysis for Eleos: Improving mental health treatment outcomes
SELT: Social Emotional Learning Time: Online, social, and interactive wellbeing sessions
Consulting Fellowship: MBB-led education-focused consulting projects
5for5 + New U: Literacy Toolkit and Cloud Academy
Darwaze: Crunchbase for social-sector
Nexus: Individual Risk Stratification for COVID
xVC: Reimagining Venture Capital
---
More information
Contact
Libby Hsu, MIT D-Lab Lecturer and Associate Director for Academics