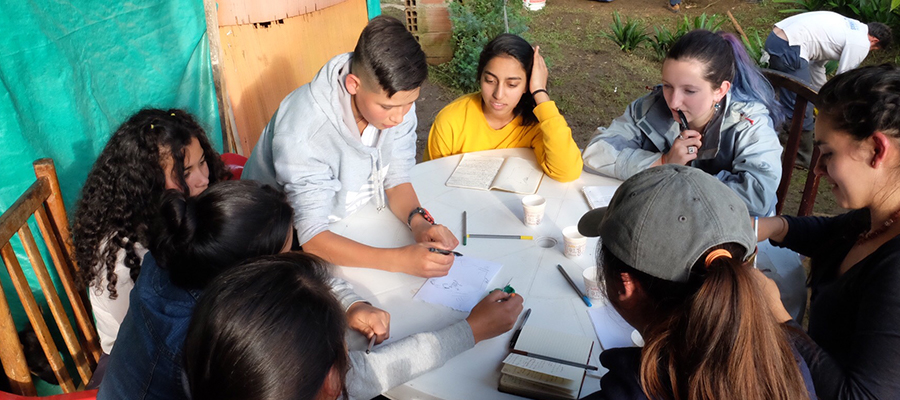 D-Lab: Development students working with community members in Colombia, January 2018.
What effects does poverty have on individuals in different parts of the world? Why have so many development programs been ineffective in addressing poverty? What is your role in making the world a better place?
This class addresses those questions and more through lectures, case studies, guest speakers from around the world, and hands-on, experiential learning. You will examine technological improvements for developing countries through a variety of lenses and understand how the quality of life for low-income households can be improved by the adaptation of low-cost, sustainable technologies.
Projects & Teams
Students in this class form project teams to partner with mostly local organizations in developing countries and formulate plans for an IAP site visit. Most of these visits focus on needs assessment, evaluation of previous work, cultural immersion, and the advancement of long-term projects with our close collaborators. Previous field sites include Ghana, Brazil, Honduras, Tanzania, El Salvador, Uganda, and India. Weekly project team meetings focus on developing specific ideas and include cultural, social, political, environmental, and economic overviews of the countries and localities to be visited.
Travel & Funding
Guided IAP travel experiences may be available to students in the 2022-23 academic year, pending COVID-19 safety guidelines and funding availability.
Prerequisites
None. Please attend the first class session to participate. Contact lead instructor Libby Hsu with questions.
Course Information
Semester Offered
Fall (Offered since 2002)
Units (credit hours)
3-2-7
Course #
11.025 / 11.472 (G) / EC.701 / EC.781 (G)