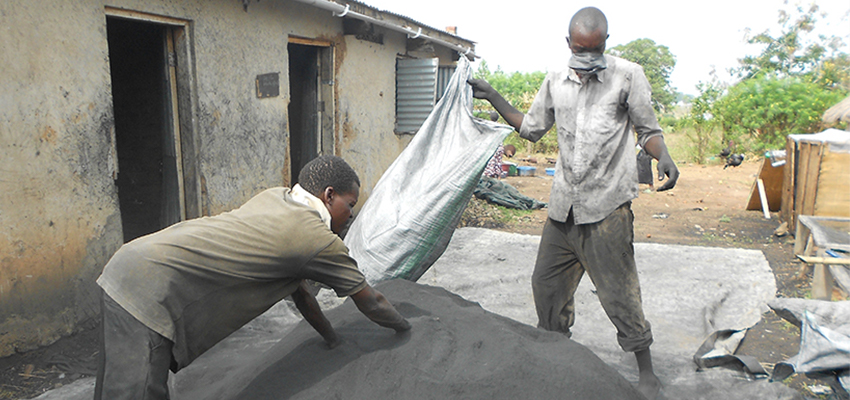 Mixing char and charcoal dust in Soroti, Uganda at Appropriate Energy Saving Technologies (AEST).
Engages students in advancing the UN's Sustainable Development Goal 7, which seeks to ensure access to affordable, reliable, sustainable, and modern energy systems, through community-based approaches.
Applications of Energy in Global Development is a hands-on, project-based course where student teams collaborate with D-Lab community partners to address a challenge they are experiencing. Students learn and practice D-Lab's design process including gathering information about the challenge and context, building and testing prototypes, and receiving feedback from stakeholders. Students have the opportunity to participate in an immersive experience to visit their community partners to pilot, test and refine their prototypes during the Independent Activities Period (IAP, January), however that will depend on the pandemic conditions during IAP 2022. The class includes practical lectures on the product design process, guest lectures from social entrepreneurs and practitioners, and instructional prototyping sessions.
 
Projects
Teams will work on off-grid energy projects focused on challenges including vegetable storage, home heating, cooking and livestock rearing to address a challenge faced by pre-selected D-Lab community partners. Project and partner continuity is prioritized, so most projects are continuations from EC.711 (Introduction to Energy in Global Development) and the previous EC.712. The projects may be at different stages and require various approaches including needs assessment, technology and business model identification, and implementation strategies. All of the projects include analysis, design, prototyping, testing and implementation.
Travel 
Pending COVID-19 conditions, there is a possibility to travel during the Independent Activities Period (IAP, January) to visit and continue collaborations with the community partners, typically in Africa or South Asia. Alternatively, students can continue their projects at D-Lab through UROP, thesis or other D-Lab courses.
Prerequisites
None. Enrollment limited to 20 students.
Contact
Dan Sweeney, Instructor
---
Related
Read about one student's experience working in Uganda and Kenya on a project that was a part of this class: 
Following up on Intro to Energy class projects in Uganda and Kenya
---
Course Information
Units (credit hours)
4-0-8
Course #
2.652 / EC.712 / EC.782 (G)