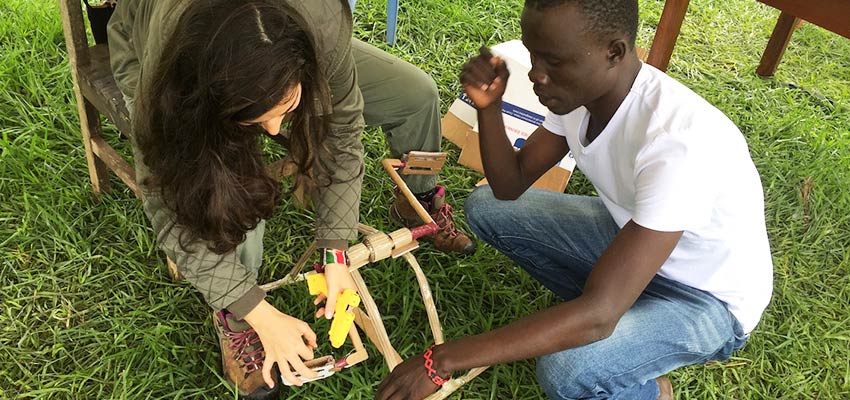 The International Development Design Summit (IDDS) Uganda 2019: Transforming Household Livelihoods. Participants co-created technology and developing business models with community members from Rhino Camp refugee settlement.
Design for relief, recovery, and rebuilding
The world is facing an unprecedented humanitarian crisis, with 65 million people displaced by conflict or persecution. Available resources are heavily strained and organizations urgently need creative solutions to providing basic needs to this population.
When you hear about wars and refugees, do you wish you could figure out a way to put your skills to use in those situations? The D-Lab: Humanitarian Innovation class is about working with people affected by war, conflict, and natural disasters to use innovation and design to improve their lives.
The course pilots a new approach to humanitarian innovation, focusing on how to teach refugees and displaced the design process so that they can create technologies and tools to improve their lives and ultimately improve the way humanitarian work is delivered. Class work will include developing practical skills, a solid grounding in humanitarian work, and hands-on projects for South Sudanese refugees in Uganda, displaced in Colombia, and Afghan and Syrian refugees in Greece. Join us to make a difference in addressing the humanitarian challenge. Taught by D-Lab Founding Director Amy Smith and veteran humanitarian worker Martha Thompson. 
Case studies and projects will look at protracted displacement as well as recovery and resettlement, including efforts in Colombia, Uganda, Greece, Mali, and Lebanon.
Students who are taking the graduate version will complete additional work.
Potential for students to travel over the summer to partner communities.
Read co-instructor Martha Thompson's blog about this course!
Course Information
Units (credit hours)
4-0-8
Course #
EC.750 / EC.785 (G)