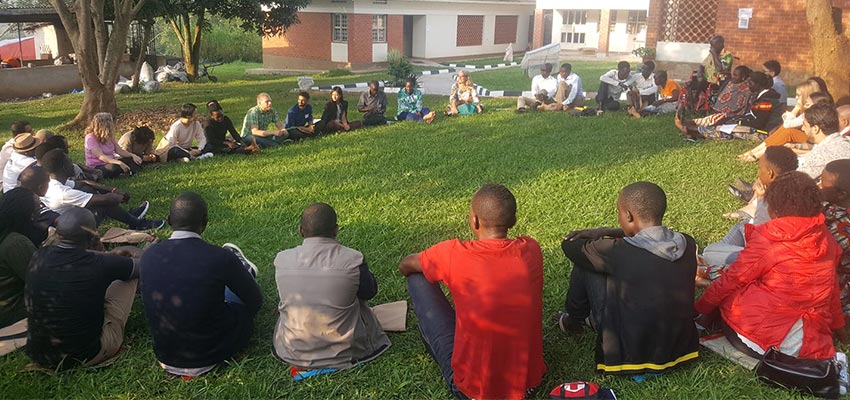 Participants of the International Development Design Summit (IDDS) Uganda 2019: Transforming Household Livelihoods gather for "morning circle." Photo: Courtesy MIT D-Lab/Thabiso Blak Mashaba
Practical solutions and collaborative approaches to global poverty challenges.
Participatory design and inclusive innovation
D-Lab's work in participatory design, or inclusive innovation, teaches leaders and learners how to discern when (or if) to use a participatory design process to solve a challenge. Through participatory design, we learn how to connect more meaningfully with people of diverse perspectives, and to make decisions with them collectively and quickly. This can lead to more desirable and sustainable solutions – but participatory design is not a silver bullet, and there are times when it can be more costly than other approaches. However, when participatory design is the appropriate approach, we advocate for taking the time to include the people who are facing the challenge that the innovation will address. If necessary, this may involve covering the costs that can limit their full participation (e.g., childcare, transportation, lost wages, etc.).
Three types of participatory design
At MIT D-Lab, we practice three types of participatory design:
- Use inclusive practices when designing FOR people living in poverty (user-centered design)
- Engage in effective co-creation when designing WITH people living in poverty (co-design)
- Build confidence and capacity to promote design BY people living in poverty (user-generated design)
In following this design framework, MIT D-Lab is re-thinking the role of low-cost technology and design education in low- and middle-income communities and has empowered thousands to address the daily challenges of poverty through design, prototyping, production, and social entrepreneurship. Find out more.
Programs and strategies
---
Contact
Nancy Adams, MIT D-Lab Communications Officer