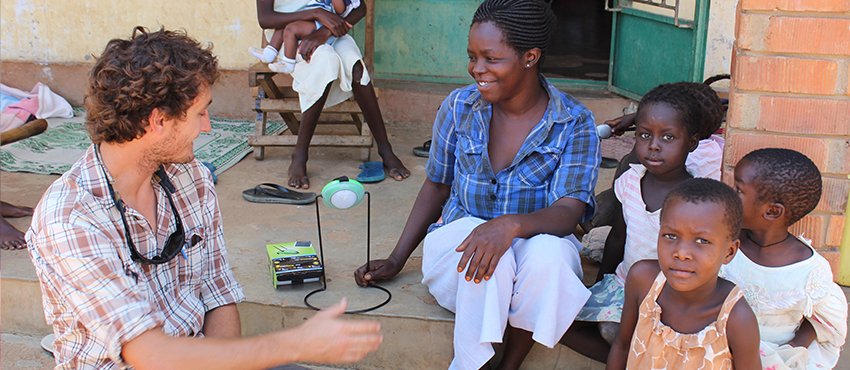 MIT D-Lab research scientist Dan Sweeney explaining the objectives of a cookstove adoption study in Soroti, Uganda.
Creating, sharing, and using collaborative research practices, actionable findings, and practical solutions.
The interdisciplinary research team designs and implements a variety of studies in collaboration with organizations and local community members around the world in several sectors. D-Lab is committed to ensuring that its research conforms to the principles of Lean Research: rigor, respect, relevance, and right-sizing. 
Thematic Areas of Focus
D-Lab's growing research team specializes in sectors relevant to developing world contexts including food, water, and energy, and the nexus of these sectors; local innovation processes, ecosystems, and capacities needed to innovate; and information communication technologies. 
Types of Studies
D-Lab generates and disseminates knowledge, findings, and resources through studies in the following areas:
Need, asset, and market assessments: characterizing the local context and market in the communities where D-Lab works 
Technology evaluation and development: evaluating, improving, and developing technologies and services for performance, affordability, and adoption
Evaluation of distribution strategies: identifying appropriate delivery strategies for technologies and services
Assessment of innovation systems and approaches: describing, modeling, and evaluating local innovation processes and ecosystems and participatory design processes 
Approach
LEAN: D-Lab's research is lean. In all of D-Lab's research projects, the team applies the principles of Lean Research: rigor, respect, relevance, and right-sizing. Created in collaboration with colleagues at Tufts University, Lean Research is an approach to research and monitoring and evaluation in the contexts of global poverty and humanitarian work. This approach seeks to minimize the burden on research stakeholders, improve the quality of information gathered, improve the relevance of findings, promote actionable decisions, and enable the process to benefit stakeholders.
COLLABORATIVE: D-Lab collaborates with researchers, practitioners, faculty members, students, and community members at MIT and beyond. D-Lab's research team works closely with non-governmental institutions, social enterprises, corporations, foundations, multilateral and bilateral institutions, and universities to design and implement research projects.
INTERDISCIPLINARY: The interdisciplinary project teams are often comprised of researchers in the fields of engineering, social science, and the sciences. Researchers work closely with their collaborators to ensure that the knowledge and resources generated from the research are relevant and can be translated into action to address complex challenges.
Methods
The research program is also integrated with the other programs within D-Lab. The D-Lab Research, Education, and Innovation Practice programs work together to define research questions and design programs. Findings from research inform the continual development of the Education and Innovation Practice programs.