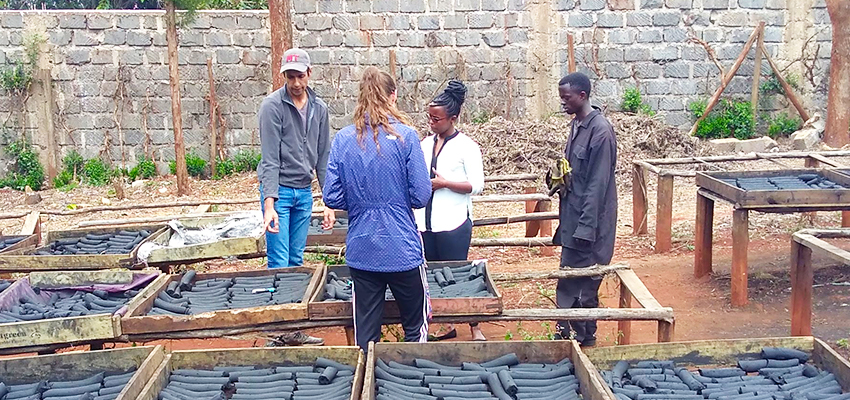 MIT D-Lab trip leader and D-Lab: Energy I instructor Amit Gandhi and blog post author Danielle Gleason discuss sensors with Chebet Lesan, CEO of BrightGreen Renewable Energy, Kenya." Photo by Jessica Huang.
From July 28 to August 10, I traveled to Soroti, Uganda and Nairobi, Kenya, to work on projects started in the previous semester. I traveled with fellow D-Lab: Energy I student Michael Kitcher (MIT '18) and three trip leaders to work with local charcoal briquette entrepreneurs (and past D-Lab Scale-Ups Fellows) Betty Ikalany in Uganda and Chebet Lesan in Kenya to better understand the charcoal briquette manufacturing, drying, and testing processes.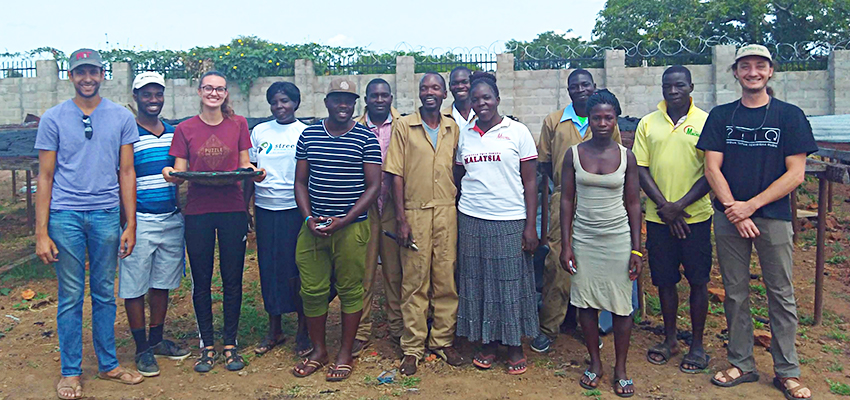 As a member of the D-Lab: Energy I Dryers team, I collected data on drying rates and ambient conditions, in addition to helping build and modify prototypes of various solar dryers. Michael, a member of the D-Lab: Energy I Briquette Quality team, conducted tests on briquette moisture content, density, calorific value, power output, and also established procedures for continued quality testing on-site.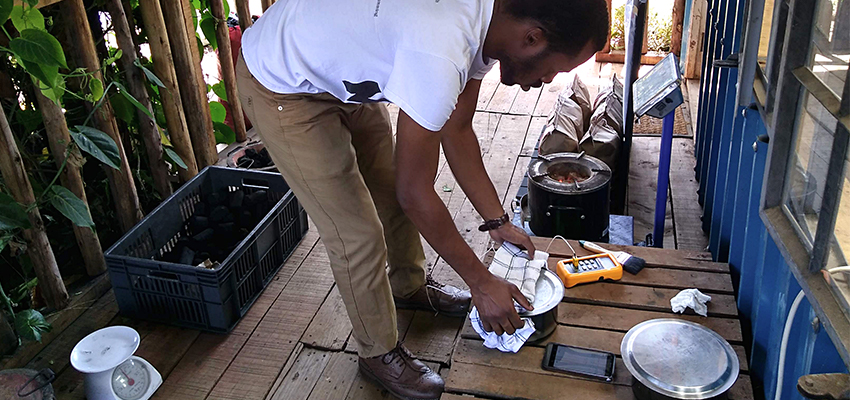 Our first stop was in Uganda was Kampala, where we toured Green Bio Energy, a local large-scale briquette manufacturer D-Lab has worked with in the past, and learned about their drying process and setup – and we rested up from our long flights!
Next, we drove up to Soroti, a city in Eastern Uganda, to work with Betty, Helen, and the rest of the AEST (Affordable Energy Savings Technologies) staff. AEST manufactures both charcoal briquettes and improved cookstoves, and they are working on expanding to dried fruit as well. Briquettes are generally dried out in the sun uncovered, but fruit is susceptible to insects and mold, so it is best to dry fruit either in an active dehydrator or in a solar dryer. We took temperature and humidity measurements in several solar dryer setups to gain insight into how to dry fruit – and briquettes!  more efficiently.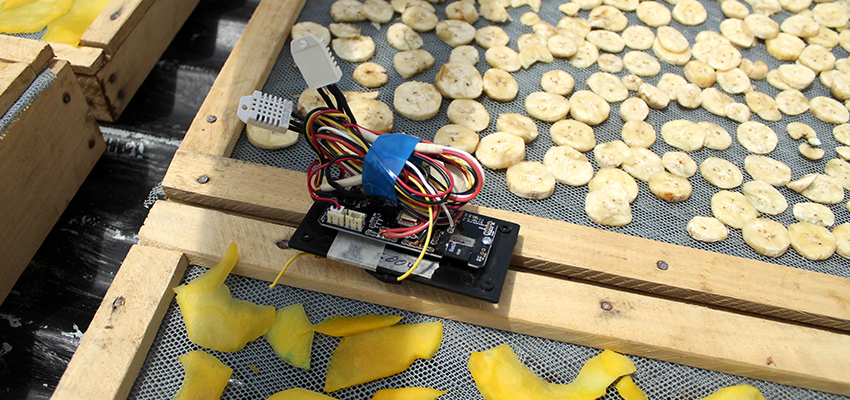 AEST also expressed interest in creating a dedicated quality control lab, so Michael worked with the AEST team to develop and practice procedures for quality tests. More knowledge about their products allows AEST to more successfully market their briquettes and target the right consumers.
We loved spending time with Betty and her wonderful team, as well as enjoying the local cuisine!
To finish off the trip, we took the bus across the border to Nairobi, Kenya to work with Chebet and her team at BrightGreen Renewable Energy. BrightGreen produces several different charcoal briquette products, so we had our hands full taking quality measurements of all of the different varieties. The climate in Nairobi is also very different from Soroti and Kampala, so we continued taking measurements of the drying conditions and drying rates to help us understand the benefits and constraints of drying in different areas.
By the end of the trip, we'd learned a lot about drying and briquette quality testing, and are excited to share what we've learned with the D-Lab: Energy II class, where these projects will continue this fall!
We also made some time for fun on the trip, and visited a local giraffe park where we got to hand-feed giraffes, as well as stopping by a baby elephant orphanage!