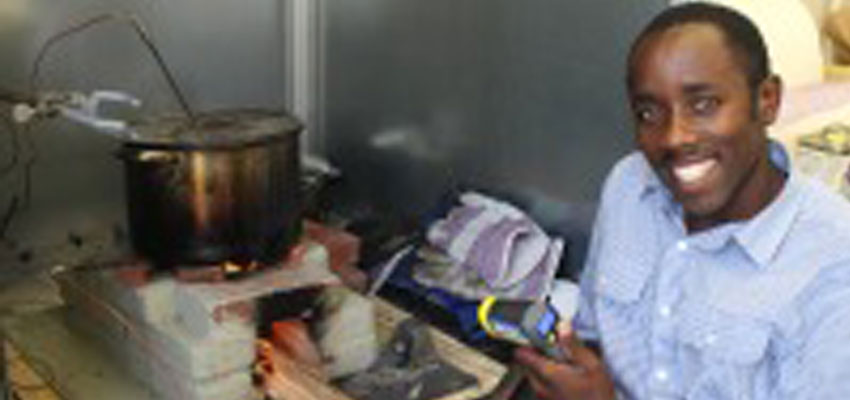 D-Lab Visiting practitioner Elius Muhimbise from Uganda evaluates his low-cost mud/brick wood stove
Greetings from the Scale-Ups bioenergy research team! This spring, we have been progressing on several fronts in our work to overcome challenges to scaling up production of alternative fuels in emerging markets.
We have a new lab!
Undergraduate researchers Bella DiDio and Harry Thaman were busy this semester finishing construction and initial testing of D-Lab's new fuel test facility. The new lab is capable of evaluating efficiency and emissions (CO, CO2, respirable PM) performance according to standard test methods for a variety of small-scale solid fuel devices including wood, charcoal, and LPG household cook stoves, gasifying stoves, and small-scale pyrolysis kilns and gasifiers.
Researchers in our group are currently carrying out evaluations of charcoal briquette fuel samples produced by Harvest Fuel Initiative (HFI) partners in East Africa to quantify the benefits of using green charcoal instead of wood-derived charcoal and firewood.
Reducing the impact of alternative charcoal fuel production
Nani Ruiz and members of MIT's Engineers Without Borders have begun a project aimed at developing low-cost technology for producing char from biowaste with fewer harmful emissions and higher efficiency than existing technology. 
The MIT D-Lab Kiln v2.0 project will improve upon the widely adopted kiln, developed by D-Lab more than a decade ago. This spring, the research team worked with D-Lab's International Development Innovation Network team to survey people currently producing charcoal from biowaste to learn about common existing methods.
Based on the results of the survey, the team constructed the most commonly used kilns and performed evaluations of those for conversion efficiency, usability, and char product quality. In addition, laboratory experiments were performed using scaled "mini kilns" to validate this method as a tool for rapidly evaluating kiln designs and best practice operating methods.
Addressing fuel quality
Demand for fuel alternatives is growing in emerging markets like Uganda and Tanzania, which is increasing demand for the affordable fuels produced by HFI partner enterprises in East Africa. As the enterprises scale-up their production, assuring quality and consistent products is becoming more important.
Scale-Ups researchers are assisting the ventures to understand 1) how customers perceive a quality fuel, 2) what measurable characteristics of the fuel influence quality, and 3) how those characteristics can be controlled and maintained to ensure user satisfaction.
Data from Scale-Ups market research, baseline fuel evaluations, and fundamental characterization of carbonized fuel materials are being used to establish a technical specification and testing protocol which will be piloted at HFI partner sites.
Visits from Ugandan practitioners
We have also been lucky to have recently hosted a number of visiting practitioners at D-Lab including Betty Ikalany, director of HFI enterprise, Teso Women Development Initiatives. Betty was in Massachusetts as a fellow for the Women in Public Service Institute.
Elius Muhimbise, a teacher at the Iruhura government primary school in Kabarole District, Uganda, also spent a couple of weeks at D-Lab. Here at the invitation of the D-Lab Youth program, he also worked with the bioenergy team to evaluate several of his low-cost wood stove designs. 
At home Elius does conservation work in his community by engaging students to organize waste clean-up efforts, test water quality, protect wildlife, and build fuel-efficient cook stoves in neighboring homes. Elius is part of the Kasiisi Project network of schools, the national representative for Let's Do It Uganda, and a Teacher-in-Residence with the D-Lab Youth Program.