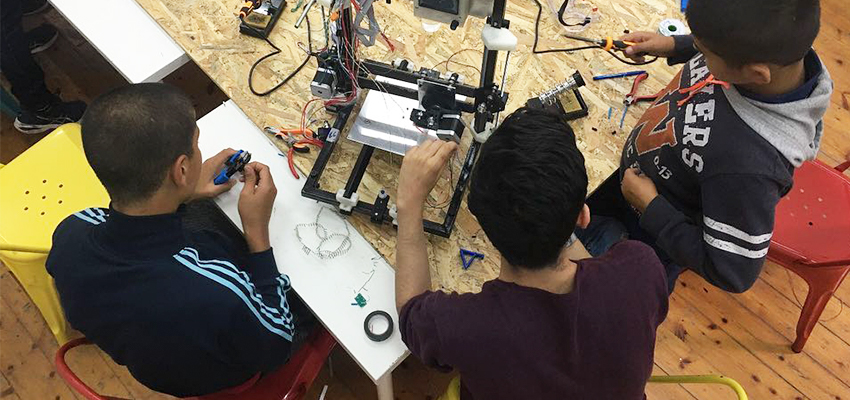 3D Printer workshop for refugee youth in Athens, Greece. Fall 2018.
Seeking up to five current or past MIT D-Lab students to teach design and build skills to refugee youth as part of D-Lab's Humanitarian Innovation program during MIT's Independent Activities Period (IAP) 2018.
Applications due November 7 at 5 pm. See below for details!
In 2015, a major spontaneous flow of Syrian refugees began crossing into Greece from Turkey by boat, traveling into the rest of Europe on foot, by bus, and by train. They were quickly joined by Iraqis, Afghans, and Kurds, all seeking asylum in Western Europe. In March 2016, the European governments made an agreement with Turkey to close the Greek border, effectively stranding about 60,000 refugees in Greece, among them 3-4,000 unaccompanied refugee minors. These youth have slipped through the cracks of the existing aid systems and been badly exploited. In the last two years, Greek and European NGOs dedicated to these youth have opened hostels and day programs for them. Youth continue to arrive in Greece, but have few legal ways of leaving.
The Humanitarian Innovation program at MIT D-Lab has been working for the last year and a half with Faros, a Greek NGO working with these refugee youth refugees. D-Lab staff, students, and colleagues have carried out three separate design and skills-building trainings for refugee youth in partnership with Faros. We have found that this training can be transformative, helping youth restore their self-confidence and feel  empowered to acquire and apply new skills. Faros is opening a vocational and innovation training center in Athens, called the Horizon Center, that will provide training in a variety of skills including D-Lab's Creative Capacity Building methodology (CCB), which teaches people with no design experience how to use the design process to solve problems.
This travel opportunity will focus on teaching students about the positive role that design and innovation can have on vulnerable refugees by participating in training refugee youth and learning about the innovation eco-system available to them. The trip will provide a mix of learning activities, including studying the refugee's situation in Greece, interviewing refugee organizations, visiting innovation centers to understand the importance of a local innovation eco-system, working with refugees, and leading skills-building workshop sessions for refugee youth in Faros's Horizon Center in Athens.
Students who are selected to join the summit will spend four days (January 7-10, 2019) at D-Lab learning about the refugee situation in Greece and how to teach skills to refugee youth. They will need to attend two preparatory meetings at D-Lab, one in November and one in December, and complete relevant readings. They will then travel to Greece on January 11, 2019, and spend 18 days there, returning to Boston on January 29.
Eligibility and Process
Currently enrolled undergraduate and graduate students are eligible to participate in the trip if they:
Complete the materials in this application and are available from January 7-29, 2019 (inclusive of travel to and from Greece)
Have taken at least one MIT D-Lab class (Wellesley and Harvard students who have taken an MIT D-Lab class are welcome to apply as well)
Are willing to engage in two preparation meetings with the other attendees in Fall 2018, do preparatory reading, and complete basic documentation after the summit
Are willing to work together to co-teach several 2-3 hour skills-building sessions for refugee youth in Athens, on topics such as 3-D printing, Arduino, and design
All students selected for participation in the co-design summit will be notified by November 9, 2018, and must indicate their commitment by Tuesday November, 11, 2018.
The cost of flights, transportation, three meals a day, and accommodation will be covered for every student. Students are responsible for their own visa and passport costs, food outside the three meals a day, incidentals, optional sightseeing, and medical expenses during the trip. (MIT students have international travel insurance; non-MIT students must contact their university and/or personal provider to determine their international insurance coverage.)
Application
A. Answer the following questions:
Full name as it appears on your passport
Course and class year
Phone number
Email address
Local mailing address
Nationality
List all D-Lab classes you have taken and UROPs you have participated in, including year
What skills and areas of knowledge do you have that would make you a good participant for this IAP trip?
Do you have any experience in refugee situations or working with refugees?
Have you worked with youth or training youth before? Describe your experiences.
What does participatory design mean to you?
Why do you want to participate in this experience? What are your goals and expectations for it?
Participants will be expected to adapt to shared living conditions in Greece. The team will share an apartment (two to a room), eat local food, and share cooking and cleaning responsibilities. We will travel by bus and train to at least two different cities in Greece. We will live, travel, and work together as a team in comfortable but basic circumstances. Are you willing do to that for the 18 days in Greece?
Are you able to commit to attending the preparation and training sessions in D-Lab from January 7-10?
Are you able to commit to spending January 11-29 in Greece (inclusive of travel) and be fully present and participatory in all of the group's activities during that time?
Do you have a passport that is valid through August 1, 2019?
Please write a brief (100 words) biography of yourself, for use if you are selected as a participant.
B. Attach the following materials to this application:
Headshot of yourself
Current resume
Current unofficial transcript
Names and contact information of two references; one must be an MIT D-Lab staff member
C. Submit!
Email application to Martha Thompson.
Thanks
Thanks to the MIT Global Education Office for the Global Classrooms funding making these student opportunities possible.