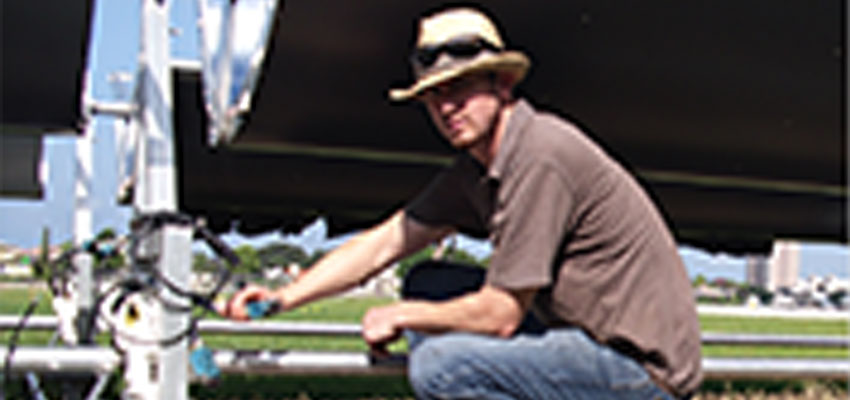 Parabolic Trough Collector Design for Manufacturing and Assembly and a New Production Facility in Maseru, Lesotho
D-labs' Scale Ups fellowship has given STG International critical resources to pursue some much needed work that has been long overdue. Over the years STG has worked hand in hand with partners in Lesotho to envision, build, test, modify and evolve solar concentrator technology with the goal of creating local capacity for producing energy (electricity and thermal) from the sun.
Designs are always changing in response to feedback (you can check out our many prototypes at our webpage), and while this is good for technical improvement, the efficient production of solar collectors requires a certain amount of "lock-in" or commitment to a design that can be reliably and affordably duplicated. In 2014, we were ready to start thinking about producing a standard version of our parabolic trough collector (PTC).
The Design for Manufacturing process
That's where D-Lab Scale Ups comes in: with this support, for the first time STG is taking one of its most refined PTC concepts out of the R&D lab in Maseru – a facility hosted by our partners Appropriate Technology Services (ATS) - and reworking it through a Design for Manufacturing or DFM process. While this PTC design represented the culmination of years of development, knew we had a number of challenges to solve to make it production ready. First of all, the process to give the frame its parabolic geometry was time-intensive: technicians would cut, weld, cut and reweld segments of steel tubing until the frame conformed to a CNC-d aluminum jig. In DFM, we simply replaced that part with laser cut steel parabolic sections.  
Secondly, the large wheels at the ends of the PTCs make an elegant structural support and peripheral drive for tracking the sun, but there were two problems we encounted in the prototype installations: the simply supported drive mechanism could lose traction when the wheels were slippery, and the attachment of the reflector panels to the wheels required a lot of grunting and sweating – it needed at least six people to assemble and if the angle wasn't perfect it took a long time and lots of hammering to fit together.  
After DFM, we have a wheel with embedded roller chain engaged by a drive sprocket – no slippage there, and an attachment scheme that lines up easily and locks in with the insertion of a few bolts. With these key changes, we cut the assembly time and labor requirement by half, and removed a whole lot of frustration!
Next step: build a process and production plant
Our next step is to build out a process and physical plant for producing the new PTC using the documentation from the DFM arranging all the manufacturing steps in a rational layout. We are using the Bill of Materials (BOM) to organize our raw materials procurements, and Computer Aided Design (CAD) shop drawings to identify and specify parts for contract manufacturing (laser cut sections) and cutting, shaping, drilling and welding operations using tools and jigs installed at a new production facility.  
Our plans include the extension of our workshop facility in Maseru with a new 10x15 meter production bay dedicated to the PTC, located adjacent to our machine shop (where we installed Lesotho's first CNC machine last year!).
As we move ahead in 2015 with this exciting new project, we'll be posting updates and news on our webpage, as well as links for how to support and get involved with STG's work. Our aspiration is to have the facility online and to showcase a production example (not a prototype!) at the upcoming SolarPACES conference to be held in Stellenbosch South Africa in October.