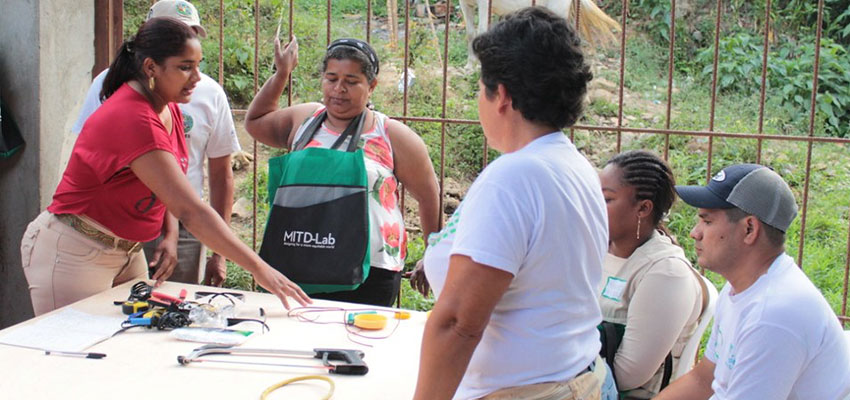 D-Lab Creative Capacity Building Training of Trainers in Santa Rita, Colombia (January 2020). Photo: Sher Vogel
MIT D-Lab

Informal, small-scale gold miners extract 20 to 30 percent of all gold worldwide, and in Colombia, they produce 60 percent of all gold extracted nationally. In normal times, small-scale miners in remote communities face myriad challenges, ranging from low prices to limited economic alternatives to serious health problems related to mercury exposure. Now, with the onset of COVID-19, these problems have compounded: miners face a complete economic standstill, a breakdown in the food supply, and limited means to protect themselves from infection.
Since July 2019, MIT D-Lab has collaborated with artisanal gold miners working in four mining communities in Antioquia, Colombia, along with longtime D-Lab community partner C-Innova, Universidad Nacional de Colombia and Uniminuto, to spark economic diversification in the region. The initiative, which leverages D-Lab's Creative Capacity Building (CCB) methodology, exposes small-scale gold miners to a collaborative design process that can be used to solve everyday challenges as well as the skills to design technologies and businesses that address those challenges.
The team has trained seven local CCB facilitators and seventy-five artisanal miners in the Andes and Bajo Cauca, who have developed prototypes ranging from an ergonomic backpack to carry mining materials to a solar dryer for coffee beans. Learn more about the program here. Just as the team was gearing up to facilitate a fourth CCB workshop, the Colombian government declared a mandatory preventive quarantine due to COVID-19 and closed the commercial sector. Although as of early April there were no known cases of the virus in Andes or Bajo Cauca, the quarantine measures declared by the National Government have already begun to generate severe hardship within artisanal mining communities.
Assessing the Need
To understand how we might use CCB to support small-scale gold miners in Bajo Cauca during the COVID crisis, the program team conducted cell phone surveys with 70 artisanal gold miners to understand the effects and priority needs of this population.
Loss of Income
Although at that time the interviews were conducted the quarantine had only been in effect for seven days, 96 percent of respondents had experienced income reduction of more than 50 percent. The average income of artisanal miners in the region, which typically hovers around $120 US a month, had dipped to $50 US a month. Their low daily income, which even in ordinary circumstances is not enough to meet their basic needs, has been further affected by the pandemic in three principal ways:
Miners' movement has been restricted, preventing them from traveling to and from mines.
Most of the establishments that buy gold are closed, and those that are allowed to open can do so only for two days a week.
There has been a drop in the demand and price of gold.
As families' incomes decline, their ability to provide for and protect themselves has also decreased, leaving them unprotected and poorly equipped to face the arrival of the pandemic.
Disrupted Supply Chains
As a region that imports 76 percent of its agricultural products, Antioquia has suffered disruptions of food supply and distribution due to transportation restrictions. Because the supply of food products is increasingly scarce, the region has seen an increase in the prices of food and basic consumer goods. In relation to their priority needs in these times of crisis, 94 percent of the small-scale miners surveyed said they urgently needed to be supplied with food. Similarly, 71 percent and 56 expressed a need for hand sanitizer and face masks, respectively. In addition, 13 percent of respondents mentioned a need for cleaning supplies such as disinfectants or soaps.
Misinformation
The interviews revealed that there is a great deal of misinformation about the ways in which a person can become infected with the virus, triggering doubts and confusion about the modes of transmission, prevention measures, and the appropriate use of instruments that mitigate the probability of contagion. One common myth among families is the belief that, as an area with a relatively high average ambient temperature (above 33°C), the virus has a low probability of reaching the population. This assumption may create a false sense of security and hinder measures that should be taken to mitigate the spread of COVID-19 in these communities.
Designing a Response
The program team had two challenges to tackle:
How could the team help to address the challenges expressed by small scale miners, using elements of Creative Capacity Building?
How might this be implemented remotely, in communities with very little internet access?
Over the last two weeks, the team quickly developed design modules to tackle the challenges of disease transmission and food insecurity. These modules consist of:
Illustrated step-by-step instructions for making personal protection equipment (PPE), including hand sanitizer and masks.
Illustrated step-by-step instructions for increasing food production with vertical gardens and small, portable chicken coops.
In the coming weeks, C-Innova will begin to deliver these modules via WhatsApp and Facebook to five local facilitators already trained by the program to facilitate CCB workshops. Each facilitator will, in turn, provide the design modules to five community members, also via WhatsApp and Facebook. Each workshop participant will also receive a kit including all materials to fabricate PPE and food production items. C-Innova will offer mentorship for each facilitator over the phone and participants will share their designs in a final showcase.
---
References:
[1] Organización de las Naciones Unidas para la Alimentación y la Agricultura. (2016). Sistemas de Abastecimiento Alimentario: Bases para la Inclusión de la Agricultura Familiar.
---
More information
MIT D-Lab Inclusive Regional Economies
Building Inclusive Economy with Small Scale Miners - Colombia
Contact
Libby McDonald, MIT D-Lab Lecturer and Inclusive Economies Specialist