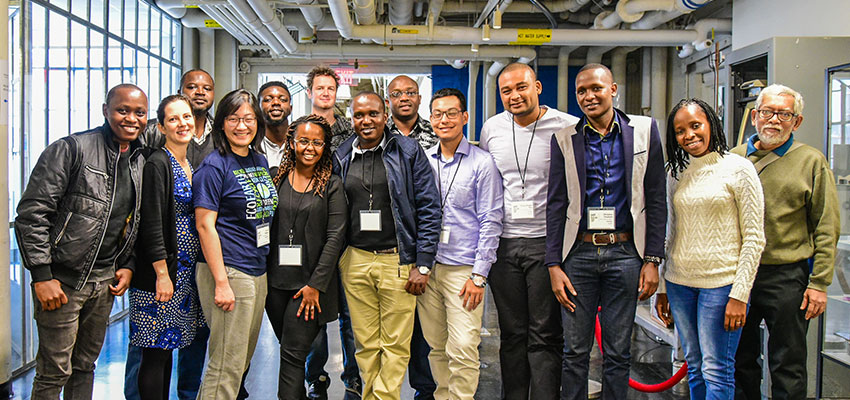 D-Lab Scale-Ups fellows past and present gathered for the annula reatreat at D-Lab.
MIT D-Lab
It is that time of the year again when current and alumni MIT D-Lab Scale-Up Fellows meet to connect, grow and gain exposure. Nineteen Fellows from different countries, cohorts, and business sectors arrived at Boston for the Annual Retreat from May 7th to May 10th. D-Lab hosted a series of sessions and events where the six recently selected Scale-Up Fellows, based in East-Africa, connected with 13 alumni from all over the world. The four-day event had the objective of generating a stronger community amongst Scale-Up Fellows, developing critical skills and expose the Fellows to different ecosystem experts.
"It changed my mindset to thinking more as an Entrepreneur, and looking at failures as valuable opportunities to learn." - Chengeta Chipaila, Good Nature Agro.
The retreat had sessions delivered by key experts with the objective of developing skills where the entrepreneurs might have gaps in. The sessions tackled different critical areas of risk for social startups and developed basic knowledge for the Fellows. The session's subjects ranged from governance boards, fundraising and investment readiness, organizational challenges, evolving to a growth mindset, scaling up, among others. I had the opportunity to participate in "Good governance: How to build and use your board" by Deborah Drake from Accion, and "Talent gap: Pathways to strong leadership, strong teams & ventures" by Magdalena Kloibhofer from SEED.
In the first one, "Good governance: How to build and use your board" delivered by Deborah Drake, entrepreneurs learned about the importance of good governance and board, and how to leverage the board's expertise. Deborah also got to solve key questions such as "at what stage within the growth of a startup is important to implement a board?" and "what are the benefits of having one?", to which Fellows learned that at seed stage, it is not crucial to have a board, but it is important to implement one as the enterprises grow to ensure good governance and protect the longevity of the company.
"The corporate governance session made me aware of gaps in our financial controls policies which I was able to update and pass through our board for approval." -  Matthew Orosz, President of STG International.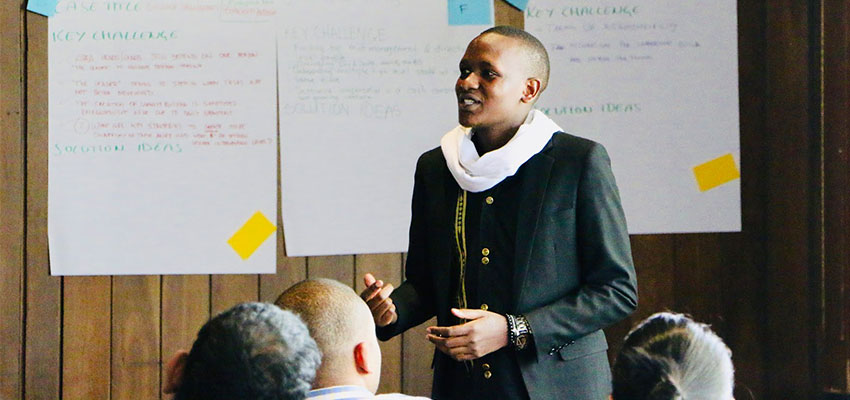 In the later one, "Talent gap: Pathways to strong leadership, strong teams & ventures," Magdalena asked the Fellows to select an organizational challenge each faced and guided them to collectively analyze them in groups, with help from the Fellows and external experts. During the session, they discussed how to set objectives, motivate people, make decisions, and coordinate activities to build resilient organizations. Kristin Kagetsu, 2015 Fellow Co-Founder and CEO of Saathi Pads India, shared her challenge of Knowledge Management and how to transfer knowledge from employees leaving the organization to those staying, and how to ensure key knowledge was not lost as the organization evolved over time. Arun Cherian, 2016 Fellow Founder of Rise Legs India, shared his challenge of scaling-up hiring frontline people, as his enterprise grows the Fellow's enterprise needs to hire at a higher rate of high-quality salespeople. The session achieved the objective of collaboratively brainstorm on potential solutions for the Fellows organizational challenges and encouraged learning from the Fellows by hearing other's organizational challenges and solutions.
Additionally, the retreat had several events to foster networking, encourage Fellows to connect among themselves and learn from each other, and look for potential collaborations. These events had the participation from key experts among the social enterprise sector; for example, dinner was planned with ANDE (Aspen Network of Development Entrepreneurs), another dinner with D-Lab Staff, PIA members and other guests, and a final dinner with MIT IDEAS Global Challenge winners. All these social events aimed to create a stronger community among the Scale-Ups Fellows and connect them with key ecosystem actors.
The retreat was a successful event filled with knowledge sharing and community building. It was a great opportunity for the new 2019 cohort to meet the D-Lab, Scaleup alumni and for all the attendants to reconnect, gain exposure to the Boston social enterprise ecosystem and gain additional knowledge.
---
For more information
MIT D-Lab Scale-Ups Fellowship
Contact
Jona Repishti, MIT D-Lab Scale-Ups Fellowship Manager