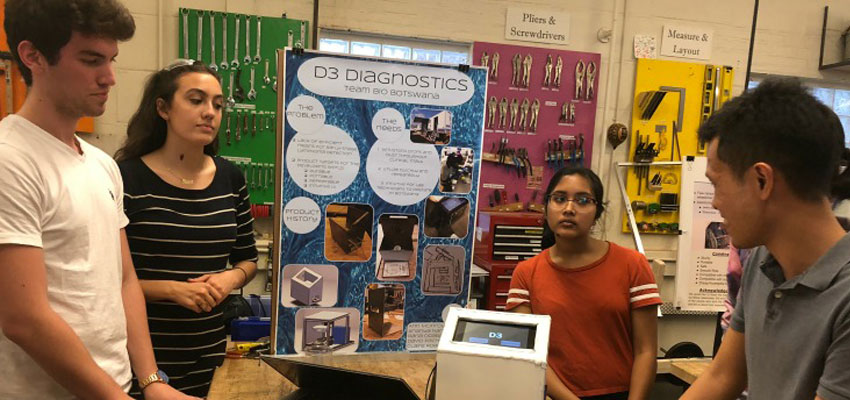 D-Lab students in the D-Lab workshop discussing a spring semester project with visitors.
Friday, May 4, 5:00-7:00 pm - D-Lab, MIT N51 3rd floor

Students from the seven spring 2018 MIT D-Lab classes presented projects, in addition to one of the D-Lab UROPs. Project teams presented their work and received questions and feedback from other teams of D-Lab students as well as from guests! Download the full program with student lists.
Addresses problems faced by underserved communities with a focus on design, experimentation, and prototyping processes. Instructors: Jerome Arul & Sorin Grama
Projects:
Commercial Cookstove for Mealie Vendors in S. Africa
Ready-to-Assemble Solar Systems for Zimbabwe
Point-of-care screening Platform for Lymphoma
Packaging and Filter Housing for Paper Filter
Stair Climbing Vehicle for Disabled People
System to Dry and Burn Human Waste
Offers a hands-on, project-based approach that engages students in understanding and addressing the applications of alternative energy technology in developing countries where compact, robust, low-cost systems for generating power are required. Instructors: Libby Hsu, Amit Gandhi, and Dan Sweeney
Projects
Needs Assessment in Nepal
Evaporative Cooling Assessment
Solar Dryer Selection Tool
Charcoal Briquette Quality Improvement
Explores learning in the international development context and how innovative approaches and researched best practices can overcome challenges such as limited resources, language barriers, large class sizes, and entrenched pedagogy. Instructors: Jessica Huang & Lisa Nam
Projects
Design Process in a Buddhist Temple
Local Resources and Hands-On Math Training for Teachers
Connecting STEM with Life Skills
Explores the ideas behind, and actions toward alternative economic systems aimed at reclaiming the power to control and build inclusive local and regional economies; secure rights to food, water, land, and healthy environments; build resilience; restore value systems; and ultimately to improve the quality of life. Instructors: Libby McDonald & Kate Mytty
Projects
Creative Capacity Building with Women Farmers Around Climate Change
Identifying Industries Ripe for Small Business Development
Explores the scientific basis and environmental impacts of agriculture, the dynamics of smallholder farming, social and business systems, and also focus on the experience of farmers themselves. Instructors: Gwyn Jones & Bob Nanes
Projects
Agricultural Innovation Ecosystems in Colombia
Radio Shows on Colombian Agriculture
Insurance Products for Smallholder Farmers
By 2025, more than half of the countries in the world could be experiencing water stress or scarcity. Water stress and scarcity are exacerbated by climate change. This class is about real-world answers to climate change as it relates to water. Instructors: Susan Murcott, Julie Simpson, Vin Gupta
Projects:
Wastewater Irrigation in India
Two short stories related to H2O, CC, Health
MIT-DUSP-Colombia Projects Link
Visualizing Health Access
ORDEAL (occultation of radiowave detection for evaluation of atmospheric liquid)
The People's Archive of Rural Pakistan
Use of Heirloom Tomato Second Production
Building Ventilated Improved Pit Latrines in Rwanda
Solar Water Trailers for Off-Grid Electricity in Puerto Rico
Wastewater Bazaar: Low-Cost Decentralized Treatment for Farmers in India
Explores the role innovation can and does play in how humanitarian aid is provided, and how it can change people, products, and processes. Instructors: Amy Smith & Martha Thompson
Projects
Improving Water Access in Puerto Rico
Improving Safety in Latrines
Fostering Design and Innovation among unaccompanied refugee minors
Research Supervisor: Anish Paul Antony
Development of low-cost water filter using plant xylem