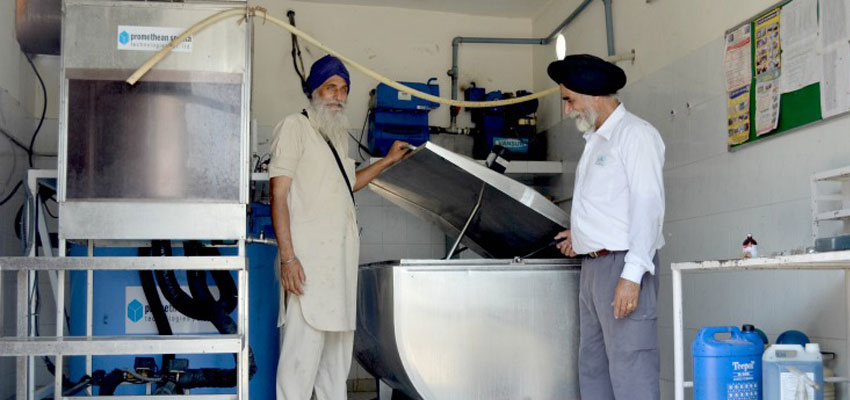 Promethean Power Systems, a manufacturer of refrigeration and cold-storage systems in India, founded by Sorin Grama.
D-Lab: Design, one of D-Lab's most popular classes, returns for the 16th year in a row!  This year, Jerome Arul and Sorin Grama, both practitioners who have designed, built and scaled products in emerging markets, will co-teach.
Jerome is an industrial designer with experience in manufacturing in China, Southeast Asia and East Africa. Jerome managed engineering and product design at EcoZoom, a cookstove company based in Nairobi and helped scale-up production for Africa's largest cookstove program. Jerome also teaches product design at the Rhode Island School of Design and runs a fabrication shop in RI. 
Sorin is an electrical engineer who co-founded Promethean Power Systems, a manufacturer of refrigeration and cold-storage systems in India. Sorin was the principal inventor of Promethean's thermal battery, an energy storage device that provides effective backup in areas with unpredictable grid power. The first application of this battery is to chill milk at village collection centers in rural India. Sorin is also one of the co-founders of Greentown Labs, a grassroots effort which has grown to become one of the nation's largest cleantech incubators.
Sorin and Jerome embraced the product development process and applied it to their work. They are now ready to teach others how to do it through a combination of lectures, design sprints and a capstone design project!
For Spring 2018, we've got a variety of projects lined up where students could contribute by brainstorming original concepts and building early prototypes:
Energy
Kate Mytty found us an opportunity in Durban, South Africa to redesign commercial cookstoves for an urban marketplace that sells "mealies", steamed ears of sweet corn. Currently, the mealies are steamed in simple 200 litre / 50 gl steel drums over an open wood fire, and there are potential solutions that are both cleaner and safer. 
BioMedical 
On the biomedical front, students will have the opportunity to redesign a point-of-care device for lymphoma diagnosis in resource-limited settings. Scheduled for a clinical trial in Botswana this year, D3 Diagnostics is a holographic imaging technology that will address significant clinical needs in oncology and pathology. The device was built on the Raspberry PI 3, and has some great electromechanical features.
Mobility
We have a couple of mobility of projects in the works as well. The Okoa ambulance, which first started at D-Lab: Design in Spring 2016, is back for an update! The whole ambulance could be taken to the next level, or we can dive into specific subsystem for optimization. There are also a few opportunities to redesign wheelchairs for rugged mobility or a rickshaw from a partnership with IIT. 
Environment
Looking at the environment, there are a couple of sensor devices that could use improvement. SoilSense is developing an affordable and robust soil sensor system, allowing farmers to reduce their water usage and increase their yield. They are starting a partnership in Peru, and are looking to tailor their device to avocado farmers there. We also have projects looking at air quality and water filtration.