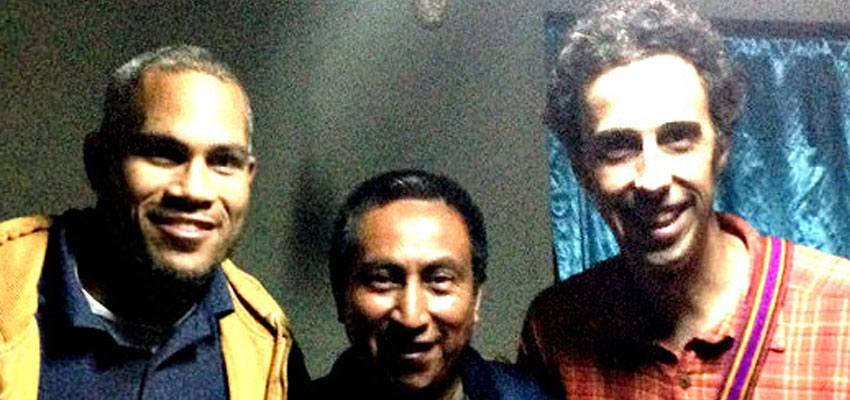 Reunion with Carlos Marroquin, from BiciTec
Creative Capacity Building & MicroConsignment in rural Guatemala
There are many things that excite me about the work that Kofi Taha and I launched earlier this month in Guatemala, where, for the first time, we will be pairing D-Lab's Creative Capacity Building (CCB) with the Soluciones Comunitarias (SolCom) MicroConsignment Model. The goal of the project is to build the capacity of more than 800 rural villagers to innovate and create their own technologies, and then commercialize them through the region using SolCom's market-based distribution network.
The Ixil community of Guatemala
First and foremost, true to D-Lab's value of putting people first, I'm excited that we have the opportunity to bring the CCB methodology that has been developed and implemented in a number of countries in Sub-Saharan Africa to the Ixil, a Maya people indigenous of Guatemala that live in three municipalities in the Cuchumatanes mountains. The Ixil community has preserved a strong cultural identity and practices predominantly subsistence agriculture and colorful weaving. Sadly, poverty affects 87 percent of the population. The Ixil people were the target of a genocide operation during the Guatemalan civil war (1960-1996), when the population was halved, economic growth stunted, and basic infrastructure neglected. The population has since rebounded, but access to basic services remains limited, and there is little economic activity.
SolCom, a Guatemalan-owned and operated social enterprise
Given how important it is to find the right partnering organization whose mission and values align well with D-Lab's, I'm particularly enthusiastic to be working with SolCom, headquartered in Nebaj, the capital of the Ixil region. SolCom is a Guatemalan-owned and run social enterprise that brings the benefits of affordable technologies, but otherwise not locally available, to underserved rural communities. We met most of the SolCom's staff for the first time, and we were very pleased with the organization's capabilities and the strong team they are. We focused most of our time together doing the necessary planning and coordination to get the project started on the right path. There is much to be said for face-to-face meetings, and building that personal rapport that will undoubtly pay off throughout many of the the coming months of working remotely.
Coming back "home" to Central America
I'm personally excited to be working in Guatemala for a variety of reasons: my own Spanish heritage, fond memories of a visit I made to the country over a decade ago, and parallels that I established from the year that I lived in Bolivia back in 2001 that marked the start of my career in international development. After having worked in Africa and Asia, coming to Central America feels almost like coming back home.
Guatemalan inventor Carlos Marroquin
At the last minute on our way back to the US, we managed to reconnect with a old friend, and much admired (at the very least by yours truly) Guatemalan inventor Carlos Marroquin, the genius behind Maya Pedal, now leading BiciTec. We paid him a visit in his own home, where we were received very warmly, and where we plotted together his future involvement in the project. Having him as a local role model that his fellow compatriotes can look up to will be a great asset to the project. Carlos has also long been involved with the International Development Innovation Summit. See a recent profile of him here.
Kofi Taha - a wealth of experience with CCB
And last but not least, I'm delighted to have the opportunity to do fieldwork with Kofi for the first time, after many years of knowing him at MIT. Kofi brings a wealth of expertise in D-Lab's Creative Capactiy Building, having co-developed the methodology in Uganda with Amy Smith, and been involved in a variety of implementations since.
We're just getting started here!
For more information on this program, contact Victor Grau Serrat.
MIT News story: MIT D-Lab promotes rural community innovations in Guatemala with Soluciones Comunitarias