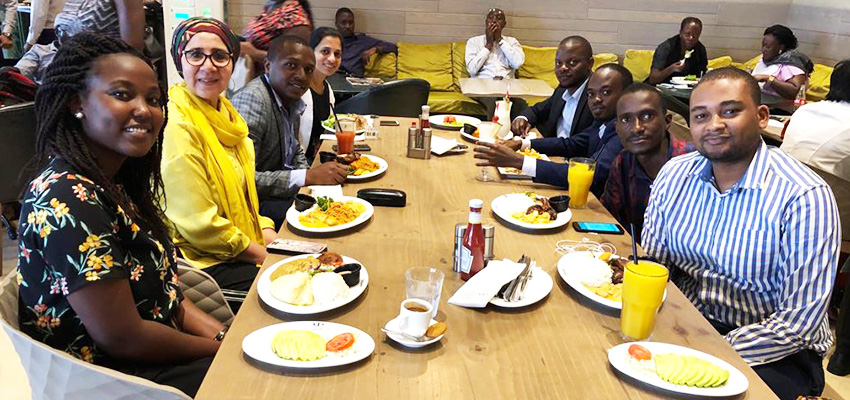 The author's extended social enterprise team at a group lunch, after an exhilarating day of customer conversations.
MIT D-Lab
This blog post originally appeared on the Capria Venture Basecamp site

"This sounds exactly like the business model of Startup X, back in India!" I exclaimed when I heard a young Tanzanian startup founder describe his startup to me. Despite the 3000 miles between India and Africa, some things still remain the same in the startup world!
I find myself amidst a diverse group of social enterprise builders – from more than 20 countries – all gathered in one place for one week to help seven promising social entrepreneurs tackle business scaling challenges. Our motley mix of participants have come from different backgrounds: design thinking, community building, grassroots innovators, social entrepreneurs, investors, incubators, development finance organizations, NGOs, et al. And the event that has brought us together on a business scaling challenge is MIT D-Lab's Co-Design Summit, October-November 2019, happening in Mukono, Uganda, with one of the most passionate, eclectic, energetic, and intellectual group I've ever seen! Each of the seven social enterprises has placed before us a specific challenge around scaling their business model.
Let the diary begin!
9 pm, 27th October - Day 1: Joining a Startup
Today was like preparing for a Who's Who quiz, as I struggled to match names with faces and organizations. All of us have been placed into groups focused around one social enterprise. The team I have joined is a handyman-service provider marketplace that wants to lower its customer acquisition cost by exploring a business-to-business-to-consumer (B2B2C) model through enterprise customers.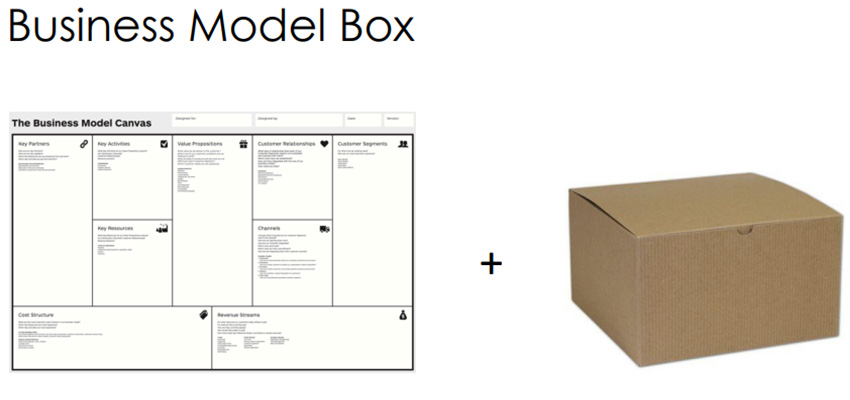 Here's what happened:
What I did: Created a 3-D business model box (BMC), instead of the boring, bourgeoise BMC!
What I unlearnt: that origami is not the only technique to make paper baskets!! (To understand this cryptic note more, write to me in the comments section!)
What I accomplished: Making friends with a grassroots innovation builder in Kenya, a tech developer from Tanzania, a visionary startup founder from Dar es Salaam, a development design veteran from Morocco, a STEM educationist from Nairobi, and a startup ecosystem builder from Uganda who always got us to think big!
9:30 pm, 28th October - Day 2: Startup Orientation
Today was the day when each of us started delving deeper and deeper into the startup's business model to understand how might we help them. Here's what happened:
What I did: Created a stakeholder map and customer persona for the startup's new business model.
What I unlearnt: that one needn't have deep focus to tackle a defined challenge. The workshop forced me to think in a more divergent manner and redraw the borders of the challenge!
What I accomplished: The entire team now felt like joint owners of the startup – it hardly felt like Day 2.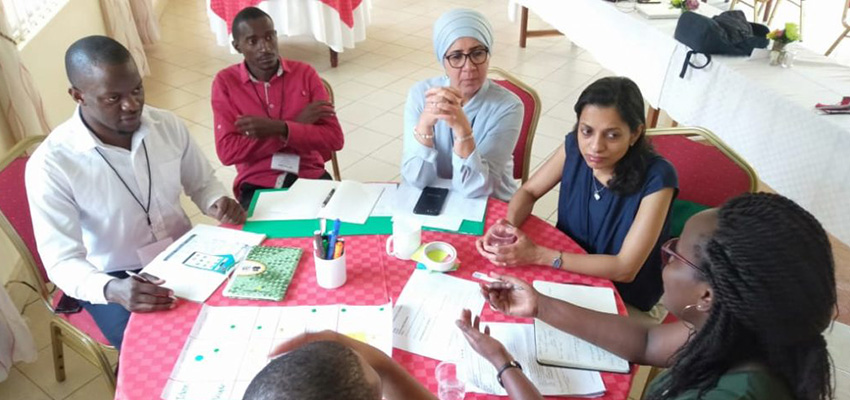 9 pm, 29th October - Day 3: Defining the Startup's most urgent and important goal
From colourful post-its to undecipherable hand-writing to kindergarten-style drawings, today's session was full of quirky fun. As we thought divergently on the different ways to solve the challenge, it was fun to see our ideas sometimes echoed in and sometimes contradicted by a team mate's thoughts.
Here's what happened:
What I did: (Attempted to) draw user stories to depict our startup's unique value proposition (UVP)!
What I unlearnt: Structure thinking. We experienced an interesting Crazy-8 exercise that required us to write down 8 crazy ideas/solutions in 8 minutes!
What I accomplished: Distilled 2.5 days' worth of brainstorming and ideating into a three-word target goal for the startup team.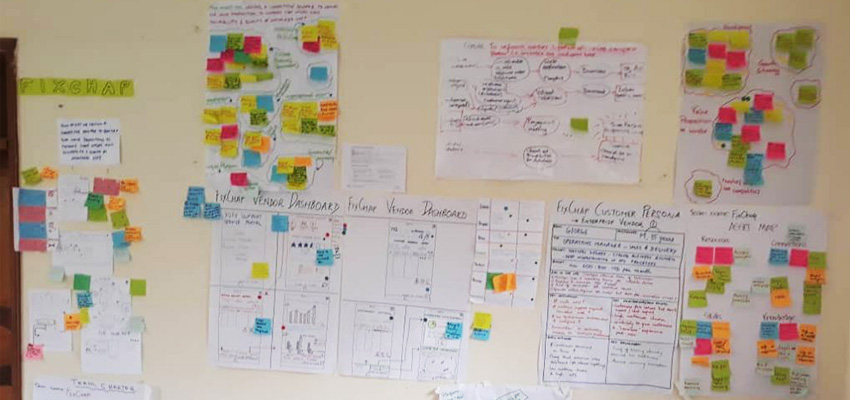 10:30 pm October 30th - Day 4: Designing and creating a Prototype Product for Customers
 It was time to translate our three-word goal into a solution design. With only one product developer in the team, it was delightful to see how we all tried to create paper prototypes that we could show real customers. Here's what happened:
What I did: Designed a new feature of a mobile app on paper
What I unlearnt: That creativity needn't be all free-flowing and right-brained! It should, in fact, go hand-in-hand with quantifiable outcomes defined by the left-brain. We created an experiment canvas that defined clear success metrics for our prototype.
What I accomplished: A digital mock-up of a new app feature!
8:00 pm, October 31st Day 5: Meeting Potential Customers of our startup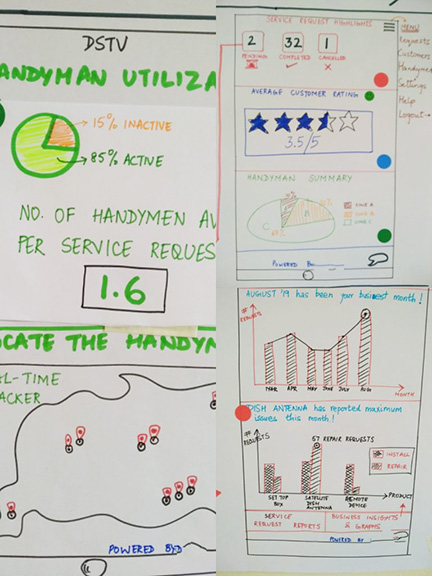 8:00 pm, October 31st - Day 5: Meeting Potential Customers of our Startup
And finally, the most exciting part of our co-design week: fieldwork! We braved the (in)famous Kampala city traffic to meet four enterprise customers and to conduct "customer conversations." Here's what happened:
What I did: Grilled a car showroom owner for an hour, on how he runs his after-sales service!
What I unlearnt: That customers don't know what they need/want. Actually, the customers we met knew the challenges and gaps in their business processes inside-out – they were just perfect participants in our co-design activity.
What I accomplished: I connected with some genuine ecosystem supporters at an evening networking event organized by ANDE Uganda with investment managers.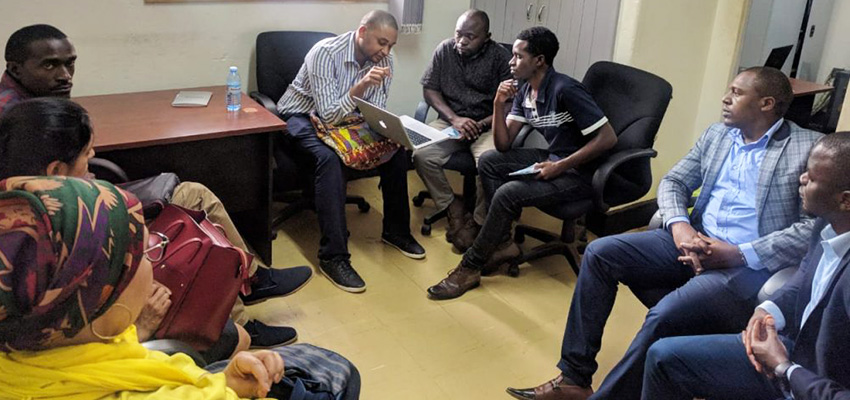 9 pm, November 1 Day 6: Planning the Implementation of the Prototype
The final day was about bringing it all together and to begin learning again. We put together a plan of how to implement the prototype and how we could all contribute to the same, after we went back to our day jobs in our respective countries. It was a happy-sad time as we felt elated at our success and sad that we couldn't continue working at our startup!
What I did: Offered my services to frame the Unit Economics model for the prototype
What I unlearnt: That smart startup founders can succeed anywhere. The truth is that even the smartest of startup founders needs different stakeholders to come together in a cohesive support system to succeed. As ecosystem builders, I am now even more convinced that we need to align governments, incubators, accelerators, angel investors, venture capitalists, mentors, and startups towards the common goal of innovation and economic growth. (A wicked problem – but one that must be solved.)
What I accomplished: I completed a successful week as a startup mentor and coach for a really smart Tanzanian startup team.
    And most important, I made new friends!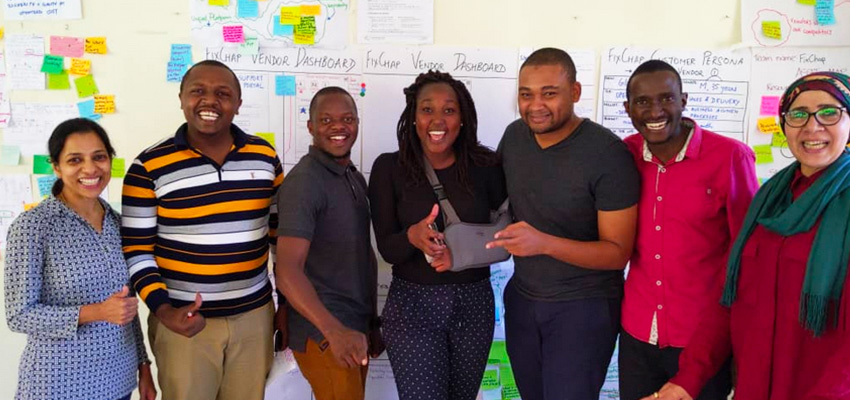 Thank you, Molly and Amanda, for your extraordinary effort behind this successful summit. The journey has just begun.
Photos courtesy: MIT D-Lab Co-design Summit fellow participants.
---
About the author
An experienced EdTech professional, Ramya Srinivasan manages strategic and operational activities at Capria Venture Basecamp, which partners with local incubators, accelerators and fund managers to deliver high-quality skills training to startup entrepreneurs. Ramya brings fifteen years of technology-based professional experience in areas ranging from middleware systems engineering to technology marketing to digital learning.
Further Information
Tackling Challenges to Scale: Enterprises & Ecosystems - MIT D-Lab Co-Design Summit
Contact
Amanda Epting, Practical Impact Alliance Manager
Molly Rubenstein, Innovation Ecosystems Manager