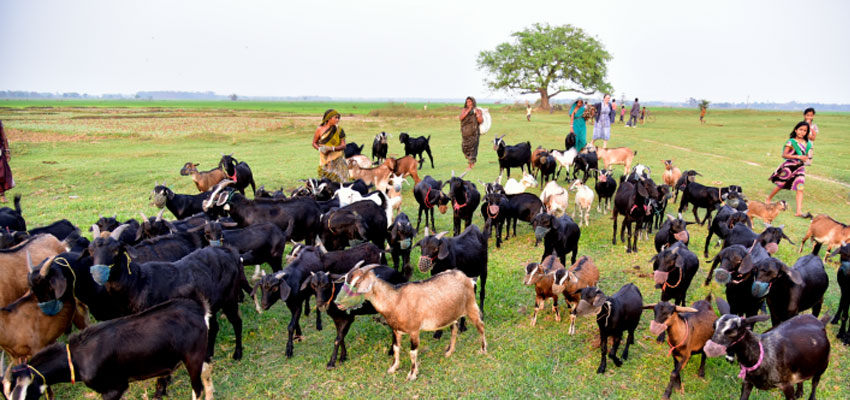 Goat herders in Odisha, India.
MIT D-Lab and Heifer International began exploring working together in the summer of 2015. Heifer provides livestock and training on animal husbandry practices to communities in 27 countries around the world in an effort to reduce hunger and poverty. Heifer's close, long-term relationships with local communities and partners enable the organization to develop trust and implement programs effectively. D-Lab is known for our participatory methods of needs assessment and product design, as well as for technology evaluation. Together, D-Lab and Heifer are able to apply their complementary skills and expertise to some of the world's most pressing challenges.
Find out more about the first study conducted by D-Lab for Heifer International in Odisha, India below or read the four four-page D-Brief summarizing the study methodology, findings, recommendations and more.
Needs assessment of small-holder goat herders
In February and March of 2016, an MIT D-Lab Scale-Ups team conducted a qualitative needs assessment study in order to understand the current practices and needs of smallholder goat herders in Odisha, India.
The study was conducted in partnership with Heifer International's headquarters team and India field office, and three of Heifer's local partners: Nydhee, Unnayan, and Sambhandh in the Mayurbhanj district. The D-Lab team (two D-Lab researchers, two local researchers, one veterinarian, and two interpreters) selected and interviewed over 200 current and former tribal goat herders about their goat management practices and challenges. Based on the findings, D-Lab recommended solutions that could potentially solve one or more of the identified problems.
Summary key findings
Among all the challenges uncovered, these were the top five:
1. Shortage of nutritious feed throughout the year, especially during the summer and during the rainy season, as goats do not like to get wet or eat wet feed. Insufficient feed can lead to smaller, weaker goats.
2. High death rates of goats due to disease. Many of the goat herders reported a high rate of death, often due to disease.
3. Disorganized selling of goats. Many goat herders reported selling to a middleman when they needed funds for a large family expenditure, rather than when the goats are the correct age or weight.
4. Inbreeding of goats, which can lead to smaller, weaker goats that are more susceptible to disease. Many of the goat herders did not have access to good bucks or artificial insemination.
5. Unsafe and unhygienic living conditions for goats, which can increase the likelihood of the goats contracting a disease or being killed by other animals. Many of the goats lived with the family or with other animals without proper ventilation or drainage.
Heifer India has already been working closely with the local communities to solve some of the problems identified. However, the challenges still existed at the time of the study because Heifer's programs had been operational for only about a year and had not expanded to all regions and partners.
Four-page D-Brief: Needs assessment of smallholder goat farmers in Odisha, India