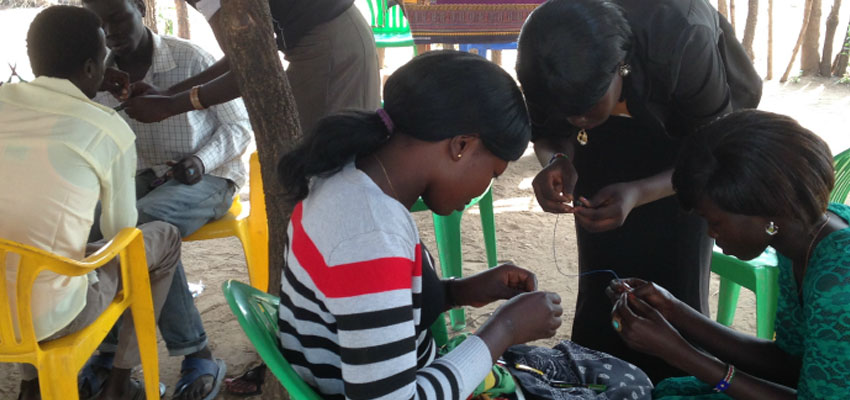 Teenagers in the Ayilo refugee settlement in Uganda build their own lights to read at night.
Revamping the D-Lab: Education Course
We are excited to announce that this class is back, now as D-Lab: Education & Learning, with a focus on supporting educators in International Development Innovation Network regional innovation centers as they work with diverse learners in their local communities.
Course History
This course started in 2013 as a collaboration between the D-Lab Youth program and the Practical Education Network (PEN). Amy Smith, who founded D-Lab, has been a long-time champion of youth empowerment and encouraged me to launch a new program to adapt D-Lab's curricular resources and experiential learning approach to be more accessible to young learners, both locally in greater Boston as well as in our partner communities around the world. This work has been especially important in places like Uganda, where over half of the members of our partner communities are under the age of 15. Now, under the leadership of Pedro Reynolds-Cuellar, D-Lab's youth program continues to host young students as well as teachers for hands-on activities in the D-Lab workshop.
PEN was started by MIT alumni to support affordable, accessible hands-on science education in Ghana. The team has leveraged resources from winning an MIT IDEAS Global Challenge Award, the Africa Innovate Conference's Business Plan Competition at MIT Sloan, the NOVAN GrowthMosaic Education Challenge, and more into developing an incredible program with educators from the Ghana Association of Science Teachers (GAST) and beyond.
One of the unique aspects of this D-Lab class is teaching the course with some of the same techniques that we hope educators can use to engage youth around the world. While we are based at MIT and recognize that we have a wealth of resources that may not be available elsewhere, we are doing our best to co-design methods and tools appropriate to contexts with different financial, technological, and infrastructural resources. University students taking this course are in a position to reflect on the best of their education thus far, how they have most enjoyed learning, what their most effective teachers have done, and bring this all to bear on projects that have the potential to have an impact on the next generation of students. Most of our students have experiences to share from the perspective of learners as well as educators, whether they have tutored others or are now volunteering as teachers in extracurricular programs. It does get meta—in this course, we teach and learn about teaching and learning.
Course Updates
This year's course is being co-taught by Pedro Reynolds-Cuéllar and me. We have renamed the course in the spirit of exploring how learning also happens outside of formal education systems. We are thrilled to be collaborating with a number of community-based innovation centers in the International Development Innovation Network (IDIN), whose educators are at the forefront of utilizing local resources to nurture creativity in learners, all with the aim of solving challenges in their own communities. This model of working with innovation centers allows for improved channels of remote communication and collaboration during the semester, a solid host for doing fieldwork during spring and summer, and more sustainability after students transition from course projects to their next endeavors (although we have also had students continue working with their partners in several countries for years afterwards!).
As part of the course, we will be visiting and learning from local innovation centers in greater Boston, and also meeting with educators from some of the best programs around on STEM (Science, Technology, Engineering, Math) and design. We'll have hands-on activities, design reviews, and generally a lot fun—this is a D-Lab class after all! The added bonus is that we'll get to be interacting with educators and youth, which has been a highlight in previous versions of this class.
Student projects that we are planning for this year include collaborating with community innovation centers in doing outreach to local schools, supporting the launch of mobile innovation centers, and working on a low-cost lighting and literacy education module with South Sudanese refugees in Northern Uganda.
We hope you will join us! The first class meets on Feb. 4th in MIT Building N51-310.