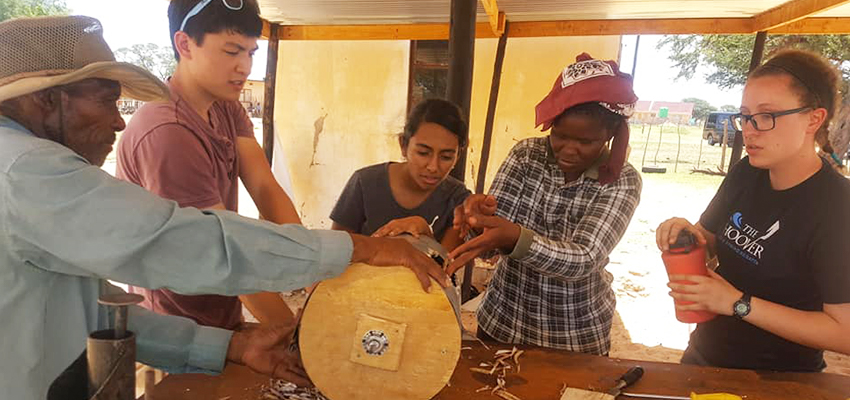 D-Lab students and local community members testing a bean thresher, Botswana. January 2019.
MIT D-Lab
Fieldwork is at the heart of D-Lab's educational experience.
Our students come to our classrooms to learn about the principles of participatory design and poverty alleviation, but their classroom learnings are only the beginning. Just as it would be foolish to explain how to ride a bicycle using a PowerPoint lecture without ever letting the student get on an actual bicycle, it would be unthinkable not to take as many students as possible abroad when teaching about effective participatory international development.
MIT's Independent Activities Period (IAP) is a valuable time to send our students abroad, so they can immerse themselves in another culture and sink their teeth into a design or research problem with field partners and community members for a month. Every year, students come back saying their lives have been changed by their experience. We are excited to be providing this opportunity to MIT students year after year.
This year, 40 students are working in eight countries with longtime friends and collaborators, many of whom are part of the International Development Innovation Network (IDIN). Most of the students are performing work related to projects they commenced in one of D-Lab's eight fall semester classes.
Botswana - These Hands
Four D-Lab: Development students and trip leader Justin Carrus SM '18, along with trip-leaders-in-training Marcia and Tom Lewis, are working with These Hands GSSE, a Botswanan organization founded and led by IDIN steering committee member Thabiso Blak Mashaba, a longtime D-Lab community partner. "Blak," as he is known, helped to establish and operate innovation centers in rural areas and engages community members through D-Lab's model of creative capacity building. The students are following up on projects initiated at a 2018 International Development Design Summit and focused on bean threshing and hydroponic fodder growing devices, as well as teaching STEM activities at a primary school.
Colombia - C-Innova
Student activities in Colombia are hopping this year! Four D-Lab: Development students are working with C-Innova, an innovation center based in Bogotá that runs design summits and workshops around the country. These students are following up on a design project initiated in the region of Fusagasugá at a 2017 International Development Design Summit related to processing coffee, and specifically focused on the drying and roasting process.
An additional 12 students from around the Institute are participating in a special IAP course, led by C-Innova co-founder Pedro Reynolds-Cuéllar (a former D-Lab staff member and current research assistant at the Personal Robots Group in the MIT Media Lab), to learn about the coffee-growing process in Fusagasugá and participate in co-design activities with students from universities in Guatemala, Brazil, and Colombia.
Two students from D-Lab: Gender & Development and three students from D-Lab: Supply Chains are joining veteran D-Lab trip leader Juliana Miranda Mitkiewicz to work on a project in Medellín with the humanitarian engineering program at the Colorado School of Mines. These students are focused on teaching the co-design process to small-scale artisan miners, many of whom are women, with a focus on these stakeholders' economic needs.
Ghana - Pick-It!
One student from D-Lab: Gender & Development is joining instructor and Inclusive Economies Specialist Libby McDonald to run a co-design summit with wastepickers associate with the Pick-It! program in Accra, a multi-year program organized by Fan Milk, WIEGO, Environment 360, and D-Lab. Thanks to MISTI for student travel support!
Greece - Faros
Two MIT graduate students, three MIT undergraduates, and a recent Wellesley graduate and D-Lab alumna – all of whom have previously engaged in D-Lab classes and fieldwork trips – are traveling to Athens with D-Lab: Humanitarian Innovation instructor Martha Thompson and design instructor Heewon Lee (a member of IDIN) to run a co-design workshop with unaccompanied refugee youth. In partnership with the Greek organization Faros, they will continue D-Lab's long-term engagement with this population and refine strategies to engage the youth in STEM activities that build their skills and confidence. Thanks to the MIT Global Education Office for the Global Classrooms funding making these student opportunities possible. Read more about MIT D-Lab's work with refugee minors in Athens.
Nepal/India
Three students from D-Lab: Development and two students from D-Lab: Gender & Development are heading to the Himalayas with D-Lab Postdoctoral Researcher Anish Paul Antony and Workshop Manager Jack Whipple to continue a project on passive heating in partnership with Kathmandu University (Nepal) and People's Science Institute (India). After testing a model home on the MIT campus this semester, they will install test insulation in real homes and sensors that monitor its performance over time, engaging the residents of the homes in every step of the process. Thanks to MISTI for student travel support!
Six students from D-Lab: Water, Sanitation, and Hygiene are joining Lecturer Susan Murcott in Kathmandu to advance work on Murcott's innovative "EC-Kit" portable E.coli testing kit. The kit is designed to make home water testing easy, inexpensive, and accessible in Nepal, and the students will be working on scaling up local production and distribution.
South Africa - Equality Water
Abigail Anderson MEng '19 is traveling to Cape Town and the surrounding area to perform needs assessment for Equality Water, a startup created by Priyanka Chatterjee '15 focused on small-scale desalination in water-scarce communities. Following up on work she began in the D-Lab: Water, Sanitation, and Hygiene class, Abigail will be interviewing residents of a small community to understand their needs and decide how test devices can be deployed in the next phase of the project.
Uganda - TEWDI
Our work in Uganda is focused around our long collaboration with Betty Ikalany, founder and executive director of TEWDI Uganda and Appropriate Energy Saving Technologies – a producer and distributor of agricultural waste charcoal – in Soroti.
Four students from Applications of Energy in Global Development are working on processes related to charcoal briquette drying and quality control that will help TEWDI operate its charcoal production more effectively. They are joined by D-Lab Research Scientist Dan Sweeney and Research Engineer Eric Verploegen.
Olivia Waring, a current graduate student in the Harvard-MIT Health Sciences and Technology Division and a veteran of D-Lab classes and trips, is leading three D-Lab: Development students in continuing a beloved Soroti tradition: a two-week youth STEM workshop held in partnership with TEWDI and students from Makerere University. The students have been preparing new curriculum modules and activities to make this year's workshop better than ever.
Note on Guatemala
D-Lab prides itself in working on real projects for real people, and in a complex world there are sometimes unexpected challenges to continuing a project. Three students and one alumna engaged in the D-Lab: Development class were supposed to travel to Guatemala this month to work on a rural cookstove design project, in partnership with faculty and students at the Universidad del Valle Guatemala and supported by a generous grant from the Santander Foundation and 100K Strong for the Americas. However, the trip has been postponed due to safety concerns expressed by members of the MIT administration. We look forward to continuing this project as soon as possible, so that the students, their Guatemalan counterparts, and the community members of Santa Catarina Palopó can all benefit from the educational and practical goals of the project.
It is always exciting to see the diversity and richness of the activities our students engage in. Stay tuned for stories from these students when they return at the end of the month!
---
Contact
Libby Hsu, Lecturer & Academic Program Manager