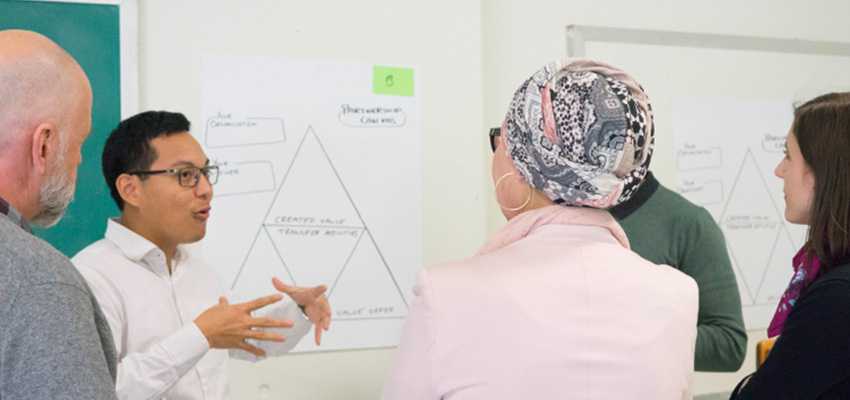 Attendees of an MIT D-Lab Practical Impact Alliance Annual Meeting.
InclusiveBusiness.net
Blog post as originally published on IncluseveBusiness.net
Across the Global South, impact entrepreneurs have been innovating solutions to the world's most daunting social and economic inequalities. Collaboration between rising social enterprises and large corporate, government, or development actors holds the promise of scaling these innovations. However, these hybrid partnerships are difficult to forge, and many fail because they are built on uneven foundations.
MIT D-Lab's 2019 cohort of Scale-Ups entrepreneurs, six entrepreneurs building inclusive businesses in East Africa, identified establishing equitable value-chain partnerships with larger organizations as a top priority and challenge. "I cannot scale without partnerships, but it has been draining to continuously make the case for the value we bring, and to take on additional costs in order to adjust to large partners' processes," said Chrispinus Onyancha, founder of clinicPesa, a healthcare digital saving, micro-loans, and payments platform paving access for healthcare financing in Uganda. Like Onyancha, the entrepreneurs we work with believed that social ventures generally end up with the shorter end of the stick, taking on more costs and risks, and ultimately settle for a less than fair share of the value created in hybrid partnerships.
Through D-Lab's Practical Impact Alliance, which worked with inclusive business practitioners from large corporations, NGOs, and government, we heard a similar concern on the other side of the table — that partnering with social enterprises is risky and requires extra effort and resources. However, both sides agree on one thing: to effectively and sustainably solve the world's inequalities, it takes partnerships that can leverage the innovation and agility of social enterprises together with the reach and resources of large organizations.
So how can we co-design partnerships where all partners – despite their differences – have a shared understanding and buy-in for the value created, exchanged, and captured within the partnership? In 2019, this is the design challenge MIT D-Lab chose to explore in collaboration with SEED in a joint learning lab. Through a year-long exploratory process, D-Lab and SEED convened social entrepreneurs and inclusive business practitioners, and the lab examined existing partnership tools, identified gaps, prototyped new tools, tested them on partnership cases, and gathered first-hand feedback. This process culminated in the development of the Partnership Co-design Toolkit (P.ACT), a new instrument designed to facilitate the co-creation of equitable hybrid partnership models.
A subtle balance of value and costs
When the learning lab first examined Onyancha's partnership case, he was developing a three-way collaboration with Africa's largest multinational telco company and a large financial institution. clinicPesa's business model depended on the success of this partnership as the telco's reach was key to clinicPesa's customer acquisition process, and the enterprise needed a large funder to scale their loan product offering. While he had earned the trust of his Telco partner, Onyancha was still struggling to make the case to the financial institution and trying to negotiate more favorable terms for his enterprise. To help him more clearly see and evaluate his tradeoffs, we drafted a framework that allowed Onyancha to segment the value and costs associated with each partner in different categories (see adapted Balance Sheet tool below).

Through this segmentation, Onyancha realized that there were far more costs associated with the partnership than he had originally anticipated. However, his enterprise was set to capture a sizable amount of value from the partnership, enough to offset his costs. A large portion of this value is captured by his customers who get to enjoy secure, reliable, affordable and faster access to medical loans leveraging the telco access to credit scoring data. And while clinicPesa was indeed incurring a higher financial cost than their two partners, they were also capturing higher financial returns. This exercise also revealed to Onyancha that the telco would enjoy a higher value to costs ratio in the partnership. However, he also realized that it was a necessary tradeoff as they were also getting a lower value from the partnership. On the other hand, he identified that the bank could assume more cost and risks to make the distribution of value more equitable. This realization meant he could then more confidently go back to the negotiating table to ask for better terms. "Segmenting and prioritizing the value has helped us clearly identify the key strategic focus areas that are pending to achieve our overall goal," he told us in his reflection on testing the P.ACT Balance Sheet tool.
A co-design journey to equitable partnerships
Using a participatory design process with the learning lab's remaining six social entrepreneurs to solve their timely business priorities, MIT D-Lab and SEED ended up co-designing 12 tools, including a few adapted from existing ones, and several prototyped from scratch to fill in critical gaps in the partnership co-design journey. See the full Partnership Co-design Toolkit (P.ACT) toolkit here below.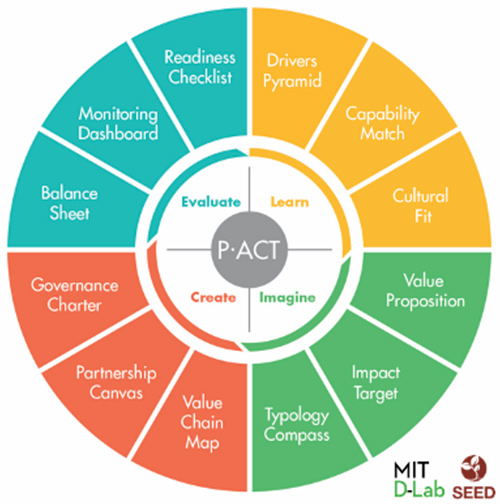 Through building the individual tools and the overall P.ACT toolkit in continuous dialogue with our learning lab members, we learned several key insights.
First, the most useful tools are those that successfully engage partners in collaborative problem solving, and facilitate constructive dialogue as well as collective decision making and action planning.
Second, when developing hybrid partnerships, it is paramount to bring clarity and transparency to both the value created by the partnership (for common customers or stakeholders), and the value captured by the partners.
Most importantly, our exploration revealed that hybrid partnership development needs to be approached as a co-design journey.
It starts with learning about each partner's motivations, culture and capabilities, so as to establish clear and realistic common goals.
Once these are defined, partners can engage in co-imagining the value proposition and the impact the partnership will deliver to their common stakeholders; before diving into co-creating the partnership activities and structure.
To close the loop on the co-design process, partners need to put in place evaluation mechanisms to ensure that the partnership is delivering its expected value both for its intended beneficiaries and for each partner organization.
Finally, as each partnership is unique, we ensured that the Partnership Co-design Toolkit enables partners to diagnose their specific gaps and focus on tools that can get them closer to contract readiness with an inclusive and equitable partnership model.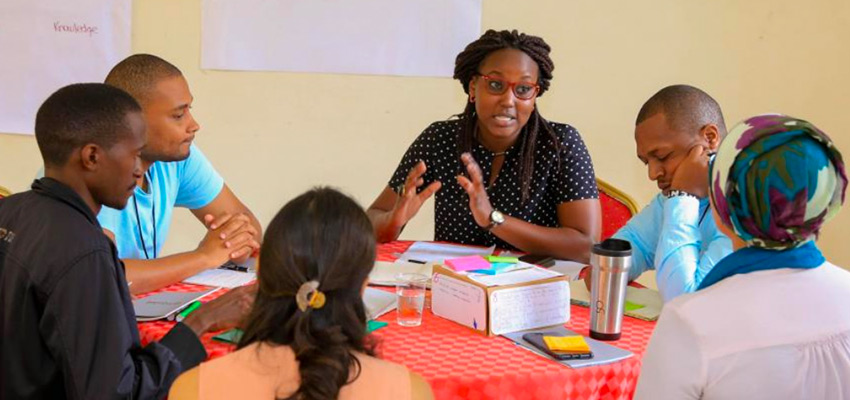 A capacity-building quest
We firmly believe that organizations that adopt a co-design approach during the initiation phase of value chain partnerships generate models that are not only more equitable but also more impactful and more resilient. The P.ACT toolkit was designed to provide business and development practitioners with a practical pathway for their co-design journey.
Today, Onyancha and the other six entrepreneurs who helped shape this toolkit are using the tools and their learnings from this process to better evaluate partnership opportunities, communicate their value to partners, and negotiate for their enterprises.
"The tools help you map out what one requires from each partner, so as to get a good balance. In some cases, after using the tool, I decided to not go with some partnerships," said Winnie Gitau of Kwangu Kwako, an entrepreneur based in Kenya.
Nonetheless, we know that there are thousands of impact entrepreneurs out there still struggling to design equitable partnerships or reluctantly entering partnerships that hold a promise for scale at a cost they perceive to be unfair.
Our objective and hope is that capacity builders — incubators, accelerators, investors, and other impact entrepreneurship supporters — leverage the P.ACT toolkit to augment the capacity of their communities and consider the lessons we identified in facilitating the co-design of more equitable hybrid partnerships.
As we continue to disseminate and pilot the P.ACT toolkit, we welcome feedback and input from entrepreneurs and intrapreneurs. We'd also love to connect with capacity builders who might see an opportunity to scale the impact of this toolkit through their work.